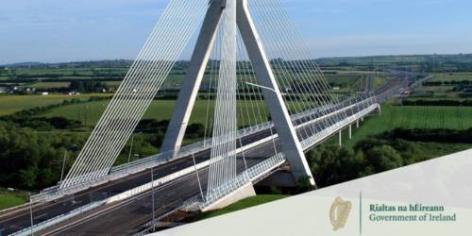 The Taoiseach Micheál Martin T.D. and Minister for Further and Higher Education, Research, Innovation and Science, Simon Harris T.D., have announced funding for eight new research projects under the Shared Island strand of the Irish Research Council's New Foundations programme.
Three of the eight recipients are UCD researchers. The projects bring researchers North and South together to examine political, economic, civic and social cooperation and connection on the island of Ireland, and are funded by the Shared Island unit in the Department of the Taoiseach.
The awards, totalling €150,000, focus on the Shared Island priorities set by Government as part of the revised National Development Plan (2021-2030) and key issues from the Shared Island Dialogue series convened by the Government to foster inclusive civic dialogue on a shared future on the island.
The Shared Island strand of the New Foundations programme sees researchers develop partnerships either North/South on the island of Ireland, East/West between Ireland and Britain, or through an international collaboration relevant to the island of Ireland and the Good Friday Agreement.
Among the research projects being funded are:
Dr Maebh Harding, Assistant Professor UCD School of Law
Doing Feminist Legal Work (DFLW) consists of a network of legal scholars across Ireland, Northern Ireland and Britain addressing emerging issues of gender and law. Building on existing, but ad hoc, North/South and East/West collaborations, DFLW will generate a sustainable network that will develop and share experience and practice as well as developing substantive research and educational tools necessary to respond swiftly and effectively to societal challenges, to engage directly with policy makers and media, and with the resilience necessary to rapidly address complex issues of law and gender in both the immediate and long term.
Dr Michelle Downes, Assistant Professor UCD School of Psychology (Ad Astra Fellow)
An All-Island consortium to foster Educational Neuroscience research and practice. Educational neuroscience is a new interdisciplinary field that goes beyond the separate research domains of neuroscience and education. Through the establishment of the first all island educational neuroscience research network, the consortium will explore collaborative research questions, share ideas, form new collaborations, and disseminate findings on the current management of inattention in the classroom. This project has three objectives: a) establish teachers' and parents' understanding of inattention in early classroom contexts; b) engage with stakeholders to enhance classroom practice and make for a more inclusive start across the island's classrooms; and c) establish an all-island educational neuroscience hub of researchers and practitioners.
Dr Suja Somanadhan, Associate Professor UCD School of Nursing, Midwifery and Health Systems
All Ireland Rare Disease Inter-Disciplinary Research Network (RAiN) to Identify, and Understand Functional Status and Quality of Life and Family Management Measure for Children and Young People Living with Rare Diseases. Rare disease is a collective term for disorders with a broad diversity of signs and symptoms. The impact of rare diseases is diverse and includes loss of physical function, cognitive and communication impairments and social isolation. This project will explore the challenges of children/ young people and their families living with rare diseases across the Island of Ireland. It will include a collaborative effort between rare disease interdisciplinary researchers and community groups. The purpose is to establish an interdisciplinary research network for the exchange and synthesis of strategies to address this population's needs.
Shared Island New Foundations Programme to date:
This is the second funding announcement under the Shared Island unit and Irish Research Council partnership. 11 projects were funded under the first call of Shared Island New Foundations awards in 2021, including four UCD projects. These reports are now being finalised and published.
The project published a report in October 2022, identifying high-level trends of legal convergence and divergence. Since its launch, the report has been discussed at the Irish Association of Law Teachers conference in Belfast (12 November 2022) and is also due to be discussed at a conference hosted by the Bar Council of Ireland. Eight detailed papers are also expected to be published as part of the continuation of the project in 2023.
Commenting, Taoiseach Micheál Martin TD, said:
"I am pleased to announce eight new projects funded by the Government's Shared Island initiative and the Irish Research Council. This is part of a wide-ranging research programme under Shared Island, which looks to the future of this island in an inclusive, practical way, underpinned by the Good Friday Agreement. These research projects will help light the way on how we deepen beneficial cooperation and connections between people and communities in culture, science, education, law and on equality concerns. I look forward to the evidence and insights that these research projects will bring forward as they are completed next year."
Minister for Further and Higher Education, Research, Innovation and Science Simon Harris TD added: "Research can play a significant role in building links between communities by finding solutions to common problems. The Irish Research Council's New Foundations Programme will tap into the expertise and talent in the research systems of this island – north and south – for the benefit of Shared Island goals. The funded projects will see researchers examine issues including the circular economy, cancer treatment, and post-pandemic recovery in the performing arts industry. My Department is proud to support this initiative."
Director of the Irish Research Council, Dr Louise Callinan, added: "The Irish Research Council is delighted to partner for the second time with the Shared Island unit of the Department of the Taoiseach. The North South Legal Mapping Project led by Professor Oran Doyle, previously funded through this scheme, is one such project which highlights how the Department of the Taoiseach's Shared Island New Foundations Awards are already contributing to the Shared Island Initiative."
The eight projects selected for the 2022 Shared Island New Foundations Awards were funded by the Shared Island unit in the Department of the Taoiseach under strand 8 of the IRC New Foundations Programme.
Full details of each of the 8 awarded projects can be found here.