The European Research Council (ERC) has announced the 2021 Starting Grants, its first awards under the EU's new research and innovation programme, Horizon Europe. Some 397 early career researchers across the block were granted the prestigious awards, totalling €619 million, including two from UCD College of Arts and Humanities.
Dr Ailise Bulfin from UCD School of English, Drama and Film has been awarded €1.5 million over five years for 'Investigating Fictional Representations of Child Sexual Abuse in Contemporary Culture: Myths and Understanding,' (CSAReps, jump to article), including funding for two postdoctoral researchers and one research assistant.
Dr Alice Mauger from UCD School of History has been awarded €1,417,818 over five years for 'Deciphering Irish Alcohol and Substance use: Post-war Representations and Accounts' (DIASPORA, jump to article), including funding for two postdoctoral researchers and one PhD student.
A statement from the European Commission said the grants were worth €1.5 million on average, to help "ambitious younger researchers launch their own projects, form their teams and pursue their best ideas." The selected proposals cover all disciplines of research, including: medical applications of artificial intelligence; the science of controlling matter by using light; and designing a legal regime for fair influencer marketing. Female researchers were awarded 43% of the grants, an increase from 37% in 2020 and the highest share to date.
European Commissioner for Innovation, Research, Culture, Education and Youth, Mariya Gabriel said: "With this very first round of long-awaited grants, I am glad to see the European Research Council remaining a flagship for excellent and curiosity-driven science under the Horizon Europe programme. I am looking forward to seeing what new breakthroughs and opportunities the new ERC laureates will bring, and how they will inspire young people to follow their curiosity and make discoveries for the benefit of us all."
UCD Vice President for Research Innovation and Impact, Professor Orla Feely said: "I would like to congratulate Ailise and Alice on their success in the highly competitive ERC Starter Grant programme. Their work will deliver insight and impact in two very important areas of research."
National Delegate for the ERC in Ireland, Science Foundation Ireland (SFI) revealed that a total of eight Ireland-based researchers have been awarded ERC Starting Grants (read full SFI statement). The other new Irish laureates are:
Dr Maria Aburto, SFI Research Centre APC Microbiome, University College Cork
Dr Eoghan Cunnane, School of Engineering, University of Limerick
Dr Sarah Guerin, SFI Research Centre for Pharmaceuticals, University of Limerick
Dr Piotr Kowalski, SFI Research Centre APC Microbiome, University College Cork
Dr Aisling McMahon, Department of Law, Maynooth University
Dr Qian Lijuan, Department of Music, University College Cork
Investigating Fictional Representations of Child Sexual Abuse in Contemporary Culture: Myths and Understanding,' (CSAReps)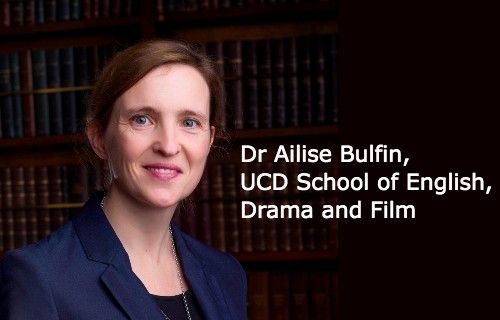 The CSAReps project explores the culturally significant but neglected body of fictional works which depict child sexual abuse (CSA), examining not only their representational strategies but also their potential role in shaping people's understandings of CSA. CSA is a critical issue facing contemporary societies, and one which inspires many fictional representations in creative cultural works. Despite CSA's prevalence and potentially serious consequences, it remains relatively taboo and stakeholders refer to a societal 'flinch' from engaging with the issue which hinders survivors' wellbeing. This avoidant response seems to have been inadvertently replicated in literary and cultural studies, in which CSA as a theme is widely overlooked, meaning that its full cultural implications are currently unknown.
To address this, the project's objectives are threefold: (1) To analyse the themes, form and emotional cues in CSA fictions, from key genres in the culturally prevalent forms of literature, film and television, in order to provide a foundational mapping of the theme for literary and cultural studies. (2) To explore how CSA fictions may inform social attitudes to CSA by performing the first ever empirical investigation of how general audiences and CSA survivors respond to these works, impacting disciplines like psychology and social work for which such knowledge is key. (3) To develop a new conceptual framework which interlinks thematic and empirical approaches to cultural scholarship, ultimately yielding a model suggesting the relationship between CSA fictions and their effects and supporting explorations of abuse representations across cultures and media.
Dr Ailise Bulfin said: "The scale of this ERC award means that my project can shed light not just on how the critical issue of child sexual abuse is represented across the wide range of cultural works that depict it, but also on the ways that these works may affect their audiences. Throughout its conception, the project has been generously supported by the insights and advice of survivors of CSA and support professionals who work with survivors. The award allows me to create knowledge that will be of benefit to these groups and to the wider community as it aims ultimately to illuminate how fictional works may shape public understandings of CSA, which in turn affect CSA prevention efforts and survivors' health outcomes.
Professor John Brannigan, Head of UCD School of English, Drama and Film said: "We congratulate Ailise on the ERC award for this new and vital research project, which adds to the School's existing strengths on the relationship between literature and public health. Ailise's project will contribute new knowledge of how fictional works provide an important medium for representing child sexual abuse, and in doing so can have wide-ranging consequences from perpetuating damaging myths to enhancing public understandings of the impact of abuse."
Deciphering Irish Alcohol and Substance use: Post-war Representations and Accounts' (DIASPORA)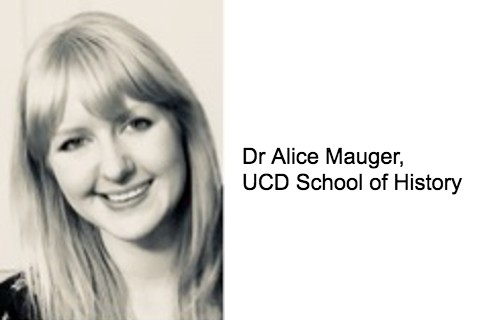 DIASPORA will focus on the Irish in post-war London and New York to provide a nuanced and penetrative investigation of the intersections between alcohol, drug use, mental health, migration and ethnicity. It will interrogate the cultural and societal implications of the ubiquitous 'drunken Irish' label, the disproportionate rates of alcoholism reported among Irish migrants, and the perceived day-to-day roles of recreational drugs, drink and drinking spaces – both positive and negative – in the lived experiences of this cohort. The project will trace the interplay between expert, State, religious and cultural representations, before contrasting findings with first-hand accounts by Irish migrants.
By casting alcohol and drugs as prisms through which to view experiences and portrayals of the Irish abroad, the project will expose fault lines in existing historical studies of: (1) Irish migration; (2) migration, health and ethnicity; and (3) alcohol and drugs, which have eschewed any meaningful examination of this topic. By drawing together these ordinarily distinct strands of historiography, and placing an ethnic stereotype at the centre of its investigation, the project will redefine scholarly debates about other ethnic groups, as well as broader discourses on the physical and mental implications of migration and discrimination.
DIASPORA's overarching aim is to use the longevity of Irish migration to London and New York to enlighten the evolving ethnic and racial experience in Britain and the US. The project will offer a blueprint for future comparative analyses of health, ethnicity and race in historical perspective. To do so, it will blend traditional historical methodologies (including archival research on government files and Irish community and service centre records) with oral histories, and analysis of medical, sociology, social work and religious journals, autobiographies, fictional literature, drama, film and documentaries.
Dr Alice Mauger said: "I am exceptionally grateful and delighted to receive this ERC Starting Grant. This funding will enable me to lead a team of talented researchers from the fields of alcohol and drugs history and the history of medicine, welfare and mental health to conduct ground-breaking research into the experiences and representations of the Irish using the lens of alcohol and drug use.
"Together, the team will explore how portrayals of the Irish as heavy drinkers, often prone to alcoholism and in some cases drug abuse, has impacted on their lived experiences in post-war London and New York. In particular, we will interrogate why the 'drunken Irish' stereotype has remained so prevalent since the Second World War and how it has evolved. In doing so, the project hopes to provide us with a new way of understanding ethnic and racial inequalities and prejudices at a time when these issues are becoming urgent both within and beyond historical scholarship."
Professor William Mulligan, Head of UCD School of History, said: "Alice's exciting new project, DIASPORA, interrogates long-standing stereotypes and poses significant questions about the complex relationship between migration, ethnic identities, and alcohol and drug use amongst Irish people living in London and New York. Her work enhances UCD School of History's strengths in the history of medicine, Irish history, and migration."