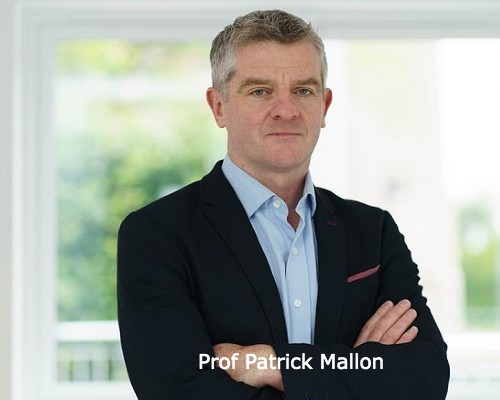 The European Vaccination Research Network, VACCELERATE, has just begun its second multinational study investigating the immune response of a fourth COVID-19 vaccination in adults.
EU-COVAT-2 BOOSTAVAC is the second study of VACCELERATE, an EU-funded consortium coordinated by Professor Oliver A. Cornely at the University of Cologne. This phase II trial, sponsored by UCD, investigates the need and optimal timing of a fourth Pfizer/BioNTech mRNA vaccination dose against SARS-CoV-2 in people who have already received three Pfizer/BioNTech vaccines.
Since the onset of Omicron, the number of COVID-19 infections is continuously rising and it remains unpredictable how the pandemic will evolve and which new variants might develop in the coming months.
Professor Patrick Mallon from UCD School of Medicine, who is chief investigator of the study, said: "We are curious to see if a fourth vaccination is needed in the general population and, if so, what is the ideal timing of this booster. This important study has already started enrolling here in Ireland and will soon expand to include volunteers from a number of European countries, including Belgium, Germany, the Netherlands, Norway, Spain, Sweden and Switzerland."
VACCELERATE coordinator Professor Cornely explained that this approach is unique and said: "The specialty of VACCELERATE is bringing together experts from the whole of Europe, bundling up expertise and experience." Through this pan-European cooperation, unanswered public health questions can be answered that are not in the primary focus of vaccine developers.
While the first VACCELERATE study EU-COVAT-1 AGED is concentrating on the immune response of people with advanced age (75+) to the booster shots, this one includes adults from the age of 18 and will help determine the optimal timing of a fourth dose vaccine.
The participants included in the study have already received three doses of the same mRNA vaccine (Pfizer/BioNTech) and are at least three months from the date of their third dose. Volunteers will be randomized to receive the fourth dose vaccine at a specified time after enrolment over a seven month follow-up period.
The study will recruit 500 volunteers divided into five groups, with one control group not receiving the vaccine booster and each of the other four groups receiving the booster shot at different times after enrolment. Study participants will be assessed on six occasions, where the effectiveness of the vaccine will be assessed by measuring their immune responses.
Professor Peter Doran, Director of UCD Clinical Research Centre within UCD School of Medicine, the sponsor of the study, said: "We are delighted to launch the study in Ireland and University College Dublin are working with our VACCELERATE partners to open other European centers very soon in April and May".
Professor Mallon said the VACCELERATE network plans to complete the trial rapidly. He said: "We plan to complete the study in January 2023, and with our dedicated network of clinical sites and laboratories, VACCELERATE hopes to have some initial results within a few months of starting enrolment across Europe."
Both Professor Mallon and Professor Cornely expressed satisfaction about the level of cooperation that is made possible through the VACCELERATE Network. Professor Cornley said: "With the support of the German Federal Ministry of Education and Research (BMBF), we were able to establish two registries that are of great help now – we have a Volunteer Registry where people interested in participating in clinical trials can register and we have a Site Registry helping to connect potential trial sites and sponsors. Both registries have been established successfully – at the moment there are more than 36,000 registered volunteers and 474 sites. These structures enable us to set up clinical vaccine studies very quickly."
VACCELERATE is an academic, pan-European platform that accelerates phase II and III trials of clinical COVID-19 vaccine development in Europe. The network brings together experts from the areas of clinical trial design and conduct, immunology, laboratory standardization and public health from 23 European countries, and lends its expertise to all stakeholders involved in vaccine development. A long-term goal is to pool expertise and accelerate procedures for future pandemics.
Launching now, EU-COVAT-2 BOOSTAVAC is the second of three VACCELERATE phase II COVID-19 vaccine trials. EU-COVAT-1 AGED on the optimal timing of a third and fourth vaccine dose in 75+ adults was started in November 2021. A trial on reduced dose regimens in children will follow.
VACCELERATE has received funding from the European Union's Horizon 2020 research and innovation programme under grant agreement No 101037867.