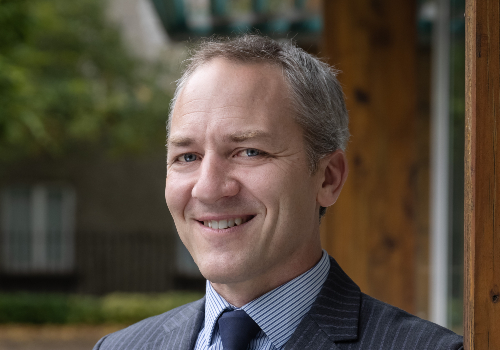 Professor Eoin O'Neill has been appointed as Director of the UCD Earth Institute, starting 1 September 2023.
Head of UCD School of Architecture, Planning and Environmental Policy since 2018, Professor O'Neill is a Science Foundation Ireland (SFI)-Funded Investigator in BiOrbic and a chartered planner with the Royal Town Planning Institute (MRTPI). An active researcher, he works across a wide range of areas, including, land use regulation, flood risk, groundwater, climate adaptation and the bioeconomy.
Professor O'Neill's appointment marks a significant stride in the Institute's goal of fostering impactful and transformative multidisciplinary research and working with stakeholders to address global, regional and national environmental challenges.
Expressing his eagerness to take on the new role, Professor O'Neill said, "It is a tremendous honour to be appointed as Director of the Earth Institute and to contribute to advancing our understanding of the intricate dynamics shaping our planet. I am excited to work alongside esteemed colleagues from various disciplines and to engage with partners beyond academia, driving real-world solutions that address the environmental and sustainability challenges we face."
Professor Helen Roche, Interim UCD Vice President for Research, Innovation and Impact, said: "Eoin's leadership and vision will undoubtedly invigorate the Earth Institute's mission to cultivate innovative solutions for the complex environmental and sustainability challenges of our time. His long standing expertise and experience in fostering interdisciplinary research and engaging with societal stakeholders and policymakers aligns seamlessly with the ethos of the Institute and its membership."
Professor Roche also recognised the work done by Professor Tasman Crowe during his six-year tenure as Director of the Earth Institute from 2017 to 2023: "Tasman has demonstrated an unwavering commitment to the Institute's mission and membership. Tasman actively fostered an environment where researchers from diverse fields could converge, exchange ideas, and collectively address pressing global challenges. Under his guidance, the Earth Institute has flourished as a vibrant community united by a shared commitment to environmental and sustainability research. I am sure he will continue to be a strong advocate for the environmental and sustainability research community in his new role as Vice President for Sustainability at UCD."
Photo credit: Ste Murray