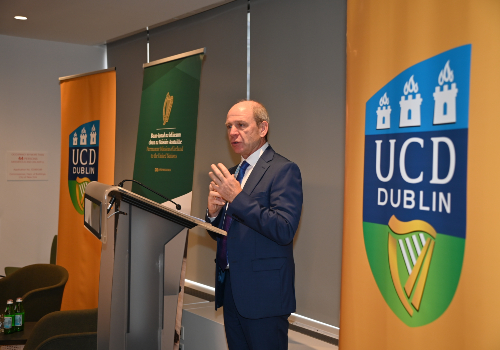 The first 'Ireland Day' took place in New York this week as part of the Science Summit at the 78th United Nations General Assembly (UNGA78). Led by UCD, the event brought international experts together at the Irish Permanent Mission to the United Nations (UN) to discuss the important role of research and collaboration in attaining the UN Sustainable Development Goals (SDGs) and to examine how Ireland is contributing to these global objectives.
UCD has participated in the Science Summit for the last three years and now builds on this by leading the first 'Ireland Day'. The Summit brings international thought leaders, scientists, policymakers, philanthropists and community leaders together at UNGA to consider what enabling policy, regulatory and financial environments are needed to support genuinely global scientific collaborations. A key output of the Summit this year will be the preparation of input for the UN Summit of the Future, which will take place during UNGA79.
Opening the 'Ireland Day' event, Ireland's Permanent Representative to the UN, Ambassador Fergal Mythen, said, "We are delighted to host 'Ireland Day' at the Irish Permanent Mission to the United Nations. Universities like UCD are increasingly becoming actors in multi-stakeholder partnerships to help achieve the UN SDGs. They possess a diversity of skills, novel and inter-sectoral approaches that are needed to develop solutions to global concerns. The discussions taking place today highlight the importance of research in supporting change and will help to build strong collaboration for the future."
The event programme saw leading global experts discuss themes central to the SDGs, including Sustainable and Equitable Food Systems, Deliberative Democracies and Post Conflict Health Cooperation. Event Chair and UCD Director of Research, Triona McCormack, said, "Ireland has demonstrated initiative and leadership in areas such as agrifood research and innovation. It is also regarded as a trailblazer in the development of Citizens' Assemblies which have underpinned significant constitutional and policy change around marriage equality and biodiversity, respectively. Collaboration between researchers, government, industry and communities has been fundamental to this progress."
"We know that research capacity, scientific advancement and improved technology play a key role in enabling the policy responses necessary to achieve the SDGs. Furthermore, our researchers have been instrumental in developing effective models in many of the areas we are discussing today. We're here to explore how we can build on our partnerships with other nations, to learn from each other and to increase cooperation going forward."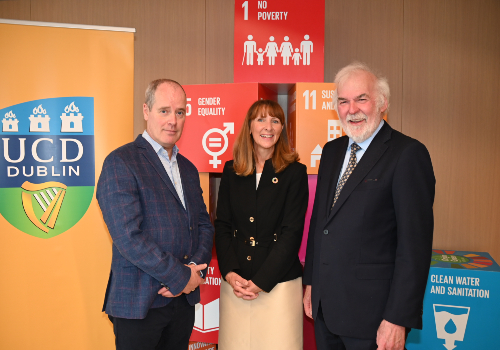 Tom Arnold was Chair of Food Vision 2030, Ireland's agri-food strategy, and Ireland's Special Envoy for Food Systems, 2021-2022. As Chair of the 'Ireland Day' Sustainable and Equitable Food Systems session, he noted, "Achieving Sustainable and Equitable Food Systems by 2030 is a global priority, and we need radical transformation to do this. Ireland is known for being the "green island" - a traditional farming and food production system that lies at the heart of an indigenous agri-food economy, with food being one of our greatest exports. Ireland and UCD are leading important initiatives to achieve transformation locally and across the globe. This event is about building international collaboration so we can further develop research-based solutions to address the critical challenges of our time."
Distinguished speakers at 'Ireland Day' included Dr Ibrahim Assane Mayaki, former Prime Minister of Niger and current African Union Special Envoy for Food Systems; John Clarke, Director for International Relations at DG Agriculture in the European Commission; Prof Jessica Fanzo, Professor of Climate, Food for Humanity Initiative Director, Columbia University; Prof Mark Lawler, Professor of Digital Health and Chair in Translational Cancer Genomics at Queen's University Belfast; and Professor David Farrell, Chair of Politics at UCD and research leader of the Irish Citizens' Assembly.
Ireland has historically played a significant role in the development of the SDGs, with UCD Alumnus, David Donoghue serving as co-facilitator for the UN negotiations in 2015 which led to the adoption of the 2030 Agenda for Sustainable Development. As a member of the UN Major Group for Science and Technology representing universities in the intergovernmental negotiations on the SDGs, UCD Professor Paul Walsh advocated for the role of academia, science, research and innovation within these goals. He is currently Director of the SDG Academy at the UN Sustainable Development Solutions Network.
The Science Summit at UNGA78 runs 12-29 September 2023.
Photos: Ambassador Fergal Mythen;
Professor David Farrell with Triona McCormack and Tom Arnold.