Mission and Focus
AICRI is bringing together the combined strengths of cancer researchers on this island to tackle cancer, linking with US and other international colleagues.
Our mission is to provide an overarching framework for cancer research across the island of Ireland, from discovery to implementation, for the benefit of cancer patients and wider society.
Together, we aim to make a difference and significantly relieve suffering in a disease that will affect one in every two citizens on this island.
AICRI will have a particular focus on the intersection between cancer and co-morbidities, particularly obesity.
AICRI is comprised of four main Research Pillars:
Cancer Prevention
Cancer Diagnosis
Cancer Treatment
Survivorship/quality of life
Who's Involved?
AICRI is harnessing the collective input of multiple stakeholders from academia, industry, government agencies, and the health services. Active patient engagement in the evolution of AICRI's activities is a key feature.
Funding
AICRI is a ground-breaking initiative in its early stages, but has the potential to transform cancer research and its impact on care across the island of Ireland. The overall aim of AICRI is to make science work for the patient, for society and for the economy.
Our programme is ambitious, costing circa 45-50 million euro over 10 year timeframe, but built on a solid track record of inter-institutional engagement in cancer research over the last 20 years. We are presently seeking funding from a variety of sources (see below) to fulfil our vision. Please contact us if you would like further information and/or assist in delivering our goal.
Contact Details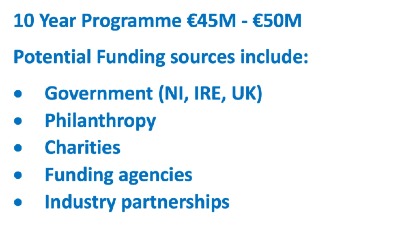 Prof William Gallagher, AICRI Co-Lead
Dr Rosemarie Gannon, AICRI Project Manager
General enquiries: aicriproject@gmail.com
Follow on Twitter: @AICRIproject