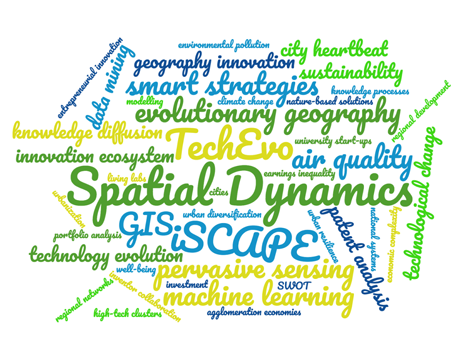 The cross-fertilization of ideas derived from different, but complementary scientific backgrounds holds the potential for 'real' break-through discoveries and entirely new research avenues. The rationale behind the establishment of the Spatial Dynamics Lab is to provide advancements in the analysis of innovation processes, environmental impact, evolutionary patterns and structural change in cities, as well as to contribute to the fields of regional studies at the intersection of socio-economic and environmental processes and economic development. The long-term objective of the research centre is to establish itself as an international renowned hub of scientific expertise specialising in the visualisation and analysis of socio-economic spatial data.
The objective is to organize the Spatial Dynamics Lab in specialized themes, and then to enable cross-fertilization of ideas between those thematic strands in order to generate opportunities at the intersection of specialized expertise; these intersections are where the theory points to the highest potential of break-through and frontier research advancement.
The initial list of focus themes includes:
Evolutionary Economics, Technological Change, and Regional Development
Environmental Risk and Policy
Urban and Regional Economies and Planning
The Built Environment and Smart Cities
Technical and Scientific Knowledge Spaces
The Place/Space Nexus, and Public/Private Strategies for Sustainable Growth
The two Centre Directors are associated (through their large-scale EC funded projects TechEvo and iSCAPE) to the first two themes, above. The following two themes on the list are closely aligned with key staff in the School of Architecture, Planning & Environmental Policy, as well as other Schools within UCD, e.g. Geography. The final two themes listed above are at the intersection of several of the aforementioned themes and thus will provide a platform for experimentation.
The Spatial Dynamics Lab aims to serve as a showcase for expertise that will assist researchers, practitioners, industry partners and policy makers in building and maintaining strong strategic partnerships.