Space Materials
C-Space has a proven track record in materials research for space from the area of thermal management to material properties in microgravity to advanced manufacturing for space. C-Space aims to be a recognised national centre for space materials, facilitating the formation of collaborations with state bodies, manufacturing research centres, industry and academic partners. These partnerships will build capability in materials research and testing for space applications and position Ireland to win a greater share of internationally funded space materials research projects.
C-Space Materials Research areas:
Materials for thermal management: Building on Solar Black material developed by Enbio in partnership with the University, C-Space researchers have developed the award-winning Solar White. Both of these materials are on ESA's Solar Orbiter. [Stanton et al]
Glass Ceramic Scintillators for gamma ray astronomy: This advanced development resulted in a hydrophobic, robust and affordable scintillator. The research has identified materials for suitable terrestrial applications as well, for example x-ray detector material. [Stanton et al]
Material properties and behaviours in microgravity: Extensive research in evolution of microstructure during solidification including the first X-ray directly monitored equiaxed solidification of a metallic alloy in space [Browne et al]
Additive Manufacturing and Lightweight alloy design as applied to space [Celikin et al]
New metallic materials for space applications: amorphous alloys, also known as metallic glasses, are being developed and tested for use (i) in bulk form as compliant deployable mechanisms, and (ii) as thin coatings for use as durable and reflective broad spectrum space telescope mirrors [Browne et al].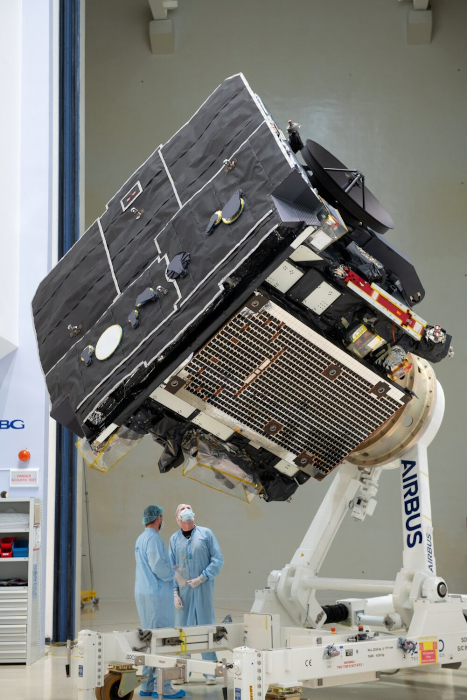 ESA's Solar Orbiter spacecraft undergoing final inspections at IABG (Germany) before being moved to Cape Canaveral launch site. All white radiator panels are coated in SolarWhite [developed by UCD].