News Headlines‌
Celebrating Women in Mathematics, Women & EDI in STEM - May 29th
We are delighted to invite you to join us on the 29th of May to hear our speakers share their journey into the Mathematical, Physical & Geological Sciences along with insights from leaders creating change with Equality, Diversity and Inclusion in Higher Education.
This event will also form part of the "Celebrating Women in Mathematics" initiative taking place throughout May to honour Maryam Mirzakhani, the first woman to win the Fields Medal. Additionally, the event will also feature a talk about the work of Karen Uhlenbeck, who recently became the first woman to win the Abel Prize.
Further to this, there are 20 poster spaces available for anyone who wants to drive diversity in STEM and showcase their research achievements. Please contact womenstem@ucd.ie to express your interest in a poster presentation.
The event will take place from 09:30 to 13:00 in the Intel Theatre H1.26 in the O'Brien Centre for Science. This event is open to all and for catering purposes please register via Eventbrite.
---
7th Annual Women in Media Conference
Mairead McGuinness MEP, Miriam O'Callaghan, Justine McCarthy and Katie Hannon are just a few of the recognisable faces gathering in Kerry on the 26th of April for the 7th annual Women in Media conference.
The 2019 conference, sponsored by Vodafone Ireland, is the biggest to date and will bring together influential journalists, broadcasters, corporate leaders and politicians for a series of events looking at the challenges faced by women working in the public life.
For more information, see the official website.
---
First Derivatives is a Global company working within the Fintech industry. They are currently hiring for their Options Programme across all Streams (Financial Engineering, Trading Technology, Software Engineering and Data Science). They have an intake every month allowing for both immediate and delayed start dates. However, as graduation is fast approaching they are encouraging students to apply now to secure their place in the upcoming intakes.
More information can be found at: http://www.firstderivatives.com/careers/
---
Agility & Adaptability: Getting Fit for the Future
John McGrath is the Course Director for the MSc Project Management at TU Dublin, and he will be giving a presentation on how organisations and individuals with an Agile mindset are more prepared to respond to risk and capitalise quickly on new opportunities and initiatives.
The event starts at 6:00pm and refreshments will be served from 5:30pm. You will also have the chance to win a scholarship worth up to €8000. Registration is required and the link is: https://goo.gl/74aLVv
---
Business Agility 2019 - TU Dublin
TU Dublin are hosting a 1-day conference focused on Business Agility featuring 6 speakers and a panel discussion. Topics include Transformation Projects, Agile Organisations, High Performance PMO's and Leadership. The event includes complimentary lunch and refreshments. Free registration is limited to the first 50 tickets. For more information and registration, please see: https://goo.gl/PBwhVK
---
International Day Of Women And Girls In Science
As part of UCD Women@STEM's commitment to help educate young women on the opportunities available to them in STEM, Dr Sharon Shannon invited primary school students who have previously participated in a UCD STEM workshop programme, to return for a journey through science by experimentation and to celebrate the women scientists who lead the way for current generation of women researchers.
In addition to the workshop the UCD EDI group held an exhibition celebrating women within the College of Science. The female role models were on hand to discuss their roles within STEM fields and to share their experience with the primary school students, teachers and staff across the university.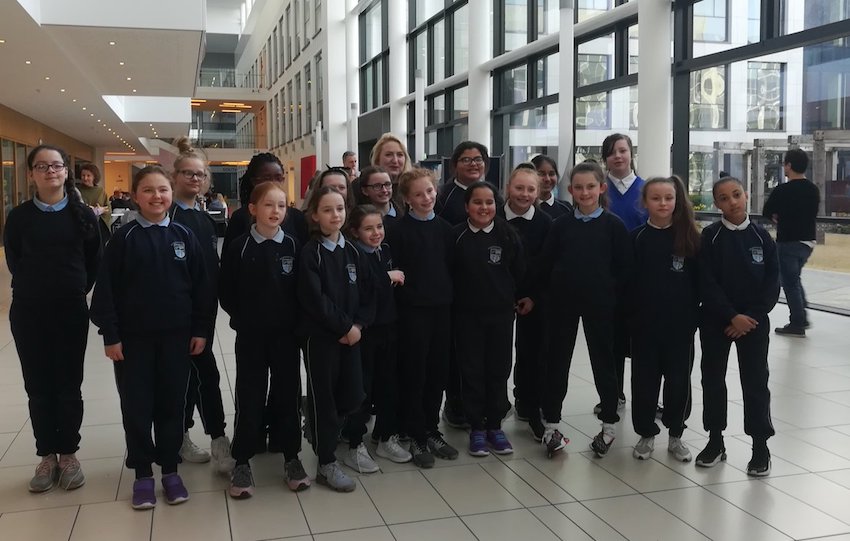 International Day of Women and Girls in Science. Celebrated with an exhibition on the ground floor of UCD Science Centre and a visit by primary school students in the Outreach Laboratory.
---
Join us for UCD's 2019 flagship International Women's Day event Shifting the Dial: Female Leaders Changing Culture. Hear from guest speakers Irish Woman of the Year 2018, Su Carty, who was the first woman appointed to the World Rugby Council, and Dr Ebun Joseph, Coordinator of Ireland's first Black Studies and Critical Race Perspectives course at UCD and Career Development Consultant at RCSI. These inspirational speakers will share their story, addressing gender and race inequalities, leading change and creating a more inclusive culture for women in higher education, sport and workplaces in Ireland.
For more information on this event, see:
https://www.ucd.ie/equality/newsandevents/news/internationalwomensday2019/
---
The objective of the Girls in tech mentorship workshop program, Stepping Up, is to build and foster an organic community promoting good mentorship. This will NOT be a typical mentorship program, there will be no match making, instead we will focus on substance to bring you the knowledge & tools to approach mentorship; access to mentors whom they can learn from; and with inspirational stories to pave their journey.

Tickets can be bought on Eventbrite.
---
Future Female Leaders Scholarship Programme
Sanofi, one of the top 5 global pharmaceutical companies, based in Waterford, are offering two scholarships to female undergraduate students who are in either their 2nd or 3rd year of their honours undergraduate degree. The students must be based in either UCD, UCC or WIT.
The scholarships offer a €3,000 scholarship allowance, mentoring from a senior leader in Sanofi as well as a paid summer placement. Further details and how to apply can be found at the link below.
https://en.jobs.sanofi.com/job/waterford/future-female-leaders-scholarship-programme/20873/10408843
The deadline for applications is January 31st 2019.
---
Women@Stem Launch Event

The Women@Stem network offical launch event was held on Monday 12th November 2018 in the O'Brien Centre for Science in UCD. The event, "Diversity in STEM", was held in conjunction with the UCD Japan group, and was a huge success. The keynote address was given by Prof Y. Takahashi, President of Tsuda University, one of the oldest and most prestigious higher educational institutions for women in Japan.
| | |
| --- | --- |
| The Women@Stem committee members meeting Prof. Y. Takahasi, President of Tsuda University. | Women@Stem Co-Chair, Dr. Sharon Shannon, opening the "Diversity in STEM"event. |
Panel discussion: "Fair Opportunities for an Inclusive Workplace within Academia"Moderated by Louise Holden Panellists (left-right): Director Triona McCormack, Dr. Saoirse Tracy,Prof. Gerardine Meaney, Asst. Prof. Fiona McGillicuddy
---
Wednesday 7th November

Professor Máire O'Neill, a leading cybersecurity expert, is visiting the Royal Irish Academy on 7 November. Máire is the youngest ever engineering professor appointed at Queen's, the youngest to be elected a fellow of the Irish Academy of Engineering, and she previously won "British" Female Inventor of the Year. She is currently PI of the Centre for Secure Information Technologies (CSIT), QUB, and Research Director of the £5M UK Research Institute in Secure Hardware and Embedded Systems (RISE), funded by EPSRC and the UK National Cyber Security Centre (NCSC). She also leads an EU H2020 SAFEcrypto project in the area of practical quantum-safe cryptography.
Please rsvp to a.rosenbusch@ria.ie
---
Tuesday 25th June – Thursday 27th June 2019

"Our conference theme, About Face, aims to spur conversation about the multitude of ways in which inequalities shape the contemporary global context, and how these are both enforced and challenged within and through education."
---