News Headlines‌
International Day of Women in Maths -Friday 12th March 2023
To celebrate International Day of Women in Mathematics, the School of Maths & Stats will display posters with testimonials from female students, staff and alumni on the ground floor of O'Brien Centre for Science, Science East Ground Floor
12:30pm - 2pm: Lunch will be served in the area by the posters 12:30pm - 2pm. The reception is open to people of all genders and career stages, but RSVP is required for catering purposes: RSVP Link
2 pm - 3 pm: Mathematics education talk by
Assoc
Prof Catherine Bénéteau (University of South Florida),
O'Brien Centre for Science, Hub H2.37
---
Soapbox Science Dublin 2023 - dates to be announced!
This live event brings female and non-binary scientists and engineers into public spaces on soapboxes, to talk to the public about their research. It has two aims: to engage members of the public who may not have set out to interact with science or scientists, and to promote the visibility of women in science.
Want to know more? Visit our central website or our local website, or watch this film for a flavour of what it's like! If you'd like to discuss anything directly with us, please get in touch (soapboxsciencedublin@gmail.com). You can also follow us on twitter.
---
YOU CAN BE WHAT YOU CAN SEE: Role Models in pSTEM
UCD marked International Day of Women and Girls in Science in 2022 by launching a series of videos to encourage more girls to consider a career in pSTEM. The video series, entitled "Role Models in pSTEM: You Can Be What You Can See", showcases ten female role models from across Ireland who have studied physics, maths, engineering, or computer science.
The videos are accompanied by an educational resource for teachers which can be used in schools across Ireland – with a particular focus on DEIS schools – to encourage students to identify their own local role models, while highlighting the varied and exciting career opportunities open to young women in pSTEM.
Leading the project are Dr. Aoibhinn Ní Shúilleabháin, Assistant Professor at the School of Mathematics and Statistics, and Dr. Catherine Mooney, Associate Professor in the School of Computer Science at University College Dublin.
You can find the videos on our YouTube channel: https://www.youtube.com/channel/UCYrh8Eh848_Ljzfx5BXiE9A
---
International Day Of Women And Girls In Science 2019
As part of UCD Women@STEM's commitment to help educate young women on the opportunities available to them in STEM, Dr Sharon Shannon invited primary school students who have previously participated in a UCD STEM workshop programme, to return for a journey through science by experimentation and to celebrate the women scientists who lead the way for current generation of women researchers.
In addition to the workshop the UCD EDI group held an exhibition celebrating women within the College of Science. The female role models were on hand to discuss their roles within STEM fields and to share their experience with the primary school students, teachers and staff across the university.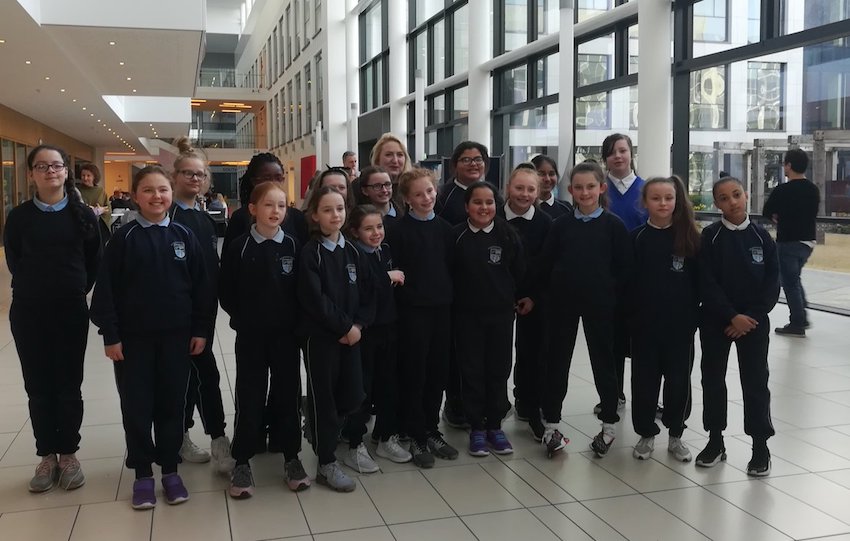 International Day of Women and Girls in Science. Celebrated with an exhibition on the ground floor of UCD Science Centre and a visit by primary school students in the Outreach Laboratory.
---
---
UCD Women at STEM
University College Dublin Belfield, Dublin 4, Ireland. T:
+353 1 716 7777