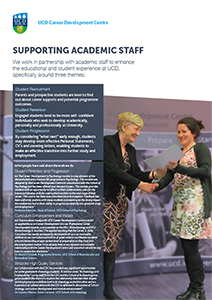 We support academic staff seeking to recruit, retain and progress students. We work around three core themes of Student Engagement, Professional Development and Progression. Colleagues we have worked with believe the work we do impacts on:
Student recruitment (parents and prospective students are keen to find out about career supports and potential programme outcomes).
Student retention (engaged students tend to be more self- confident individuals who seek to develop academically, personally and professionally at University).
Student progression (by considering "what next" early enough, students may develop more effective Personal Statements, CV's and cover letters, enabling students to make an effective transition into further study and employment).
Our Supporting Academic Staff flyer summarises the work we do and is available to download as a PDF.
How we work
We are a team of well educated professionals offering central and bespoke services delivered increasingly within UCD Schools. Operating within a caseload approach, Career & Skills Consultants/Managers develop expert sectoral knowledge and understanding of Schools, programmes and curricula. By enhancing the student experience at UCD, adding value to the curriculum, the Career Development Centre makes a significant contribution to UCD and the wider economic and social landscape.
Our professional backgrounds include:
University teaching and learning and research, HE Policy, Quality Assurance in Higher Education, Curriculum Development, Entrepreneurship and Innovation, Distance Learning, Programme Management, Personal Development Planning, Marketing and Student Recruitment, Graduate Recruitment, Talent Development, Executive Hiring and Recruitment Consultancy, Strategic Management Consultancy, IT Consultancy, Self- Employment, Civil Service, Banking and Finance, Human Resources, Guidance Counselling and Career Coaching.
Find out more information and contact details for individual staff.
Talk to us today about developing strategies and services in support of your curriculum, employer engagement and student experience.