Welcome to UCD School of History
---
People of many different backgrounds and from many different countries come to study History at UCD. We teach courses and supervise research theses on topics spanning two millennia and most parts of the globe. Help us to continue to give the past a good future by spending time with us as a student, researcher or collaborator.
Please explore our website to learn more about teaching and research in the school.
Tadhg Ó hAnnracháin
Head of School
---
UCD School of History particpates in major public history event, RTÉ Reflecting the Rising
RTÉ 1916: Reflecting the Rising is a large-scale multi-location public event that will take place in Dublin on Easter Monday 2016 from 11am to 6pm, with hundreds of talks, walking tours, music, dance, street art, street theatre, and moments of reflection and celebration.
RTÉ 1916: Reflecting the Rising aims to provide Irish people of all ages with a one day canvas on which to explore the Rising and our relationship with it, both historically and contemporaneously. In locations on both sides of the River Liffey and on the river itself, the event is a public invitation to commemorate, to celebrate and to understand this significant moment in our collective history.
Hundreds of free events with a historical element are planned over eight city centre public zones which will be open to all.
The fun begins at 11am on Easter Monday and runs until 6pm.

UCD School of History is pleased to announce that twelve of its current and emiritus staff will be participating on the day giving fouteen different talks in locations across the city centre. At last check, virtually all UCD History talks were fully sold out so, if you were fortunate enough to get tickets, we hope you enjoy the lectures. If you missed out on getting a ticket for any of these events, worry not: HistoryHub.ie, UCD's public history website, has created a special curated SoundCloud playlist of 1916 podcasts featuring many of those participating in RTÉ Reflecting the Rising. It can be accessed here free: https://soundcloud.com/history-hub/sets/1916-rising
For full details on RTÉ Reflecting the Rising, see here: https://1916.rte.ie/
---
Globalising the Rising: 1916 in Context

On Friday 5th and Saturday 6th February, UCD's O'Reilly Hall was host to hundreds of academics, students, alumni, and members of the public for 'Globalising the Rising: 1916 in Context'. The aim of the conference was to reappraise the 1916 Rising from cross-national and cross-disciplinary perspectives. Both objectives were impressively achieved through a range of panels and papers showcasing the best of UCD research and also hosting the world's leading experts on the global aspects of 1916. The conference's keynote was delivered by Dr Fearghal McGarry, now Reader in Modern Irish History at Queen's University Belfast and formerly a student of UCD. Dr McGarry's paper , '"A Land Beyond the Wave": Transnational Reflections on Easter 1916' explored the global impact of the 1916 Rising, showing how it was not merely an event in Irish History but a seminal battle in the First Workd War. Professor Michael Silvestri of Clemson University in South Carolina explored the inspirations given by the Dublin insurrection to Indian revolutionaries along side Dr Kate O'Malley of the Royal Irish Academy, a foremost expert on Irish-Indian relations.
The conference was rounded off on Saturday afternoon with a round table discussion between Professors Diarmaid Ferriter of UCD, Eunan O'Halpin of TCD, and Susan Schreibman of Maynooth University. Chaired by Fionnán Sheahan, editor of the Irish Independent, this wide ranging discussion not only asked the hard questions about Ireland's revolution but also tackled important contemporary issues such as the funding of archives, public perceptions of history, and the great opportunities vein presented to researchers by digital humanities.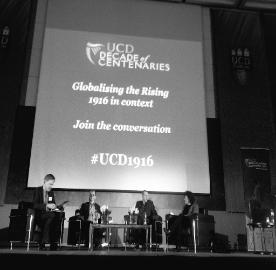 ---
After Empires Leader's Masterclass, 4 February 2016
In a joint initiative organised by the School of History and School of Politics, UCD students took part in a lively masterclass with Thabo Mbeki (South Africa), Benjamin Mkapa (Tanzania) and Salman Khurshid (India), three former leaders of countries who, like Ireland, made the transition from British colonial possession to independent state. Issues discussed included their formation as political activists, their experience of colonialism and post-colonialism, and the challenges of governance presented by religious, linguistic, tribal and ethnic diverse independent states.
The latter part of the session addressed Ireland's multifaceted historical role within the British Empire. All three speakers recalled encounters with members of Irish religious orders involved in education. Historical linkages between Irish separatists with other nationalist movements within the British Empire, as well as Irish involvement in administrating and upholding Empire, were discussed. Another issue arising was the extent to which the Irish independence struggle was an inspiration for other anti-colonial struggles.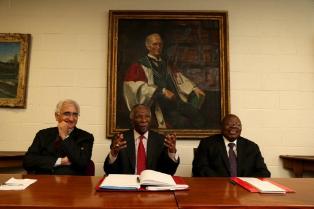 ---
The History Hub is a website where we make the most recent academic research available online to everyone who loves history. It includes podcasts on a whole range of subjects from medieval to modern history, both Irish and international.