BAFS Annual Awards ceremony (posted: 24/03/16)
A number of prizes and medals were awarded to the students in Bachelor of Actuarial and Financial Studies at the annual BAFS Prize Awards ceremony and lunch that took place on Friday 11th March 2016.
Awards were given to the best performing students on the basis of results for the 2014/15 academic year.
The overall Society of Actuaries in Ireland Medal is an award for the best performing student in the actuarial subjects in the final year of the BAFS programme. The Society presents the award-winning student with a Society medal and a cheque in recognition of their achievement.
The winner of Society of Actuaries in Ireland Prize/Medal this year was Roy Murray.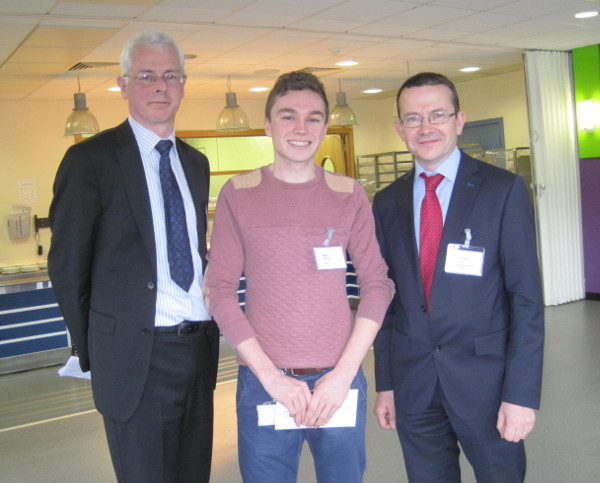 Dr Shane Whelan, Roy Murray and Maurice Whyms of Society of Actuaries in Ireland
Other awards were given:
Canada Life Prize in Advanced German winner: Conor Geraghty
New Ireland Prize in Advanced French winner: Jack Cleary
Mercer Prize in Italian winner: Niall Quinn
Zurich Life Prize in Fundamentals of Actuarial Mathematics winner: Luke Killoran
Irish Life Prizes in Statistics
1st Prize: Jane Gormley
2nd Prize: Luke Killoran
Willis Towers Watson Prizes in Survival Models
1st Prize: Darragh Murphy
2nd Prize: Lisa Brennan
Milliman Prizes in Stochastic Models
1st Prize: David Hogan
2nd Prize: Holly Rankin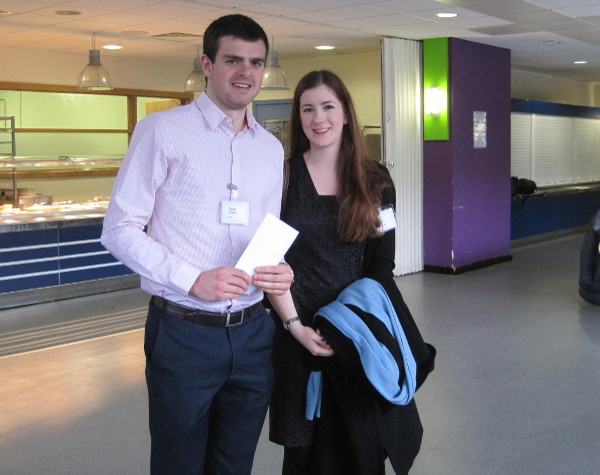 Conor Geraghty with Kate McEvoy of Canada Life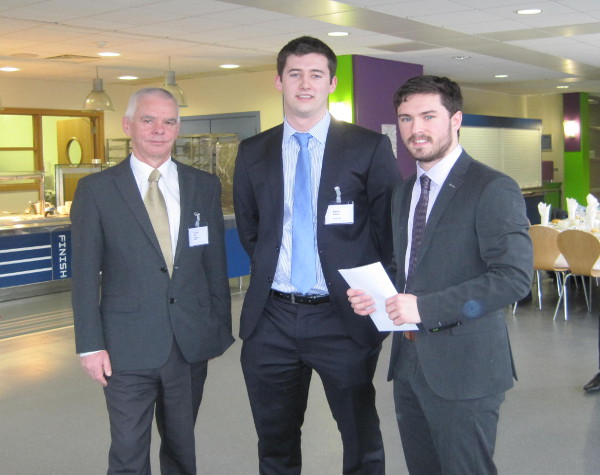 Dr Russell Higgs, David Whelan of Zurich Insurance Group and Luke Killoran