Maths Sparks Closing Ceremony (posted 4/05/16)
The closing ceremony of Maths Sparks 2016 was held in the College of Science on Monday April 25th.
Over seventy post-primary students from twelve participating schools received a certificate for their successful participation in the Maths Sparks Problem Solving Workshops 2016 programme. At the ceremony, parents and teachers were invited to celebrate as students were awarded their certificates by the Dean of Science, Prof Joe Carthy. An additional prize was awarded to Charisse Rebuldad, from Killinarden Community College, who solved a mathematical problem set by Dr Robert Osburn during the workshop series.
Over the seven weeks of the programme, students from the School of Mathematics & Statistics designed and presented mathematics workshops which would build skills in problem solving and mathematical thinking. Workshops were designed in a wide range of topics such as Cryptography and Game Theory, with content external to the post-primary mathematics curriculum. Lecturers from the School of Mathematics & Statistics assisted undergraduate teams in designing their workshops and also presented to post-primary students on the opportunities for further study and research in mathematics.
The Maths Sparks programme, run by Dr Aoibhinn Ní Shúilleabháin and Dr Anthony Cronin, is now in its second year and is funded by SFI.
Participating Schools:
Cabinteely Community College
Caritas College
Killinarden Community College
Kylemore College
Rosary College
St Dominic's Secondary School
St John's College
St. Kilian's, Bray
St. Mark's Community School
St. Paul's Secondary School, Greenhills
St. Tiernan's Community School
Tallaght Community School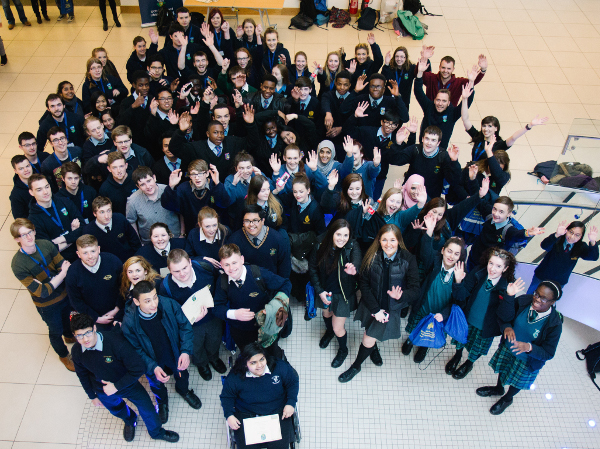 Maths Sparks 2016 participants
Dr Anthony Cronin and Prof Joe Carthy with some participating students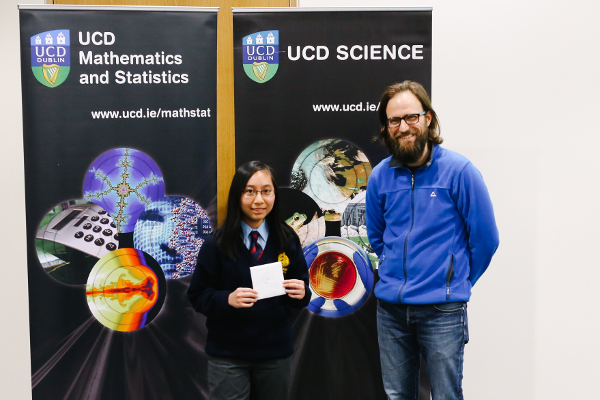 Charisse Rebuldad (from Killinarden Community College) with Dr Robert Osburn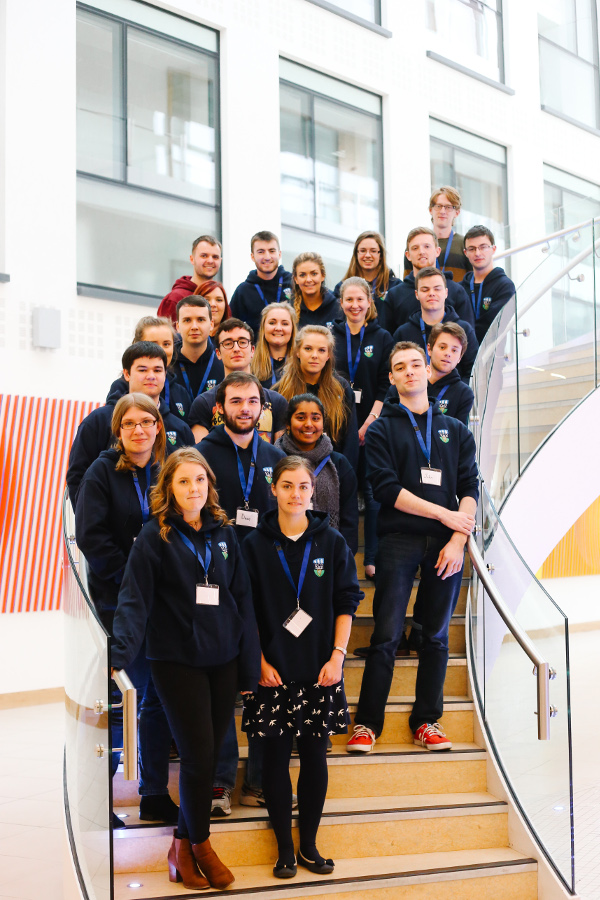 UCD Students who took part in preparation and running of Maths Sparks 2016
Participating UCD Students:
Andrew Boland
Jenny Costello
Nikki Cowzer
Deirdre Creegan
Ciara Delaney
Ciara Downey
Jesse Dunne
John Flynn
Daniel Giles
Niamh Hayes
Dawn Hutchings-Walsh
Conal Heusaff
Emma Howard
Maria Jacob
Ciara Kelly
Emily Lewanowski-Breen
Daniel McGettrick
Daniel Murphy
Dean Murphy
Rachel O'Connor
Mateusz Olszewski
Katie O'Riordan
Peter Thompson
Michael Tolan
Bronagh Walsh
Thomas Whelan