JLizard Secures Enterprise Ireland Funding
JLizard, the UCD software development company, is one of 10 companies which have been awarded funding under Enterprise Ireland's new Internet and Games Competitive Start Fund.
Drawn from over 120 applicants, the 10 successful companies demonstrated a strong potential to trade their business internationally. With products and services ranging from games and game engines to consumer services and telecommunications, the companies are rising stars in the sector and are now set to develop their businesses and grow their international presence.
JLizard has developed a cloud-based product (www.logentries.com) to enable organisations to reduce the time required to analyse the log data of their IT systems from days to minutes. JLizard was established by Dr Trevor Parsons and Dr Viliam Holub as a spin-out company from the Performance Engineering Laboratory in UCD's School of Computer Science and Informatics.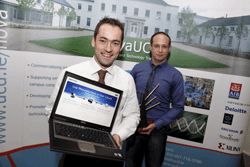 Dr Trevor Parsons and Dr Viliam Holub, co-founders, JLizard
Enterprise Ireland set up the new fund as a mechanism to get financial support into very early stage companies at the critical product market fit stage of their projects. Each of the ten companies receives an equity investment of €50,000 for an ordinary equity stake, along with the support of an experienced business mentor to guide them as they develop their business.
Last November JLizard was the overall winner of NovaUCD's 2010 Campus Company Development Programme. The company is also a graduate of the NDRC's LaunchPad Programme.
The other nine successful companies to secure this Enterprise Ireland funding were ByteSurgery (Decisions for Heroes), Calom Technologies, Cellplay Networks, Franklyweb, Plendi, Redwind Software Providers, Scurri Web Services, Tribal City Interactive and UnitedWeSave.
ENDS
28 March 2011
For further information contact: Micéal Whelan, NovaUCD, t: +353 1 716 3712, e: miceal.whelan@ucd.ie.