Bank of Ireland Seed Fund Leads Syndicated €950,000 Investment in ServiceFrame
- With co-investors Enterprise Ireland and Company Promoters
The Bank of Ireland Seed and Early Stage Equity Fund has led a €950,000 investment in ServiceFrame, an Outsourcing Relationship Management specialist. The syndicated investment comprises of a €450,000 investment by the Bank of Ireland Seed Fund with the remainder of the funds provided by Enterprise Ireland and members of the executive team.
Established in 2009 ServiceFrame's technology enables companies globally to effectively evaluate, manage and govern their strategic outsourcing environments. Effective governance is critical to success in outsourcing and ServiceFrame's software reduces the manual effort and time spent by employees and managers in collecting and assessing governance data by at least 50%.
The ServiceFrame governance tool is currently being used by clients globally such as Ericsson, Royal Sun Alliance and Warner Music to successfully manage their supplier relationships.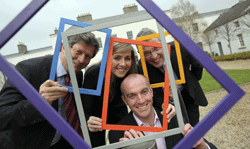 Pictured at NovaUCD (l-r) Greg Treston, Enterprise Ireland, Orla Rimmington, Kernel Capital, Donal Duffy, Bank of Ireland and Traoloch Collins, ServiceFrame (foreground)
The company, headquartered at NovaUCD the Innovation and Technology Transfer Centre at University College Dublin, will use the funds to drive further growth in the UK and US markets. It also plans significant recruitment of sales and technical staff over the next six months to support these growth plans.
Commenting on the announcement, Donal Duffy, Head of Enterprise Ireland Relations, Bank of Ireland said, "We are delighted to see Kernel Capital provide investment in a company like ServiceFrame who are at the forefront of providing services across the Internet to major customers in Commerce and Government. In the current climate good governance is essential and ServiceFrame provides easy to use tools for operational and management levels alike to keep up to date on their outsourcing arrangements, and ensure key milestones and commitments are being met."
Welcoming the announcement Greg Treston, Head of High Potential Start Ups at Enterprise Ireland, said, "Enterprise Ireland is working closely with ServiceFrame and is delighted to have supported this highly innovative export-oriented company. They are successfully winning new business both in Ireland and in export markets by continually anticipating and satisfying customer needs, and Enterprise Ireland is working with them to further develop their international growth."
Orla Rimmington, Operations Director, Kernel Capital, said, "ServiceFrame is an excellent example of a high-potential start-up that identified a gap in the market for an easy to use and cost effective governance tool to enable companies, of all sizes, to manage the risks, costs and performance associated with the outsourcing function. We are delighted to invest in this dynamic company."
Traoloch Collins, CEO and co-founder of ServiceFrame, added, "This investment in ServiceFrame is a very significant milestone, we intend to recruit highly skilled software engineers and sales professionals to enable us to further strengthen our core offering and build market share in key international markets."
ENDS
7 April 2011
For further information contact Micéal Whelan, NovaUCD, t: +353 1 716 3712, e: miceal.whelan@ucd.ie or Orla Rimmington, Kernel Capital, t: +353 (0)21 492 8974.
Editors Notes
Founded in 2009 by Traoloch Collins and Daniel Berman, ServiceFrame provides software-as-a-service to enable strategic services governance. The winner of the Emerging Software Company of the Year at the 2010 Irish Software Association Awards is headquartered at NovaUCD, the Innovation and Technology Transfer Centre at University College Dublin. The contraction in the global economy has resulted in a dramatic impact on corporate attitudes to cost and risk management associated with outsourcing and managed services deals.
ServiceFrame's collaborative governance tool uses dashboards, reports and workflow to ensure that users have accurate and up-to-date information on the status of all their outsourcing relationships. The products analytical capabilities are already delivering significant financial benefits for ServiceFrame's clients based in the UK, US and Asia.
Kernel Capital and its associate Life Science investment firm Seroba Kernel have in excess of €196 million under management in six separate Venture Capital funds, investing in ICT, Life Science and general seed and early stage investments. These funds are supported by Enterprise Ireland, Bank of Ireland, University of Limerick Foundation, NUI Galway and a range of other financial institutions. They have invested in Kernel Capital's portfolio of 51 companies which collectively employ in excess of 800 people and have been granted over 150 scientific patents. Kernel Capital and Seroba Kernel are committed to dynamic, innovative, knowledge based companies and led in excess of €96 million in syndicated investment in 2010. Kernel Capital believe that it is an exceptional time for investment and will close a number of transactions in 2011.
The Bank of Ireland Seed and Early Stage Equity Fund is a €32 million fund that invests in start-up and early stage companies, with a focus on export orientated high potential start-up companies that operate in the technology (including green technology), food and financial services sectors, in addition to supporting patent and patent pending projects within Irish universities. It is managed on behalf of Bank of Ireland and the other partners by Kernel Capital. This fund comprises of an investment by Bank of Ireland, Enterprise Ireland, University of Limerick Foundation and NUI Galway. The €10 million Bank of Ireland MedTech Accelerator Fund is part of this Fund.
NovaUCD, the Innovation and Technology Transfer Centre, is the hub of innovation and knowledge transfer activities at University College Dublin. NovaUCD is responsible for the commercialisation of intellectual property arising from UCD research and for the development of co-operation with industry and business. NovaUCD as a purpose-built centre also nurtures new technology and knowledge-intensive enterprises such as ServiceFrame. NovaUCD has been funded through a unique public-private partnership that includes AIB Bank, Arthur Cox, Deloitte, Enterprise Ireland, Ericsson, Goodbody Stockbrokers, UCD and Xilinx.