Introduction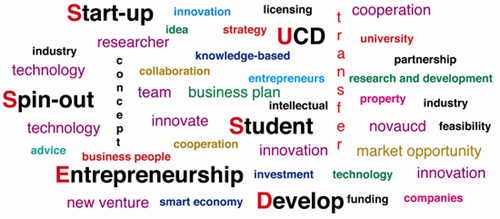 SUSSED! is UCD's €10K Entrepreneurship Competition designed to showcase the energy and ideas emerging from our university. It is open to all UCD undergraduates, postgraduates and early-stage researchers.
So, if you have a business idea, let us know about it.
The winners of SUSSED! will receive prizes totalling €10,000, free accommodation in NovaUCD's incubation facility for 6 months and support in forming a new venture. The overall winner will also represent UCD in the Europe-wide UNICA Entrepreneurship Competition for Students and Young Researchers.
SUSSED! will be judged on the basis of a submitted business plan and presentation from a team of applicants, see
Timelines
.In recent years, the significant expansion in UCD's research activity has led to a parallel expansion in patenting, licensing and the creation of spin-out companies. Recently UCD has produced more spin-outs than any other Irish University. These spin-outs, developing high-tech products, novel compounds and professional services, have emerged from all of UCD's Colleges.Many of these companies have been showcased in NovaUCD's
Campus Company Development Programme
, subsequently attracting funding, and
locating
in NovaUCD. This was the path followed by
ChangingWorlds
.ChangingWorlds emerged from the UCD School of Computer Science and Informatics in 1999 as a two-man operation, founded by Professor Barry Smyth and, PhD student, Paul Cotter. By 2008, the company had grown to over 160 employees providing software services to tens of millions of mobile-phone users across the world.
Acquired
in 2008 by, the US-quoted technology company, Amdocs for over $60 million, ChangingWorlds illustrates the value that exists in UCD's research ideas.
SUSSED! Prizes
| | |
| --- | --- |
| 1st Prize | €5,000 and 6 months free desk space in NovaUCD |
| 2nd Prize | €3,000 and 6 months free desk space in NovaUCD |
| 3rd Prize | €2,000 and 6 months free desk space in NovaUCD |
The first place winner of SUSSED! will also represent UCD in a Europe-wide competition between European Universities, the UNICA Entrepreneurship Competition for Students and Young Researchers.
The Judging Panel will select the winners of SUSSED! on the basis of the submitted business plan and its presentation, see Rules.
What Should I Do ?
Register your interest
with NovaUCD by sending your team name, title of your business idea and the contact details of your team leader to caroline.gill@ucd.ie, by noon April 6th, 2009. NovaUCD will run an information workshop on developing a business plan and on the guidelines for the competition, on April 9th, 2009.
SUSSED! will be run in two stages: a "Written Business Plan" stage and a "Dragons' Den" stage.
Following the workshop, teams will be asked to develop a business plan which has to be submitted by 5 pm, May 15th 2009, see Rules and Assessment Criteria. These business plans will then be reviewed by a Judging Panel from which a short-list will be selected to go forward to the "Dragons' Den" stage of the competition.
At the "Dragons' Den" stage, the short-listed teams will make presentations to the Judging Panel. This Panel will then select the top three prize-winners, with the overall winner being sent forward for entry to the UNICA competition.
All teams registering for the competition and submitting a business plan, agree to be bound by the Rules of the competition.
SUSSED! Timelines (all in 2009)
| Date | Description |
| --- | --- |
| April 6th (noon) | Deadline for registering interest and attendance at workshop |
| April 9th | Workshop on preparing business plan |
| May 15th | Deadline for submission of application form and business plan |
| mid-June | "Dragons'-Den" presentations and announcement of winners |
| Summer | NovaUCD will assist the winning team on its UNICA submission |
| September 20th | Deadline for UNICA submission |
| November 6th | UNICA winners announced @ UNICA General Assembly (Paris) |
Contact
For further information contact
Caroline Gill, NovaUCD, e: caroline.gill@ucd.ie or t: +353-1-716-3715