Thomas Johnson Collection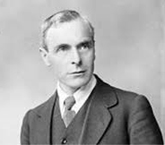 Thomas Johnson
UCD Library Special Collections holds the Thomas Johnson pamphlet collection.
The Collection
The Thomas Johnson collection consists of over 200 political pamphlets, mainly from the late 19th-early 20th century.
The collection is rich in material relating to Labour and socialist politics in Ireland and in Europe, as well as conscription and the civil war.
This collection was purchased in 1975 by UCD Library.
Biographical History
Thomas Johnson, (1872 – 1963), trade unionist and politician, was born in Liverpool.
He moved to Ireland in the 1890s where he became involved in trade unions and Labour politics.
At various times he was the president, treasurer and secretary of the Irish Trade Union Congress which was, at that time, also the Labour Party in Ireland.
He also campaigned against conscription in Ireland.
Johnson's Labour Party controversially decided not to contest the 1918 general election. Consequently the first general election he contested was in 1922 where he won a seat in Dublin. He took his seat, thus legitimising the Irish Free State and by doing so antagonised the anti-treaty party.
Access and Use
The collections can be consulted by the students and staff of UCD, and by external users, in the Special Collections Reading Room.
More Information
Find material in the collection:
Use The Library Catalogue to key in Thomas Johnson
When you get a results screen select Special Collections from Location option in the left panel
Find more information on Thomas Johnson:
Thomas Johnson in the Oxford Dictionary of National Biography (UCD only).
Gaughan, J. A. (1980) Thomas Johnson 1872-1963. Dublin: Kingdom Books, shelved on Level 2 of James Joyce Library at 941.5082 JOH.