Please join us on Wednesday, 16th October 2019, as we formally acknowledge the 2019 New York Benefit Dinner Honorees at this important fundraising dinner. The event will be attended by members of the School's Irish and North American Board Members along with senior professionals from the business, academic and alumni community.
The honorees for 2019 are Anne Anderson, Former Ambassador of Ireland to the United States, John L. Gardiner, Partner at Skadden, & Orla Mitchell, President Global Gum & Mints Business Unit at Mars Wrigley Confectionery.
Venue: The Metropolitan Club, 1 East 60th Street, New York City
Date: Wednesday, 16th October 2019
Time: Welcome Reception - 6:30pm; Dinner - 7:30pm
Dress code: Business Attire
Contact: Orla O'Malley; E. orlaeventmanagement@gmail.com; T. +353 86 807 5383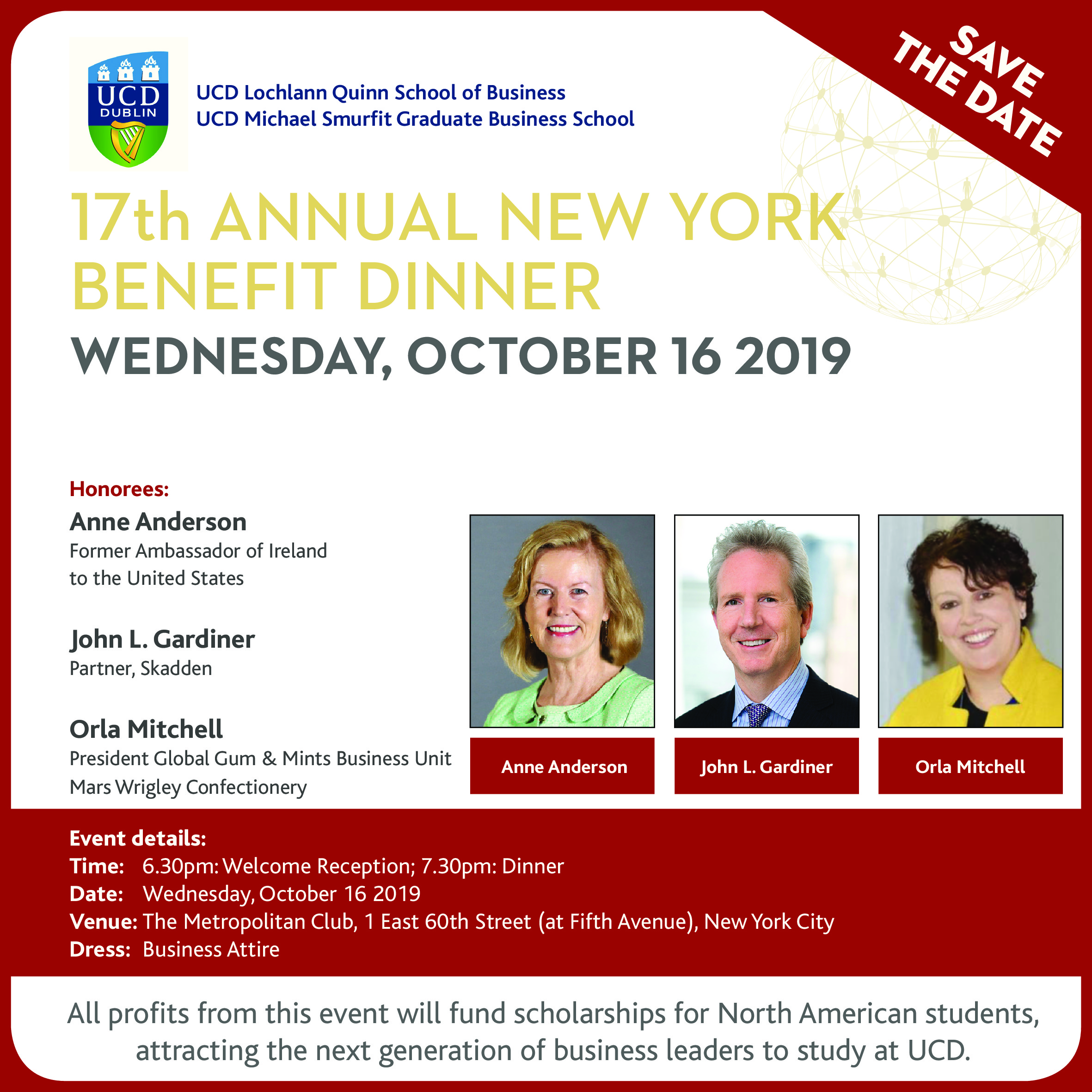 Sponsorship Packages
This event provides a unique opportunity for your company to be directly affiliated with Ireland's leading business school and global alumni community. Sponsorship of the 'Benefit Dinner' will give your company a platform to promote your brand and services to some of the most successful business people in Ireland and around the world.
To book your sponsorship package or receive further information on any of the sponsorship packages above, please contact orlaomalley67@gmail.com or +353 (0)86 8075383
All profits from this event will fund scholarships for North American students, attracting the next generation of business leaders to study at UCD College of Business.
New York Benefit Dinner 2018 Sponsors
Details of our generous sponsors this year can be found below: