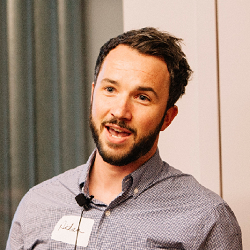 Aidan Hayes
BComm Int. '06
After seven years working in corporate banking in Europe and the US, Aidan Hayes was keen to pursue the more entrepreneurial side of business in New York. Today, he's combining a passion for entrepreneurship and innovation with his previous experience to help fintech companies break into and build a presence in the American market as Enterprise Ireland's US financial services and technology lead.
About Aidan Hayes
Tell us about your education and early career
I went to Blackrock College for secondary school and for a time was on scholarship at the Royal Irish Academy of Music. After my Leaving Cert I went to UCD to do a BComm international with German. That involved a year in Germany, studying at the Wolfgang Goethe Universität in Frankfurt. It was fairly challenging to do subjects like economics in a foreign language but a lot of fun and a great opportunity to meet plenty of interesting people from around the world. It definitely gave me a new appreciation for culture and diversity.
I also did a corporate banking internship in Frankfurt, which was a hugely valuable experience. The lessons learned from working in a foreign country have always stood to me.
After graduating, I worked for six months to save and then spent nine months travelling around the world with friends. When I came back I was pretty eager to get into work and started a seven-year journey working in corporate banking at Bank of Ireland, AIB and KBC. In 2013, I moved to New York for a role with CIBC World Markets, one of the largest Canadian banks.
After a year in the US, I knew I wanted to do something more entrepreneurial and to get closer to the creation of value though new enterprise rather than being at a large financial institution lending money to corporates.
Enterprise Ireland was an organisation I had always admired and through some serendipity, I connected with them in New York. They were interested in my experience and offered me a role here. I grabbed the opportunity with both hands and transitioned from being on the banking side to working with companies that were innovating in financial services.
What is your role and what does it involve?
I'm a senior vice president at EI New York now, working with start-ups and scale-ups in the finance and technology space, helping them to refine their processes, shape their businesses for the US market and grow their footprint here by connecting them with the right people and the right opportunities.
For me, it's a more dynamic and diverse role than banking was and offers a unique opportunity to meet a fantastically diverse range of driven and smart people. It's a genuine pleasure working with founders, helping them scale and move their businesses forward. And it has been an eye-opening experience that's given me a massive appreciation for the challenges entrepreneurs face.
What motivates you?
Having an impact and being involved in value creation are very important to me. I'm hugely motivated by making a difference. It's a phenomenal experience to build something from squeaks on a whiteboard – going from the ideation phase to seeing real progress and revenue starting to flow. It's amazing to me that you can have an idea and share it with some great people, steer all that energy in a certain direction and see a real business starting to form around it.
Starting a business that creates value for you, your co-founders, for the employees you hope to have and the customers you're aiming to serve – that's what really drives me. It's a challenging path and the odds are stacked against you, but I think that journey in itself is a huge reward in terms of building experience and learning more about yourself.
What is your leadership style?
If I had to pick one, I'd say I have a coaching leadership style. I take the development of the people working for me seriously and always try to engage with them and get them to think about where they'd like to go, rather than just trying to prescribe a certain path.
I'm also a transformational leader and have always been quite entrepreneurial, whether it was working in banking and installing better processes or systems or working in EI and using new methodologies like lean or design thinking to reform the way things are done.
But I think it's necessary to have a mix of all styles at different times.
Who or what has influenced or inspired you?
EI has given me a phenomenal opportunity to work with trailblazers. Every day I'm inspired by different companies, their founders, the people they're working with and the walls they've run through to get there. They're definitely a major source of inspiration.
I'm also inspired by contrarian thinkers – the people who challenge the way things are done now, who aren't afraid to go against the grain and who succeed through sheer grit and vision.
In an Irish context, I'd look to someone like Colm Lyon who recently sold Realex Payments and didn't miss a beat before going straight back into building his next business. From an American perspective, it may sound like an obvious choice but someone like Elon Musk is a definite inspiration – he's relentless.
What do you see as your biggest achievement to date?
I would consider the work I've done with EI – seeing the positive results of the strategic work and connections we've made and how the ripples of that work have led to job creation in Ireland and the US – to be among my biggest achievements.
It's phenomenal when you start working with a company that has five employees and, through deals done in the US that become their biggest revenue generators, see their headcount grow massively as a result. Every job created has a positive influence on people's lives and the Irish economy as a whole. There's a lot of satisfaction in that.
Have there been failures along the way?
The bitter and sweet of it is that for every couple of companies you see doing really well, you see some fall by the wayside. Sometimes it's about the journey and what you learn on it, and I've no doubt many of the founders of companies that have failed bounce back with a better product as a result of being wiser. I've been lucky enough to not have any major failures just yet. I'm sure there will be some in the future but I'd rather take lessons from the failures and focus on creating more positive outcomes.
What are your tips and advice for success?
It's important for people to get involved in an industry they really like and to do work they enjoy. If you're doing something you love, you're more likely to find success there and enjoy yourself along the way. And it's easier to find the determination and the grit you need to succeed if you're doing something you really like.
If you want it, commit to it and go get it. The more entrepreneurial people I meet the more that is confirmed in my mind.
It's also important to have a considerable amount of decency and respect for people. You can have all the grit and determination in the world, but if you can't build relationships it won't amount to much.
Anything you want to share about future plans?
I'm committed to starting my own business, but it's important to get the idea, team and execution right. Hopefully I'll have more to share very soon!
What are your interests outside work?
I've always been interested in learning, whether it's been music, sport or on the technical side – as a kid I taught myself HTML, for example. That's always been something I love doing.
I'm continuing that at the moment with an MBA in Imperial College in London. It's been refreshing getting back into the academic rigour after so long working away.
I also think that businesspeople will increasingly need to have both a business understanding and a technical understanding. So, at the moment I'm learning the programming language, Python, which has multiple applications including big data, artificial intelligence and the web.
Insight Track
How has your degree benefited your career and personal life?
Meeting great people at UCD, whether fellow students or teachers who have made a difference to my life and career.
What is your fondest memory from your time in UCD Quinn School?
Working on Comm Day with a bunch of other students to put together a smashing event!
How important is your UCD alumni network to you?
The alumni network is a great support, especially when overseas. Recently we had an alumni dinner in New York that was attended by an incredible group of people and had Brian O'Driscoll as a keynote speaker. It was a really great experience.
What piece of technology can you not live without?
Surprisingly, my Apple Watch – lots of data on life that is geekily interesting.
What is your favourite book?
Isaac Asimov's Foundation – a really smart story about humans and their beliefs/behaviours and reliance on systems, disguised as a sci-fi novel.
What's the last play you went to that you loved?
Sleep No More – experiential theatre that everyone should see.
What's the best thing about living in New York?
The immense energy everywhere, having four distinct seasons and the amazing access to interesting people the city provides.
What do you miss most about living in Ireland?
Family, mates and the proximity to European culture!
Name three things on your bucket list
Starting my own company, Ironman 70.3 and travelling around Africa.
What charities or causes are closest to your heart?
Education for those who do not have access and any cause that helps people living in challenging circumstances or with disabilities.
November 2017