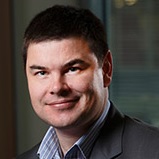 Andrew Murphy
MBA '07
Having identified a gap in the market while completing a project for his MBA, Andrew Murphy set up Sláinte Healthcare in 2006. The company has gone on to become one of Europe's fastest growing healthcare technology companies with 130 employees and, as well as its headquarters in Ireland, it has offices in the Middle East, Brazil, Australia and Asia.
About Andrew Murphy
Tell us about your educational and work background
I originally completed a degree in chemical and process engineering in Cork Institute of Technology between 1994 and 1998 and then joined Henkel Ireland (formerly Loctite) as plant engineer for its superglue plant in Dublin. I was given a lot of responsibility early on and soon enough I had to learn some code to support the process control system that automated many aspects of the plant. Over time I used this knowledge to lock in improvements to the process and reduce our cost base whilst improving our quality stats and output. I became plant manager in 2003 and so my role became much wider, with financial, HR and environmental, health and safety responsibility beyond the core production aspects.

What drove your decision to do an MBA?
I had always planned to do an MBA at some stage in my career. Once I had a year under my belt as plant manager, I felt it would be a good time to complete it as I knew I had a lot to learn to develop my management expertise. The part-time executive MBA was ideal for me as it didn't impact too much on my day-to-day role. I have to say that it was the best decision of my career and I loved the MBA from start to finish.

What is the background to setting up Sláinte Healthcare?
As part of the MBA, I had to do a project for operations that involved completing a review of the health insurance claims cycle in St James' Hospital. I spent some time understanding the root causes of the issues they were experiencing in submitting completed claims and getting paid for treating privately insured patients. It was clear that it was a complex process, but by breaking it down into little chunks, it was also clear it could be improved significantly.

In my report, I recommended that the hospital acquire some software to 'lock-in' the process changes (in much the same way I had used software in the manufacturing plant) and I described what that software should look like.

Many months later I spoke to the hospital again and they advised that they had been unable to source software similar to what I recommended. At that stage I was finishing up my elective modules in the MBA and started to seriously consider addressing this market need. So I spent the summer working on a business plan and decided to go for it.

My wife was supportive and allowed me to cash in her SSIA and remortgage to fund the initial product development, and by October 2006 I had tendered my resignation with Henkel, and started up in a small office in Harcourt Street in November 2006. It's been an interesting journey since.

Tell us a bit about that journey
Initially the challenge was to develop a new market segment – to bring an electronic health insurance claims process to the Irish market. Instead of trying to graft a solution from another country to the unique aspects of the Irish market, the Claimsure system was developed from first principles by understanding the process issues intimately.

I spent the first 12 months of the company living in patient account departments across Ireland and feeding that experience into the product requirements.

We won our first deal on a 'no-foal, no-fee' basis, with the measurement being the amount of cash the hospital could collect versus the previous year. Due to the development time for the first release of the software and getting it implemented, we really had only four months of 2007 in which to deliver the results for the hospital. Thankfully the results were immediate, with cash receipts jumping by approximately €6m over those four months. So we had earned our fee, proven the solution and got going from there.

Despite the fact that the results were impressive, and continued to have a dramatic impact for the hospital, I was unprepared for how difficult it was to get further clients on board – there is a large degree of risk aversion in technology healthcare, and usually an incredibly long procurement process. So a major challenge was to continue to have enough cash to invest in ongoing product development despite a long sales cycle.

We also faced market challenges – getting electronic signatures accepted widely in the industry, developing the infrastructure to submit claims electronically and getting all insurers to accept the electronic submissions. Thankfully, we overcame all these challenges and Claimsure now accounts for the generation and submission of approximately €1.7bn in health insurance claims through our SlainteVault brokerage service.

Early on in the company, it was clear that healthcare had bigger challenges, however. In addressing the health insurance claims process, we had developed an expertise on integrating information from various existing hospital systems and over time it was clear that there were major gaps in clinical information – instead of being captured electronically, most clinical and patient information was being captured on paper. So pretty early on we resolved to address this once we had sufficient confidence in our base revenues from the Claimsure product.

So since 2011 we have been developing our Vitro platform, allowing us to move hospitals rapidly from paper to electronic, with the familiarity of their paper chart, with all the benefits of integrated data, decision support, alerts and all the easy things you can do on paper (draw, sign and chart, etc) whilst also allowing images to be added, full audit trail of all user interaction and BI reporting.

What are the plans for the company going forward?
We have very aggressive growth targets: Vitro has established itself in multiple markets, has a huge growth story and is positioned to be the next generation of technology to drive health. We have a target to float the company within the next four years or so and we are planning to do our first major capital raise this year to enter multiple new markets. We have carefully developed our management team over the last few years, and especially in the last 18 months to gear ourselves up for the next phase of growth in the company.

Can you describe how your role in the company has evolved since setting it up?
It has changed significantly over the years. At the start, I was doing everything, with a small development team offshore. By 2009, we had a few techies on board in Dublin and Billy Diggin had joined us as CTO, so (thankfully!) he took over the product development and other technical elements. When Maeve Noonan came on board, she took over the project management and operational issues involved in deployments and shrinking our implementation cycle.

The premise has been basically to review where I am weakest and progressively fill those gaps with strong people.

As the company has developed, we needed to think about putting in the structures to support the company to grow in a structured manner. So organisational design was something we worked on, we brought in a performance management system, we developed a finance team and implemented a corporate financial system.

So over time, I've moved away from being very hands-on to being someone who looks at the direction of the company and ensuring all our senior team and our employees are all focused on the same strategic goals.

How would you describe your leadership style?
That's probably for others to describe! I do like to 'walk the floor' daily, and get inputs from everybody and I am inclined to let people do their jobs and not interfere – if I hand responsibility for something to a colleague, then I will leave them at it unless things are going way off, or unless they ask for my support.

What is your philosophy in business and in life?
Life is short, but long enough to spend time working to a long-term goal. I tend to worry less about the risk of doing something than worry about the risk of not doing something.

Who or what is your greatest influence?
Doing the MBA was a game-changer for me, in terms of self-confidence, in terms of learnings and in terms of networks. I don't know what I would be doing now if I hadn't done the MBA.

What are your main tips or advice for success?
Act – make mistakes – learn and improve and repeat!

What are your main interests outside of work?
I have three girls, so they keep me busy. Even though I travel a fair bit, I always try to make sure I am around at weekends and when I am in Dublin I am usually home before seven in order to have some time with them before they head to bed. Apart from that, I have taken up running this year and I enjoy reading history books.
May 2015