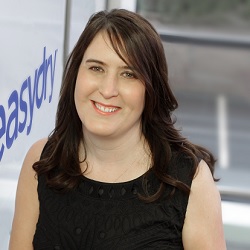 Anne Butterly
BComm '94, MBS '95
Keeping a firm eye on her end goal has been a driving force in Anne Butterly (BComm 94, MBS 95) developing her own patented environmental textile and setting up Dundalk-based Easydry, which is already exporting to 22 countries and has big ambitions for growth.
About Dr. Anne Butterly
According to Butterly, she always wanted to follow in her father's footsteps and set up her own business. Her primary school teacher mother, however, was keen for her to get the best possible education. "She always said educate yourself enough so you actually have a choice. My father has worked since he was 13 and set up his own business in 1966. He was a firm believer in going out and getting experience but that your end goal would be that you're working for yourself.
"So I wanted to go and get an education and then some commercial experience outside the family business. That's what really drove me on. I did want to own my own business but I didn't have a clue what it was going to be."
She specialised in accounting for her BComm and then moved into management for the MBS. "My love was for marketing so I chose marketing and accountancy, but I picked accountancy as a final elective. At the time, the people who were managing directors or CEOs all seemed to have come from an accounting background.
"I was working back: where did I want to be? If I wasn't running my own company I wanted to be the managing director of somebody else's, or a marketing director of a large company."
After college, she spent eight years working in marketing roles at Aon, Graphite HRM and Sage. Then in 2005, together with her brother Gerard and another Irish businessman, she set up a company to help Irish businesses source products in Asian markets. The opportunity came up after Gerard, who had taken over the family's stone business, started looking overseas to source materials.
"I went out to Asia a couple of times and helped Irish companies get pricing and information," she says. "We'd look for factories that would be able to make components for the companies at the right standard, at the right price. This gave me the experience of how to develop a product, about managing intellectual property and everything to do with component pricing and pricing a product up."
For Butterly, it was something of a light switch moment. "It made me realise that if I came up with an idea I could find out if it's viable or feasible."
Idea for Easydry
During this time, she started developing the Easydry concept. She'd had the idea for a disposable towel when she was living in Dublin with six friends. "One of them was dyeing her hair at home. She came into the room with a plastic shopping bag on her head and said it was to protect her clothes from the colour. I was surprised that there was nothing you could buy for this." She became increasingly interested when she carried out research into what was available and looked at the global hairdressing and colouring market.
"I thought there would be a market for it if I could develop a product that would be used in hairdressing instead of washing and drying towels or getting stained towels. Every day in hair salons around the world loads and loads of cotton towels were being put into the wash and dried, using a huge amount of energy and time and not adding to the bottom line."
Working with a textile engineer, she developed her patented material, which she describes as a disposable, environmental towel. "We worked with a technology that was out there but not being used," she says. "We re-engineered it so it was 100pc biodegradable. I was very aware that the market was changing. There was a backlash against disposable nappies and at the time in Ireland the green bag was starting to come out.
"So I needed a product that is consumable but environmentally friendly. That's probably why it took a year and a half trying to get the product right and find a production company that would contract manufacture this. We could have gone out and made a really cheap product and mass marketed it but I wanted a product that I could stand behind.
"We picked a manufacturing partner that has now worked with me for the last 10 years and has cleanrooms and we use core raw materials that are sustainably manufactured. We're the only towel company in the world that has a carbon footprint for our product."
While Butterly saw a definite requirement for her new product, some education was required to convince the marketplace, she says. "At the time, it was me telling the industry there was a need. This is a new textile and when I launched Easydry first of all it was hard to try to get the concept across. It's thin, but it's really, really strong. Easydry is improving hygiene in salons. It's a guaranteed clean towel every time, it's three times more absorbent than a cotton towel and it's very compact.
"The early adopters got it really quickly. And it's interesting, because in any new region we go into it's always the same with the same kind of people wanting to benchmark themselves against global companies and wanting to bring in new products and improve standards. Now, we're being used by all the top salons in Ireland, England, Australia and so on."
The company is selling into a growing number of overseas markets, including the New Zealand, the US, Finland, Iceland, Malta, Bahrain Austria and South Africa. Ten people are employed between Ireland, the UK and the US.
Over the last few years, Butterly and Easydry have won a number of awards including 'Innovation of the Year' at the British Hairdressing Business Awards in 2009. "The one I'm most proud of is the 'Green Technology' award in the Irish Times Innovation Awards 2010 because it came at the right time in 2010. We were just starting and I just felt, right, I am on to something here."
Company expansion
While Easydry initially focused on hair and beauty, the company has expanded into a number of new sectors over the last year or so. "We started in trade applications to get the brand built and to prove the market concept," says Butterly. "And it was always the plan to get one sector up and running properly and to then move into other industry sectors.
"So we're looking at the leisure and retail sectors and in healthcare we're looking at finding a distributor. There are some sectors we want to get into but will ideally be looking for an agent or distributor that has the market knowledge. We have the product knowledge and we can develop the products bespoke to each industry sector. At this stage we're looking for the right partners that will enable us to get into those and to gain market share quickly in those new sectors.
"For the next 12 months we'll be trying to globalise the hair and beauty sector but we have developed the gym and leisure sector and retail products now that we want to bring in and sell in the core markets we're in already."
To grow as quickly as she'd like, Butterly says the company will soon need to look for external funding to finance both new staff and its ecommerce platform.
Meanwhile, other ideas have come up but Butterly says she wants to keep her total focus on Easydry for the moment. "First of all it was trying to educate people. Then it was trying to build a brand that was acceptable across consumers and salons and different entities. We achieved that 12 months ago. For me, the focus now is on getting out and selling and getting the right distributor partners. We're ready to really push it. We have done all the hard work if they have the sales contacts.
"Sometimes we have to step back and say, yes we have done a lot. It's moving so quickly that sometimes you nearly forget to take in the successes.
"There are one or two products sitting there that haven't reached their potential so for me it's only the tip of the iceberg. If you can get the right infrastructure around you then you could be the next big company in Ireland. But we're just at the tipping point for it now. There's opportunity and potential but I actually want to realise it."
May 2014