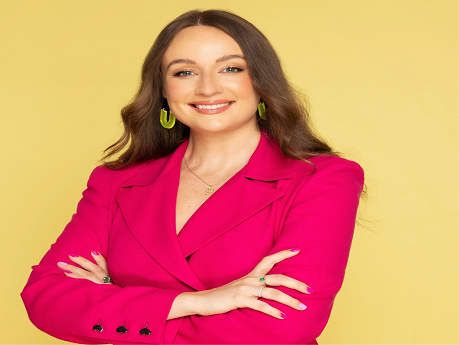 Ashley McDonnell
CEMS/MSc International Management '16
With a passion for fashion from a young age, Ashley McDonnell took a strategic approach to ensuring she would end up working in the industry. It paid off and, having started her career in LVMH in Paris and following a stint with Google, she is now Global Digital Media and e-Commerce Director at Barcelona-headquartered luxury brands group, Puig.
About Ashley McDonnell
Tell us a bit about your education and early career
Myself and one of my brothers were born in the USA, which played a key role in my early education. I went from the YMCA in New York to Ballyhale National School in Kilkenny, a stark contrast to say the least, followed by another move to Galway, where we eventually settled in Craughwell by the time I was six.
I always knew I wanted to work in fashion but realised early on that I didn't have any role models in that industry who I could relate to, or whose path I could emulate, particularly in Ireland. It was quite difficult navigating how to enter the industry, what my angle would be and what exactly I'd do.
After thinking I would become a fashion designer and bringing my art portfolio everywhere from LSAD to the University of the Arts London, I decided to study business because I felt I could approach the industry with these skills and find a role ideally with e-commerce or a digital focused theme. The dream was always to work in Paris, and I really wanted to get into Christian Dior, which for me was just the most beautiful fashion maison. I did a lot of research on the people who were working there already and realised there were lots of commonalities in their education. Firstly, a master's degree was a must. So, from quite early on I knew I would be doing a master's as quickly as possible after my undergrad. Smurfit was always top of mind in Ireland, and HEC Paris in France.
The second thing I realised was how important internships are. For these luxury houses to have trust in you they need to have already seen how you work. All of the top execs working in these iconic fashion houses had started with internships, either there or with a competitor. Being fluent in French was also important and moving to Paris was essential. So, that was the plan!
I thought the best route was a double degree programme, which I did with DCU and Neoma Business School in Reims, a programme that allowed me to study completely through French and complete two six-month internships in France, as well as a summer in France working in tourism. Becoming fluent in French was always the goal.
Knowing that a master's combined with multiple internships was still key, I picked the CEMS double master's in international management with UCD Smurfit School and HEC Paris – the dream combination of schools for an Irish person wanting the best of education at home and in France. I was already living in France, so it made sense for me to start the programme in Paris at the end of August 2015. Five months later I was back in Dublin on campus in Blackrock at Smurfit. By July I was back in Paris again for my last internship, finally, after hundreds of applications over many years, with the world's largest luxury group: LVMH.
It was fantastic to experience the difference between the two master's programmes. In Dublin the focus was on tech and I particularly enjoyed the data-driven marketing module. We had on-campus visits to companies like Google, Meta and HubSpot, which gave great exposure to the realities of working in tech. In Paris, it was the luxury strategy module delivered by the former CEO of Louis Vuitton and Yves Saint Laurent; it was incredible to hear first-hand how he developed over decades these iconic fashion and fragrance houses, which are now the biggest luxury brands in the world.
That educational combination – from Dublin to Paris, tech to luxury – gave me the platform to get my career started. In my first role after the master's at LVMH I was within the chief digital officer's team as a data analyst working on bringing the best tech insights from the digital real estate of the brands back to the brand presidents in a form they could understand. I loved it and it was an amazing opportunity.
Ultimately it was a six-month internship and I wanted to make sure I did not leave without a full-time offer. I couldn't count the number of jobs I had applied for already, so this seemed to be the last chance. It finally happened for me at Dior, one of the leading brands within LVMH group, and I became digital manager for the travel retail division globally. I stayed three years within LVMH group, all in Paris, before joining Google as luxury account manager, a move that brought me back to Ireland for two years.
What is your current role
For the last two years I've been Global Digital Media and e-Commerce Manager at an amazing luxury group called Puig, which is privately owned, headquartered in Barcelona and over 100 years old. Puig owns a suite of luxury brands including Charlotte Tilbury, Jean Paul Gaultier, Paco Rabanne and many more. 2021 saw the group exceeding €2.585 billion in revenue. I joined the global team and am based in the international holding in Switzerland.
I oversee our strategies across the brands, focusing on everything from how we leverage tech and social platforms all the way down to the technology we're going to use within the Chinese digital eco-system and Web3 development. I've recently been able to bring on an Irish start-up – Gladcloud, based in Dun Laoghaire – as a tech partner. That was one of the biggest milestones for me in the last two years. I'm delighted to see them coming in, not just because they're an Irish company but because they're fantastic. They've helped us build our most successful digital campaigns in the last year.
What motivates you?
I'm very interested in everything to do with fashion. I could read fashion books and watch fashion programmes all day. Getting to work within those brands with other people who are just as passionate about fashion is great – we have our own little community and understand each other. You're surrounded by things you're interested in all day long and that's a constant source of inspiration and motivation.
I also love technology, which is my speciality in this world of luxury. I need to be able to continuously learn and bring those innovations into the companies I work with and help them accelerate and transform digitally. The impact is quite tangible because with digital we have clear KPIs and results – we can see campaigns going live and the impact on the business straight away.
How would you describe your leadership style?
I would say it's very transparent and a lot of that comes down to my time at Google. Transparency is the default there – you keep everything open and share everything with everybody because the more people who can see what you're doing, the more feedback you get, the more ideas you can leverage and the quicker everyone can learn. This would not be the norm within luxury, so it requires a cultural shift.
I also try to give as much responsibility as possible to everyone in my team. You won't find me micromanaging because I don't enjoy it and I think it's the least collaborative way of getting things done, especially in an agile environment. I trust my team: I hire people who are smarter than me and who are experts on the different topics they manage. I learn from them and let them lead on their own topics.
Who or what has influenced or inspired you?
When I joined LVMH I was very lucky because the chief digital officer at the time was Ian Rogers, who had previously been chief executive of Beats and helped launch Apple Music. The way he inspired people in a very traditional, very old school company to embrace and adapt technology was just amazing. Also, he was very authentic to himself. He didn't turn up in the suit and leather shoes that would have been expected – he came in his sneakers, streetwear and tattoos on his knuckles. I was lucky to see that an early stage of my career – I saw there is another way of doing business and I really embraced that. I might wear a suit to work, but it's going to be oversized and in bright pink, paired with sneakers.
Otherwise, I would say going to events and talks and conferences like Web Summit open your eyes to the way the world is working today. That international exposure is important for giving people the cutting edge when it comes to tech. The big value of working within a company that can operate globally is how exposed you can be to people from all over the world.
What advice has resonated with you?
One of my classmates at HEC Paris – a very good friend who has an amazing career in finance – gave me an important piece of advice. Lots of career fairs were happening on campus and I knew I only wanted to work in luxury, so I decided I'd only go to things that were relevant to me. He said, go to everything, you can talk to everyone and learn from everyone. And I realised he was absolutely right. Even working within luxury, I need to work with people from other industries and backgrounds – co-creation and cross-collaboration are key.
So now I'd really advise people not to be shy and to get out there and talk to everybody, attend the events, listen to the podcasts and reach out to people you'd like to work with.
What's your biggest achievement to date?
In the last year I've been very focused on education – sharing and getting out there and teaching. A lot of people reach out to me and ask for advice around how to get into luxury and technology careers. Giving an impactful response through a short message on Instagram or LinkedIn is restrictive. I decided to start teaching and guest lecturing in order to have more impact.
I now deliver a full module at NEOMA Business School (master's) and HEC Paris (MBA) and students get a thorough introduction to tech and luxury as a specialisation, ask all the questions and have a proper dialogue and conversation rather than just an email or a few messages back and forth. It's intense – 18 hours and I do it in two and a half days. We're all exhausted after it, but the learnings are huge, and I've met incredible people through teaching.
However, I realised that was also limited. The people who made it to the classroom could afford a master's or an MBA programme and they made a commitment to doing it, perhaps taking time off work or other responsibilities, which isn't feasible for everyone. I decided to launch a podcast – it's sponsored by Irish wellness brand, Seabody – that's free for everyone to listen to and I interview the people I think are the biggest and the best in the luxury and tech industries, asking them all the questions that only they have the answers to.
That's really what I'm most proud of – democratising the key information people need to pursue a successful career at the crossover of tech and luxury through a podcast that's free for all to listen to.
What are your plans for the future?
One thing I want to do is connect more with businesses in Ireland. Last year I took on the role of chairperson of Digital Business Ireland, which has 8,000 business members and is the representative body in Ireland for everything to do with tech for business. There's lots I want to do in the role which is for another two years. One is to bring in more international insights – we've a lot to learn from other countries that are not as big in terms of their tech hubs as Ireland, but that are much bigger markets and therefore provide huge opportunity.
In the long term my goal is to build the LVMH of Ireland – a group that's dedicated to building brands that are designed and made in Ireland. There's a huge opportunity for it. We have loads of amazing brands in fashion, beauty and spirits but we don't have any system in the country to support their development by incubating existing brands and giving them the right expertise and investment. I also want to build new brands with Ireland at their core. Everything I'm doing now is simply to learn and to get ready for that.
Insight Track
How has your degree benefited your career and personal life?
My degree gave me huge perspective, mainly due to the exposure to people from diverse backgrounds (there were only three Irish people in my cohort). I also met some of my closest friends thanks to the program.
What is your fondest memory from your time in UCD Smurfit School?
Convincing 30+ students from CEMS to go on a surf trip to Lahinch in February. I don't think any of them were prepared for the Baltic conditions!
How important is your UCD alumni network to you?
The UCD alumni network has been key, and the CEMS network even more so, as it's an incredible programme with alumni spread out across the globe.
What are your main interests outside work?
Travel (over 50 countries so far)
Art
Fashion
Food
Tell us something most people don't know about you
I speak fluent French and have been learning Chinese for the last two years.
What piece of technology can you not live without?
Google Search.
What's your favourite book?
The Cartiers by Francesca Cartier Brickell
What's the last cultural event or performance you went to that you loved?
Montreux Jazz Festival
What is your favourite place in the world to visit and why?
Capri for its striking blue waters and people watching.
Where is home?
Galway
What's on your bucket list?
Everest base camp and IPO on the NYSE
What charities or causes are closest to your heart?
Children with Hope for Development: a school I support in Cambodia
January 2023