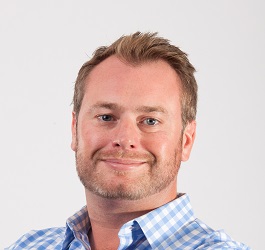 Barry O'Brien
MBS '06
After seven years as a diplomat and vice consul general at the Department of Foreign Affairs, Barry O'Brien became the youngest ever managing director at Silicon Valley Bank in 2012. Based in San Francisco, he now leads the bank's corporate venture capital practice and has global responsibility for long-term partnerships with venture and innovation teams at Fortune 500 companies.
About Barry O'Brien
Tell us a bit about your education and early career
After school at Belvedere College I went on to do economics at UCD. I finished my final exams on a Thursday and by the following Monday morning I was at a desk in Sydney working for PricewaterhouseCoopers as a strategy consultant.
After nearly a year there, I returned to UCD and did a master's in business studies at the Smurfit School. Then, I worked very briefly for a management consultancy before being recruited by the Department of Foreign Affairs as a third secretary.
I trained in Dublin and was then sent to Belfast where I was attached to the International Fund for Ireland. I also worked for a while in the department's press office. After a couple of years, I asked to be posted to the Middle East but ended up being sent to San Francisco and spent the next four and a half years here as vice consul general.
Through that job I came in contact with Silicon Valley Bank (SVB). The Irish Government is now a significant LP (limited partner) in the bank's investment arm and I had a hand in negotiating that and a few other things around it, including setting up an Irish internship and helping establish the business in Ireland. As a result of that, the bank offered me a role. It seemed like a very positive move for me and so I took it.
What is your current role?
I'm managing director of the bank's corporate venture capital group, so I have global responsibility for partnerships with the investment arms of Fortune 500 companies. Ultimately, we connect these corporates looking to build, buy or partner with the bank's network of startups and clients.
Today, SVB banks approximately 70% of all US VC firms and over 50% of all VC-backed startups. The bank was founded in 1983 and is today listed on Nasdaq with a market cap of US$16bn and assets of US$55bn.
On the venture capital side, my big clients include Google, Intel, Qualcomm, BMW, Microsoft and In-Q-Tel, which is the investment arm of the US intelligence services.
I also work with the innovation teams at a number of major global corporations. For example, I would meet and advise the CMO and CTO of Procter and Gamble – we work with them in China quite a bit: P&G is the world's largest consumer goods company, but what sells in Chicago is not necessarily what sells in Shanghai which materially affects the innovation strategy of the company.
I advised and led Under Armour in its acquisition of MapMyFitness, a former SVB client. And I work quite a lot with Daimler, Ford and several other motor companies on the innovation side – I'm a bit of a car freak so that's particularly enjoyable!
What motivates you?
My team is genuinely important to me. I grew up playing rugby, which is the ultimate team sport. So I really enjoy building my team and I like my team being successful.
I also believe that having a very diverse team is critical to success. Some people pay lip service to that but for me and for my team it's extremely important: we've all grown up in different parts of the world and have different degrees and experiences and that leads to much better results when we're working with big companies. Knowing the different markets, product sets, geographies and cultures helps inform much better decisions and outcomes.
I am fairly competitive so I am also motivated by winning deals and working with these big companies. Seeing what my team and I can do to help and improve things for them is fascinating.
What is your leadership style?
I played a lot rugby and captained quite a few teams in school and college and afterwards. And that taught me a lot because the role of the captain is to make the team win by making the right decisions. That is a strong influence on how I look at my teams.
We also have to look at the opposition. In the Department of Foreign Affairs, there was a lot of training in negotiation tactics, for obvious reasons. One of the important lessons is that you have one mouth and two ears and should use them in that proportion. It's vital to have a good understanding of who you're negotiating with, what they want and need, what they're willing to give up and what they're definitely not giving up and to know how to move around that. And you always have to get to know the strengths and weaknesses of the opposite team.
What has inspired or influenced you?
My first posting in Foreign Affairs was to Northern Ireland – you can be sent anywhere in the world and I ended up 90 miles from where I grew up. But socially, I don't think they I could have been sent anywhere more different.
In Belfast, most people looked fairly similar, sounded fairly similar and liked fairly similar things. Yet two people could grow up on adjoining streets, have never met yet fundamentally hate each other.
That was an interesting learning and it's something I've taken with me – seeing how these things break down, how important it is to build them up and the ways to build them up.
What's your biggest achievement to date?
With the consulate over here we had a lot of success, particularly as the economy was struggling back home. About 40% of global FDI into Ireland comes out of the US west coast and, working with Enterprise Ireland and the IDA, that number actually grew during our time. We also negotiated a bi-lateral treaty with Nasa and delivered a number of other education and cultural projects. I'm very proud of having had the opportunity to serve the country as a diplomat and look back on some of things we did to help others, such as in the aftermath of the tragedy in Berkeley.
At Silicon Valley Bank, the group I lead didn't really exist before I arrived. We've grown it very successfully and it's going to grow even more over the next couple of years and that's something I'm very proud of.
I suppose it's an achievement that I was just 25 when I arrived in San Francisco and – to my knowledge – was the youngest ever vice consul general. And, at 29 I was, as far as I know, the youngest ever managing director at the bank.
Are there particular failures you've learnt from?
There have been failures and I have definitely learnt from them along the way. I think my education and my experiences – particularly my time in Northern Ireland – have given me a certain amount of perspective. You know things are generally not that bad and you can learn from your mistakes and do what you can to fix things. I've been fortunate – there's nothing I can say has been an absolute disaster.
What are your tips and advice for success?
When I was going to college and even afterwards, I didn't really know what I wanted to do and I think that's okay. A lot of kids I meet think they need to have done or have achieved certain things by a particular time, but they really don't. You need to be confident of who you are, take a moment and look at the world and figure out where you want to go. Don't do something because someone else says you need to.
Networking is something that has been very beneficial to me. I would say, don't be afraid to go somewhere, try something new or talk to someone new because you're going to learn from every experience.
What are your plans for the future?
I arrived in San Francisco at a month's notice and 10 years later I'm an MD in the largest venture capital bank in the world so I don't really know what will happen too far into the future.
In the immediate term, the business I run for the bank is in the process of a global expansion plan. We'll be opening several new groups around the world within the next 12 months. That's top of my agenda at the moment and I'll be spending more time in New York over the next couple of months to do it.
Personally, I'd like to get my golf handicap back down and there are a few places I want to ski next season.
What are your interests outside work?
I do love golf. And I also love skiing. This year I skied here in the States, but I also managed to ski in Canada and Switzerland. And I'm a bit of a petrol head and I now have my car racing licence – I do love speed! I also love horse racing and that's been passed on to me from my mother and my grandmother – one of my favourite days of the year is December 28th when my mum and I head out to Leopardstown Races.
I think every diplomat in the world has a certain travel bug. I do like to see one or two new countries every year if I can – this year was Morocco!
Insight Track
How has your degree benefited your career?
I have a degree in economics… so working in a bank it has definitely come in handy! But also as a diplomat, understanding how geopolitical decisions effect geo-economic flows was definitely an advantage.
What is your fondest memory from your time in UCD Smurfit School? More outside the school! My mum has always said I was good at everything in school except school and my fondest memories are definitely from playing rugby for 'collidge'. Some of my best mates to this day are still from those teams.
How important is your UCD alumni network to you?
I'm a huge believer in the power of networks. I see 'the why' everyday in the achievements of the Irish diaspora and would definitely count my UCD network as important to that.
Tell us something most people don't know about you
I'm left-handed, I still like to make model airplanes and I love a good pub quiz.
What piece of technology can you not live without?
My iPhone is my office.
What is your pet hate?
Ignorance
Who's your favourite writer and/or what's your favourite book?
I recently read I Read the News Today, Oh Boy, by Paul Howard, which was great. Currently, I'm almost finished the collected short stories of Roald Dahl.
And what is your favourite band, musician or piece of music?
Favourite song of all time is Gimme Shelter by the Rolling Stones.
What's the last live performance you went to that you loved?
I was at the Laugh Factory in Los Angeles on Friday night – I nearly fell off my chair laughing. I have tickets to see the Snapper at the Gate in Dublin next weekend. I'm really looking forward to that.
What is your favourite dish to cook?
As part of our Foreign Service training we were sent to DIT Cathal Brugha Street to be taught how to cook and entertain. I loved it and have been hooked ever since. I'm a huge fan of Gordon Ramsay. People tend to ask for my currys… so most Sunday evenings you'll find a bunch of Irish tech heads and other assorted folks around my dining table.
What teams do you support?
Leinster, and more recently, the San Francisco Giants.
What is your favourite place in the world to visit and why?
My family have spent our summers in Ballyferriter, outside Dingle, since I was a boy. It's a very happy place for me.
What are your insider tips for anyone visiting San Francisco?
Book Alcatraz well in advance!
What's the best thing about living in San Francisco?
You could very literally surf, golf and ski on a long weekend from here. Failing that, Napa is 40 minutes away.
Name three things on your bucket list
Visit Antarctica, go to the Kentucky Derby and see Ireland in a Rugby World Cup final.
What charities or causes are closest to your heart?
Via the Ireland Funds, I support the Belvedere Youth Club. I also fund a scholarship each year here in San Francisco.

July 2018