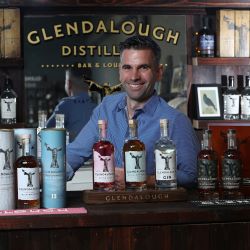 Brian Fagan
BBLS '00
It's been a career of two halves so far for Brian Fagan, who spent just over 10 years in investment banking before setting up Glendalough Distillery and Five Lamps Dublin Brewery, both of which have now been sold on to large drinks companies.
About Brian Fagan
Tell us about your educational and career background
I grew up in Dublin and went to school in Oatlands in Stillorgan and then on to UCD to do business and legal. I wasn't 100% sure what I wanted to do so the idea of a course that looked at business and law, which were two areas I was interested in, and not having to make my mind up at 18 was probably one of the main attractions.
Since graduating, I've had two really different careers for about nine or 10 years each. From college, I went into Bank of Ireland Asset Management and it was exactly what I wanted to do – I was totally into that Wall Street type role and business. I then joined a small hedge fund that was subsequently bought out by Davy Stockbrokers.
In 2007/8, when the financial crash was beginning to bite, Davy started focusing more on international business and I began writing research on some of the big drinks companies. That's what led to my second career. At that time, we were starting to see the emergence of craft breweries and distilleries and, at the same time, Irish whiskey was beginning to come out of its 50 or 100 year decline. That's what sparked the idea around craft distilling and brewing.
Barry Gallagher, who's my partner now in Glendalough, was also working in Davy and covering drink stocks. We believed there was going to be an opportunity for small, local Irish companies to compete in the drinks space with premium products on the global stage.
I handed in my notice to Davy in January 2011 and set up Glendalough Distillery. Ireland back then was a very different place, I had a one-year old kid and another one on the way and a Celtic tiger mortgage. I think I was just naïve enough to think we could make a success of this to take the risk. I'm not sure that if I had been armed with the information I have now that I would have done the same thing.
I spent a year and a half getting Glendalough off the ground and we hit lots of road bumps during those early days. I'd been working on a similar idea in the beer space and approached C&C, which owns Bulmers, about starting a craft brewery. Big companies tend to struggle to build authentic small brands themselves. My proposal was to start it with some investment from C&C and they could then increase their stake if it worked out. So I set up Five Lamps in 2012 with a small production facility in Dublin city centre.
For the next five years I had two start-ups, a young family, and, operating in a country in recession, not a lot of money, so the early days were certainly pretty interesting. Thankfully it worked out and in 2017 C&C acquired Five Lamps and took it into its own business.
What is your current role and what does it involve?
My role at Glendalough Distillery has changed a little bit in the last year. In 2016, Mark Anthony Brands International bought a 40% stake and last December took complete ownership of the company. We still operate the company on a day-to-day basis but we are now part of a dynamic global business that is the fastest growing alcoholic beverage company in the world.
What motivates you?
My first career was very traditional and I think it got to a stage where I wanted to do something that had a tangible output. When I was working in finance, you could work really hard and long hours, but it was sometimes difficult to see an end result.
So I think I'm motivated by wanting to create something. The change for me coincided with when I had kids – I liked the idea of creating something that might still be around when they grow up, or hopefully even longer.
I am also driven by trying to demonstrate that there was a model for smaller Irish companies to compete globally in this industry.
What is your leadership style?
With both companies I set up, at the start it was me and others who were there from the outset or who joined quite early on. I was so invested in the companies and making them work and felt if I demonstrated just how much this meant that people would buy into that.
One of the things I've learnt is that as your business grows, not everyone is going to feel the same way about it as you do. We've been blessed in that we've had great people on board who have totally bought into what we are trying to do. But it's your business and sometimes people aren't going to be as invested in it as you are. You have to learn to adapt that style and how you manage and incentivise people. So I've had to change and adapt and get that understanding that what motivates me isn't going to be the same for other people.
What has been your biggest achievement to date?
I don't spend a lot of time sitting around thinking about achievements. But there have been small milestones along the way that have been very exciting. My brother lives in New York and I remember the first time he sent me a photo of Glendalough behind a bar in Manhattan . I thought that was pretty cool. Small things like that are a real kick.
I'm quite proud of the Glendalough business plan I wrote in 2010. I'm sure we made every possible mistake along the way but we did take the plan and follow it and deliver on each stage. When I look at the investment theses for both Glendalough and Five Lamps and compare them with how things transpired, they're not a million miles from each other. And in both cases, big companies came in and validated them and that's very gratifying.
Building a great team at Glendalough also feels like an achievement. We're only nine years old and we have a team of over 20 people. The average tenure of the people who are with us is four or five years, which is pretty good for a small company. I think the passionate group we have built at Glendalough – from the team in the distillery to the guys out building the brand – is one of the things I am most proud of.
What's the best advice you have been given?
To always remember that there are many people out there who know way more than I do. To be able to listen to them and be open to what they're saying. When you have set up your own company, you can tend to become quite passionate about it and it can sometimes be difficult to accept that there are people who can add value and bring new ideas. You can become quite defensive, but actually you need to get over yourself and appreciate that lots of people know more than you do and can help. Getting to that stage as quickly as possible is probably a good thing.
What are your plans going forward?
Right now, we're helping with the integration of Glendalough into the Mark Anthony group so it can flourish and continue to grow. Glendalough will always be our baby so we want to make sure it's given the best chance of continued success.
That's the priority right now and we'll see after that. I do think once you've been bitten by that entrepreneurial bug it's hard to go back to being a small cog in a big machine.
Insight Track
How has your degree benefited your career and/or personal life? Definitely through the people I met and friends I made. Every day I come across people I met in UCD, be it through business or on the side of a GAA or football pitch.
What is your fondest memory from your time in UCD Smurfit/Quinn School?
Too many to choose just one: All the 'balls' – B&L, Comm, Arts and Science; Superleague football; Fosters dollars in the Student Bar; The Trap; Tony Hourihan's lectures in Theatre L – always got a packed house; queueing from early morning to get our J1 visas for the US.
What are your main interests outside work? Family. And sport. I have three young boys so most evenings and weekends are spent coaching GAA and football teams. I love golf but in its current format it's not hugely compatible with a young family and a busy work life. I like to run too.
What piece of technology can you not live without?
In the early years of Glendalough and Five Lamps I struggled to put my phone down. It felt like I was always on. In the past few years I have tried to get a better balance and I have turned off notifications and taken social media off my phone. Technology is phenomenal, you can run a business from a phone, but I have been working hard to get a better balance.
What is/are your pet hate/s?
Hate is a strong word but one of the reasons I tried to spend less time on my phone was that I found social media generally wasn't great for my mental wellbeing. I am a person who can definitely let stuff get in on me and I found social media was becoming a very negative forum. I appreciate it's a huge generalisation to talk about social media as a single form but I just found it wasn't good for me. It sometimes seems some people's default position is anger or hostility.
What's the last gig or performance you went to that you loved?
I am going to show my age here but Oasis in 1997 (Liam had a sore throat) and The Streets, Underworld and Royksopp at Witness in 2003. Most of the people reading won't have heard of Witness but it was the precursor to Oxegen. A lot of people won't have heard of Oxegen either.
What team do you support?
Liverpool. I'm obsessed and know I shouldn't be. And have passed it on to my three boys. My wife reckons she can tell on a Saturday evening, without having to ask, the result of the Liverpool match on the basis of my mood. I am working hard to lessen the impact it has on my life. It's only football.
What is your favourite place in the world to visit and why?
I love Ireland. For all that we like to complain about it we have a beautiful country. And for all our faults (and we have many), when we are at our best I think Irish people are great and we should be proud of that. Playing golf on the west coast of Ireland in May or June when it is bright until 11 in the evening and then coming in for a pint is one of my favourite things. Internationally, I love New York. I am lucky enough to be there on a fairly regular basis. It has an energy that you don't find in many other places.
What charities or causes are closest to your heart?
My dad is chairman of Stewarts Care, which does great work, and my mum volunteered for Gorta (now Self Help Africa) for many years, so both are important to me.
November 2020