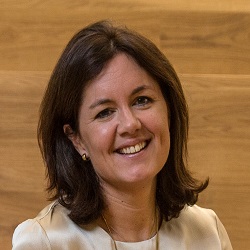 Clare Gilmartin
BComm International (German) '97
Strong focus and a belief in the power of opportunity have steered Clare Gilmartin through a generalist career spanning Unilever, BCG and Ebay to her current role as chief executive of train and coach travel app, Trainline, where she's led the expansion from one partner in the UK to 220 partners providing travel in and across 45 countries.
About Clare Gilmartin
Tell us about your educational and career background
I was born and raised in Dublin. After school in Mount Anville I went on to UCD, where I opted for BComm International with German, mainly because I didn't know precisely what I wanted to do. I liked the breadth of a business degree, but also wanted a bit of an adventure – the thought of the Erasmus year really appealed to me. And I love languages so that was another big draw.
After a year away I was very keen to continue to explore the world beyond Ireland. So, for my first job after graduating I took up a role with Unilever in London. I didn't realise it at the time, but it was the start of a career that's been very generalist and jack-of-all-trades – I did lots of different functions in the three years I spent at Unilever.
I moved on from there to Boston Consulting Group (BCG), which in my mind at the time was going to be my working woman's MBA. I didn't like the idea of taking one or two years out and getting into a whole load of debt, but I did want to get an understanding of strategy at the very highest level in lots of different companies. I had a great three years there, but ultimately knew I preferred working as an operator on the factory floor as it were.
So I joined Ebay in the early 2000s. Because it was such early days for the internet, all the roles I have had since that time have been a good balance of strategy development together with operations and seeing impact. I spent 10 years at Ebay and was ultimately responsible for the UK and Greater Europe. It was a time of huge growth for the company and I also got lots of opportunities to grow and develop.
I worked with incredibly internationally diverse teams. When I grew up in the 1980s Ireland had quite a homogenous population but my entire career has been spent in diverse and international teams and I continue to get inspiration from people who are from places that aren't familiar to me. And I do believe that having diverse teams is great for business.
What is your current role?
I left Ebay at the end of 2013 when I was approached by the chairman of Trainline, Doug McCallum, who I'd worked with at Ebay, about the CEO role. I saw it as a huge opportunity because the travel vertical of train and coach tickets was still very much offline. I loved the idea that technology and smart people could make train and coach travel much more accessible to travellers globally and much easier and less hassle.
I also liked the idea of being a CEO and not operating almost as a satellite office of a bigger mother ship.
What is your role and how the company has developed in the last five years?
I started as chief executive when I was six months pregnant. My main objectives were to set the strategy and drive growth and to also make sure that we had the right team in place and were building a culture of growth.
We've seen a major transformation since then. We've gone from selling tickets for one carrier partner in the UK to working with over 220 rail and coach partners in 45 countries.
The team has changed as well – when I started it was fairly UK British and we now have 48 different nationalities so it's very diverse. From a technology point of view we've rebuilt the entire platform from top to bottom so we can move a lot faster. We make 300 changes a week to our customer experience, which is significantly different to one change every six weeks when I started. And the business has more than trebled in size.
It hasn't been easy – it's the most challenging job I've ever taken on, but at the same time, it's incredibly rewarding and I'm working with probably the best team I've ever worked it.
How would you describe your leadership style?
I think my leadership style is quite similar to my personal values. I tend to be optimistic and future focused – in a business context I believe a smart and diverse team can solve any problem. And I hope I convey that strong sense of optimism and the power of opportunity to my team overall.
I'm also very driven and focused and have been all my life – sometimes I wish I could turn it off and have a rest! But if I'm going to spend five days of the week in work, I want to be productive and useful and impactful. If anything, I've become even more focused since having my three children because, although I know I want to have an impact and I want the same for my team, I don't want to become a slave to too many hours' work because that's time away from my family.
One of the principles most dear to me is that it's all about results, not hours worked. That means from 8.30am to 6pm every day, I'm very focused but I then try to make sure I have time outside for family and life.
I hope I'm a human leader. My wish is that if I met anyone I worked with 30 years from now, they would come up to me and say hello – I call it the park bench test. And I hope I treat all my team with respect and fairness – that's very important to me.
Who or what has inspired or influenced you?
Irish people who have hit the world stage are always inspiring to me. We're a small country but we seem to produce world class talent. Mary Robinson is a huge inspiration for her human rights work. Even our rugby team is inspiring. I love the fact that we can take our place on the world stage, that we punch above our weight and can make a bit of impact globally.
I'm also very inspired by women who have fought hard for a seat at the table – from those who battled for the vote over 100 years ago to people more recently who campaigned for maternity leave and other rights. Likewise, the female political and business leaders who had to work in an almost entirely male context. I genuinely believe the world will be a better place and decisions will be more balanced when we have more women in leadership positions.
So, I always get inspiration from women who have taken on that cause very personally and have made or are making progress. I often tell women who work with me, it can be hard to speak up if you're the only woman in the room, but it's even more important that you do because you're speaking on behalf of 50% of the world's population and we need to hear from you.
Closer to home, I've had very supportive bosses along the way, including John Donahoe, a former CEO at Ebay, and Doug McCallum, my current chairman at Trainline, who've basically had my back and that definitely helped.
What motivates you?
I like to do my best and I'm probably my own biggest critic. I'm very motivated to always be better than I was the previous day. I'm very aware that I got great opportunity through education. Both my parents worked hard so my sister and I got a good education and I want to make sure I do my best with it. That's a motivator all the time.
Now that I have three children I want to make sure they have opportunities. That motivates me too.
And, over the last 15 years, I've always tended to work in companies that have a purpose I believe in. Ebay ostensibly was an online shopping business but it actually created a shop window for many small- and medium-sized businesses when shopping went online. At Trainline, we're trying to take a lot of the hassle, stress and pain out of train and coach travel. If we do that well, we'll encourage more people to take the train and bus which are more environmentally friendly forms of travel than taking a car.
Deep down on a tough day, having a purpose I believe in is what gets me going.
What's your biggest achievement?
I'm very proud of the team around me at Trainline and of our progress. Career-wise, that's probably the biggest achievement. There's still a lot more for us to do but I'm very proud of what we've done so far.
In life overall, my biggest achievement is my three children. It's not job done on them by any means – they're 10, nine and four – but the fact that they're healthy and happy, confident and enthusiastic about life is so far, so good in my mind.
What about failures?
Working in online and technology is very entrepreneurial. We try lots of things and some stuff works and some inevitably doesn't so the failures are probably too many to mention. On the whole, more has gone right than wrong. But when I think of the failures in my current role, it's usually because we as a team haven't listened enough to customers. In an online business you have to proactively listen to calls and watch the customers using our platform every week. We've definitely failed where we haven't done that.
Other failures have been where I haven't had the right people for the job. Not everyone is right for every step of every company's journey and an important part of my role is to develop and nurture the talent.
What is your advice for success?
Always try to beat expectations. That's certainly served me well.
Try to focus, because there simply aren't enough hours in the day or in the week to do everything. Most people are trying to balance life and work and that's utterly possible but you really have to be focused.
You have to have great people around you. As you move into leadership and management positions, do not underestimate the time it takes to build a team and build talent. It's not a one-hour interview – it's a much more involved process than that.
But probably the biggest piece of advice I would give is not to lose sight of your own wellbeing along the way. I've realised over the last five years in particular that I need to be much more thoughtful about exercise, nutrition and yoga – all these things are now built into my routine in a way that they simply weren't five years ago. I've had to put wellbeing at the top of my to-do list.
I wish leaders would speak out more about wellbeing because most of those who thrive and succeed in the long run really do take it seriously.
What are your plans going forward?
I'm currently very happy in what I'm doing. We've expanded our company right the way across Europe and we're growing significantly.
I would like to personally increase my effort in charities around education. I think I thrived through education – I loved school and really enjoyed university. And I feel like I got a huge life opportunity from the education I received.
But many teenagers – particularly from less privileged backgrounds – are making the wrong choices and therefore not succeeding long term. Both as a company and personally, we've partnered with the Future Frontiers charity, which allows us to coach 15 and 16 year-olds to try to help them understand how working hard now can impact their future career paths. Through that I speak to mostly underperforming schools to tell my story in the hope that, even if it inspires one, it will have been worthwhile. I hope to do a lot more in that area.
Insight Track
How has your degree benefited your career?
I did a very broad business degree with a language, and that 'all round' education has certainly helped me in a CEO role.
What is your fondest memory from your time in UCD?
The Comm Ball every year.
How important is your UCD alumni network to you?
Hugely. I have a very strong close set of friends who mean the world to me, and many of whom have followed similar career paths in London.
What do you do in your free time?
It's very family focused. I do a bit of running and yoga but a lot of it involves bringing my kids to all their activities. Plus, we got a dog a year ago so every weekend now we always do a long walk in the countryside and I love that. I try to meet up with friends a few times a week too
Tell us something most people don't know about you
I have naturally curly hair.
What piece of technology can you not live without?
My phone (and my hairdryer).
What is your pet hate?
A sense of entitlement.
What's your favourite book?
I loved Wild Swans.
And what is your favourite band or musician?
U2.
What's the last performance you went to that you loved?
U2 in London.
What is your favourite dish to cook?
A Sunday roast.
What team do you support?
The Irish rugby team.
What is your favourite place in the world to visit and why?
North Cornwall – it is a stunning coast with lots to do for a very active family.
Where is home and why?
Home is in London. I moved here over 20 years ago and never left.
Name three things on your bucket list
Have a meaningful impact in the charitable sector, specifically improving the life chances of school age kids from challenging backgrounds. Become great at yoga (am starting from a low base). See the Morena Glacier.
What charities or causes are closest to your heart?
I am an advisor to Future Frontiers. They connect businesses with under privileged schools to provide coaching and support to 14/15 year olds on education and career planning. We also support Code First Girls at Trainline, helping to teach 20,000 women to code by 2020.
February 2019