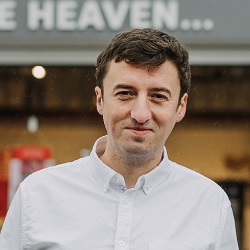 Colin Harmon
BBLS '05
After a short stint in finance, Colin Harmon turned his passion for coffee into a full-time career. In 2009, he came fourth in the World Barista Championships and set up 3FE, which now employs 45 people and includes two coffee shops and a roastery in Dublin, a substantial wholesale business and training and equipment development sections.
About Colin Harmon
Tell us a bit about your education and early career
I was born in Cork but grew up mainly in Knocklyon in Dublin. Initially, I wanted to do law but ended up getting into business and legal studies and thought I could do that and then the Blackhall exams. About two years into the course I realised law wasn't for me but I somehow managed to get through the four years. At the end of it, I realised I was more interested in marketing.
Meanwhile, all the way through university I worked in cafes and restaurants to pay the bills and really enjoyed the social aspect of that.
After graduating, I got a job in CACEIS bank in Dublin as a trustee officer for qualified investor funds. The people were really nice and the job was good, but I was bored and started looking for something else. I studied a bit for the tax exams and applied for a master's in marketing in Smurfit, but didn't get in.
During this time, I started getting quite into coffee. I bought an espresso machine and began buying coffee online and getting involved in coffee forums and meet ups. I got to the stage where I could make better coffee at home than I could buy in a shop.
So, I decided to take a year out to see if I could do something in coffee. It was early 2008 and things were really good in the financial services sector so it didn't seem like a risk.
I got a job as a barista at Coffee Angel and, a year to the day later, I was in the final of the World Barista Championships in Atlanta in 2009. I came fourth and haven't looked back since. I've also been the Irish Barista Champion four times.
I had always wanted to run my own business but didn't have any money to set up a café. A friend of a friend owned The Twisted Pepper (now Wigwam) nightclub on Abbey Street and was trying to build up the business so he offered me space there to open a cafe during the day. I took my espresso machine from my (third-floor) apartment and we opened the shop in the lobby of the nightclub and that was the start of Third Floor Espresso, or 3FE for short.
We sold the coffee by the farm, which was a very different way of doing it. The focus of the business right from the very beginning was always on quality – I didn't have much money, but spent everything I had on the best equipment I could possibly buy.
Then I struck a deal with my UK coffee supplier, Steve Leighton of Hasbean. In return for half the 3FE business I became the exclusive wholesale supplier of his coffee in Ireland. We got Fallon and Byrne as a client a month later and when we had about half a tonne of sales a week, we opened a roastery in Dublin.
Today we have two 3FE shops and the roaster, where we roast about 100 tonnes a year. We have a full-time trainer who gives weekend classes in brewing coffee and we do events. We now have 45 staff.
What's your day-to-day role?
I haven't worked in the shop in a long time. It's something I really miss but it got to the stage where it just wasn't possible any more. We have so many aspects to the business – roasting, training, wholesaling, equipment and the shops – and I was trying to do everything but that wasn't sustainable. Also, it got to a stage where really good people were leaving because I was taking their jobs away from them.
Stepping away from that was difficult but very necessary. We now have a very strong management team of eight people and I work with each of them.
I'm constantly working on a range of different projects. We're opening a new restaurant/cafe at the moment and that's taking a lot of time. I also do a lot of travelling and equipment and machine development. For example, we're launching a new grinder with Nuova Simonelli soon that I helped to develop. And I travel around the world to places like Japan, Australia and the USA to do seminars.
My business partner sources all the coffee and I work with him to decide on the ones we're going to take and how they'll fit into our offering.
We've published one book and have a second one in the works. The first one – What I Know About Running Coffee Shops – has sold over 10,000 units in six months.
So we're constantly working on new ideas and products and making sure we're ahead of the game.
But the core of the business is roasting and we now have about 100 wholesale customers around the country. Just before Christmas we opened up to an international market we're now taking on wholesale customers in China, Canada, the US and all over Europe.
What is your leadership style?
I'd like to think I'm a good delegator.
The big lesson I've learnt over the years is to be more accepting about people making mistakes. When you're running a business and make a mistake yourself it's easy to draw a line under it and start again. When you have people working for you and they make mistakes your first instinct is to take the responsibility back off them. I was advised early on that you have to give people the same allowance you'd give yourself and help them build up.
So, the people who work here definitely have very tight parameters and standards and controls, but we let them get stuck in, make mistakes and learn from those things.
I wouldn't be the most autocratic and I'm not much of a micro-manager. We're lucky that the people we attract are generally self motivated.
What motivates you?
I think just making things better. The company is growing and getting more profitable. But it's not really about the money – as cheesy as that sounds – it's more about always trying to do better than we did last year. So far, we've always improved each year and I get a buzz out of that.
Who or what has influenced or inspired you?
My dad has been a big influence. He was a director with BAM for 37 years. He had quite an entrepreneurial mind without that business being his own. He's very people oriented and gets that if you have happy staff and look after them and are honest with them, they'll perform for you. So I've learnt a lot from him.
My business partner Steve has also been a big influence. He has a very well-established coffee company in the UK with a really great reputation. He's left me to it for the most part but will give advice if he feels I need it.
What are your standout achievements to date?
A lot of our people have gone on to open their own places, which has been incredibly rewarding. Some of them, if they open a cafe, keep buying coffee from us. It's almost like the 3FE alumni now, going out and doing their own thing around the country and around the world. I worked in lots of places when I was going through college and still have good relationships with those people. It's really great to think we now have the same with our former employees.
Have there been mistakes along the way?
Loads! But recognising what I'm clearly not good at and getting someone in to do it instead has helped us get better. For a long time that felt like a cop-out, but as soon as we started doing it, everything got so much better overnight.
What are your tips and advice for success?
Start! I meet so many people who want to start a business, but they say the location isn't right or they need to wait for a few months until the market's ready.
Really successful businesses very rarely start out in perfect circumstances. The first day I opened 3FE it was 2°C outside. I think we sold 16 cups of coffee and most of them were to family and friends. I was so deflated going home. But I thought, when people come in, make them good coffee, be nice to them and they'll come back. The next day, 20 people came and the day after that, 30 people. This year, we'll roast 100 tonnes of coffee.
What are your plans for the future?
The website is going to be a big growth area for us over the next while . We spent a fortune on our online system so it's really robust and up to speed. It's great – you see orders pinging in from people in towns all over Ireland and in other countries. As soon as the order comes in we roast it, bag it, add a label and off it goes. In most cases the customer will have it in a day or two.
What do enjoy doing when you're not working?
My wife and I have three children – Oscar is five, Dallan is just four and we have a nine-month old daughter, Bóinn – and they take up most of our time.
When I do have spare time I like mainly mountain, trail and canal running – anywhere I can go where there aren't too many people around. It's good for fitness, but I do it more to clear my head. Sometimes I'll get in the car afterwards and I'll turn the ignition key and the solution to something that's been bothering me all week just pops into my head.
If you're running a business or have a stressful job you need to find some kind of sporting activity – just getting out in the fresh air is good for your mental health.
Insight Track
How has your degree benefited your career?
I feel every time I finish a project I see the benefit, be it subtle or obvious, that UCD had on me.
What is your fondest memory from your time in UCD Smurfit/Quinn School?
I'm not much of a bookworm so I really enjoyed the conversations with my peers and lecturers in the lecture theatres - teasing out ideas, questioning norms and coming up with daft ideas to solve problems.
How important is your UCD alumni network to you?
The group I met in Smurfit were great because they were such a diverse bunch with different skillsets. I learned a lot from all of them.
What piece of technology can you not live without?
My phone, although I should probably try living without it for a while.
What is your pet hate?
People who don't own up when they've made a mistake. We all do it, just hold your hand up and learn from it.
Who's your favourite writer and what's your favourite book?
John Steinbeck and Cannery Row.
And what is your favourite band or musician?
I'm not sure I have a favourite. Right now I'm somewhere between Fleetwood Mac and Loyle Carner.
What's the last gig you went to that you loved?
I saw Christy Moore last month and he was incredible.
What is your favourite dish to cook?
Eggs, any way, just done right.
What teams do you support?
Leinster, Liverpool and anything with an Irish jersey.
What is your favourite place in the world to visit and why?
San Sebastian with my wife – it's always been a special place for us.
Name three things on your bucket list
- Visit the Galapogos Islands and Antarctica
- Cycle the Wild Atlantic Way
- Get my picture on the wall of famous alumni at Smurfit Business School.
What charities or causes are closest to your heart?
The National Maternity Hospital, I'm currently raising funds for them through public speaking.
March 2017