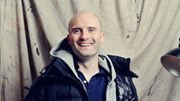 Colm O'Sullivan
BComm '01, MBS '02
Being adaptable enough to scrap his company's original focus and to concentrate instead on an area with actual market demand has enabled Colm O'Sullivan build up successful web video business Webvideodesign.ie (WVD), which now has a client list that ranges from Bressie and Derry Clarke to Ibec, the IRFU, Leinster Rugby and the Chinese Embassy.
About Colm O'Sullivan
O'Sullivan completed his BComm at UCD in 2001 and followed up with an MBS in the Smurfit School, which he describes as an "excellent experience". One of his favourite classes was Maeve Houlihan's 'Managing Core Competencies'. "I found that it had a bigger overlap going forward," he says. "A lot of my modules were finance-based and I never actually got to merge with Goldman Sachs, so some things were more relevant than others! But I enjoyed the numeric end of things."
His flair for business began to emerge when he was still in Belfield and was asked to help run the C&E Careers Day in 2000. "They did it the year before and it was a disaster," he says. "They lost money and no one turned up. We raised close enough to IR£20,000. That was very successful and was probably my first business development role."
After graduating, he worked for a year on Lyons Demesne before getting onto the graduate programme with AIB in mid-2003. He spent a couple of years working for the company in New York in its capital markets division on the leverage finance team. When he left at the end of 2007, he was in private banking in Dublin, providing leverage for investments by high network clients.
"The thread coming through all this is that I always seemed to be in relationship roles. When I did the careers event, it was more of a business relationship role because I went out and got the money and I organised."
O'Sullivan left AIB to focus on WVD, which he had started together with his brother. The company was initially an online fitness and health resource. Based on an American model, it offered companies branded health and fitness websites. The idea was that organisations that signed up for the service could reduce their health insurance premiums by actively encouraging staff to become healthier.
"Whereas you're paying out €400 a head for staff to join a gym, you could reduce it to €1 or €2 if you had this fitness website," explains O'Sullivan.
A key element of the website offering was video interaction. "We would have gone out and sold the website and the fitness package to organisations and then branded it to each company. All the videos would be branded to the individual companies. The reason you didn't see it was it was a flop!"
O'Sullivan says that because of the high cost of buying in video and the fact that the product being delivered wasn't suitable for the use on the web, the company decided to invest in its own video equipment and expertise.
"We then tried to sell the product but it didn't work because by the time we got it done we were really in the kick-off of the recession. The lesson I took out of this was the need for adaptability and taking opportunity. We tried to sell the website package to one of the big bin companies. The guy we met said, I have absolutely no interest in your website but we do have issues with clients ringing in not understanding the sizes of the skips."
The company ended up making a video about the skips. "That went okay and we got two or three referrals out of it. Then we decided to research the video area. With our skills base we just moved from there. And, as we did more video and better video, we built up our clients and we also built up a relationship with YouTube, where I think we may still be the only digital agency with a branded channel. The reason we got it is because of the amount of business we do and the quality of our work. So, we're pretty happy about that.
"So we came from a business that didn't work, used the skills we gained in that business and then came out again. It just grew from making 70 fitness videos for a fitness website. At the end of it we thought, we have a team, we've built everything and we might as well do this.
"We're not shelving fitness. It's still in the back of the head, but this thing has grown and, if it grows, we need to keep feeding it.
"Personally, it ticks two boxes that are important to me, which are relationships and business development. It's still the web area, it's still doing video, but it gives me the opportunity to develop a business and build relationships and we'll see where it goes."
Having the opportunity to work with people who are at the top of their game is a big inspiration, says O'Sullivan. "Because I go to nearly every shoot, I get to meet a wide variety of people. I find it very humbling because where we are is quite small. Then we interview someone like Aidan O'Brien in Coolmore Stud and that's a reality check. This is a guy who is amazing and at the top of his game. When you get to see how they carry themselves in the interview, in their time keeping and so on. I've interviewed Jonathan Sexton once or twice and his time-keeping and professionalism are outrageous.
"I'd like to think that I'm not that stupid that I don't see this and can bring it into my life. And definitely within the team we try to mirror the respect and professionalism of these guys."
O'Sullivan sees his company as something of an auxiliary service to some of the main drivers of the economy. "We're just very lucky that we might get invited to a gig to do a video, to meet these people that in the normal day-to-day life we wouldn't."
Apart from family and a background of playing team sports, O'Sullivan says his influences tend to be people he sees doing things well. He cites people like Shane Jennings, Jonathon Sexton, Aidan O'Brien, John Egan of Archie Talks and Paddy Cosgrave, founder of the Dublin Web Summit, as inspirational, "because they work so hard and are so professional and have achieved so much".
In terms of his own particular sector, he admires TED videos and watches a lot of trailers. "I think the editing in trailers is very apt to what we do in the web stuff, because with people's attention spans, everything needs to be boom-boom, set to music, sound bites. People are not really going to digest an argument, they just want sound bites, a few examples and out the door."
He says that competitors in the sector are major influence. "Because, if you're not getting the work, they're taking it. It's a very competitive market, there are a lot of high quality producers out there so we always have to produce and do our best because we're going to come under pressure."
As regards some of the learnings since he's gone into business, he believes that able to managing clients' expectations is vital. "If you go onto a shoot without something set up and agreed you can lose control of it, and by losing control you will upset the client, erode any margin you have with it and you'll never want to work with them again. You have to be quite clear in what you both want to achieve."
The company is currently in the process setting up a joint venture with filmmaker Alex Fegan called Atom Films. "He is heading it up and they'll make premium virals and short movies focused on delivery via internet platforms such as YouTube and Vimeo," says O'Sullivan. "It's not super commercial focused, more a two or three-year play to allow us pitch for big marketing budgets."
And, in the second quarter of next year, the company is planning to open a new 4,000 sq ft space in the centre of Dublin, which will include a large green screen studio and two smaller studios, as well as a sound booth for voiceovers. "That will open us up to more work, more viral, and we'll also rent it out to other production companies who want to use it," he says. "All in all, things are going well and we just feel lucky to be in such dynamic and interesting area."
November 2012