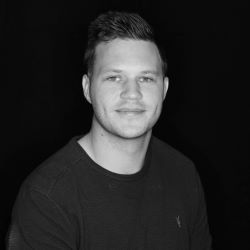 Dave Walsh
BComm '13, MSc in Marketing '16
Ambitious and obsessed with business from a very young age, Dave Walsh's plan was to start a tech company by the time he was 25. He hit the target a couple of years late, but now has two start-ups under his belt, including Los Angeles-based Mathison, a tech platform that helps companies hire more diversely and has already raised US$6.4m.
About Dave Walsh
Tell us about your education and early career
I went to Willow Park and then on to Blackrock College, played rugby, enjoyed my time immensely and made some great friends there.
My dad and brother are both accountants and, while I had that capability, I knew from a young age that accountancy wasn't for me. I didn't really know what I wanted to do but knew I was obsessed with business and had been since I was 10 years of age. So I decided to do something quite broad to get an idea of all aspects of business. I ended up doing commerce, which was great because you are exposed to so many different modules.
I really enjoyed my time in UCD getting a broad range of skills. And I realised I really liked marketing: marketing communications, branding, all that sort of thing.
Just before my final year I got a student visa and went to the United States for three months and stayed in the Hamptons. I really enjoyed my time and knew I wanted to return. After finishing my degree I got a year-long visa and worked in restaurants and bars in New York City with two of my best friends.
Then I went back to do a Master's in Marketing in the Smurfit School and worked in two start-ups during the year. One was TempBuddy: I worked there while doing my full-time master's. The other company was Mustard, run by Gavin Fogarty, who was a mentor of mine and is a still a good friend. I was obsessed with the gig economy and wanted to start a jobs board to help UCD students find jobs – Mustard was doing something similar so I reached out to them and was quickly hired as employee number four.
After completing the master's I came over to New York. My girlfriend at the time – now my wife – was also there. I got a job as a tech recruiter with a very small company for about three months.
I wanted to stay in tech and like many people, I had trouble finding the right job while on a student visa with no US experience and no citizenship. American companies don't hire a lot of immigrants because of difficulties around getting visas. I became obsessed with this pain point and wanted to help as many people I could, so I wrote an online playbook to help immigrants navigate the process. It ended up being shared with thousands of Irish immigrants.
Then I was recruited by Indeed.com and worked there for a year as a strategic sales team lead. I became one of the top performing sales reps in their New York office and remained in the top five across the United States. I was very motivated. I'm a big believer in working smart and using your time efficiently.
I ended up leaving Indeed because of a visa issue and was hired by Jobbio, an Irish-based company launching its US operations. They were in the job advertising space so it made sense given my experience. I ended up running their go-to market strategy in New York, hired a sales team and built out that business, which was an amazing experience.
At the same time, I launched an ecommerce watch business because I wanted to do something different. I noticed a gap in the market and had a passion for watches and marketing so it made perfect sense. I read as many books as I could and launched the business from scratch. I eventually sold it to a buyer in San Francisco.
Then Jobbio was winding its business down in the US and trying to consolidate back in the UK and Ireland. I was still revenue generating so they said I could work remotely. I did that for about nine months – it was quite tough with the time difference because we'd relocated to Los Angeles because of my wife's job with Netflix.
Tell us about your current role
I came up with the idea of Mathison and soon after met my co-founder Arthur Woods through an investment group in NYC. I founded the company in March 2019 with the idea of helping immigrants and under-represented groups find jobs. It's a technology platform that allows employers to activate their diversity hiring in one place. Among other things, the technology helps companies assess their hiring process, source more diverse candidates and reduce bias in hiring and talent management.
We launched the business, raised US $400,000, sold a couple of contracts and got up to 15 or 20 customers, all by the end of 2019.
We needed more money so I went out to raise US$750,000. We had a lot of interest with both Arthur and me being sales professionals and raised US$1.8m in the end and hired a team and built out the whole business. It was a small team of about four or five for the first six months or year.
Then Covid happened. My company was focused on helping people find jobs when every single employer out there was stopping hiring. I remember saying to my team: "We are in a better place than most start-ups, we have 18 months runway to ride out the storm".
About two months later BLM happened: we're a diversity focused business so it was a case of right time, right place and the world now needed exactly what we're focused on. We really had to move as fast as possible. We had 400 companies reach out to us. I started hiring salespeople, built a marketing function, hired a customer success team and found great product engineering professionals.
We went from 25 to 75 customers and from US$250,000 in annual subscription-based revenue to US$1.2m, which is a huge leap. I started pitching venture groups in San Francisco and got to meet an incredible amount of really successful people. We ended up raising capital with Bain Capital Ventures and they led the most recent investment round where we raised US$4.2m. and now I'm hiring like crazy again, we've quadrupled our revenues, doubled down on our product development and completely restructured the company.
When we started, I was focused on brand proposition, business model design, branding, hiring and fundraising. Now, it's executive team management, financial/operations management, hiring and directional overall strategy while continuing to meet venture investors as we gear up towards our Series A.
What motivates you?
I'm motivated by innovation, tackling seemingly impossible tasks, perseverance past adversity, building teams and continual aggressive learning – it's important to throw yourself in the deep end every day.
How would you describe your leadership style?
At the beginning I hired three people who are 10 years older than me. They were all very experienced. My philosophy was to hire the best people, let them do their job and step out of their way.
I'm a hands-off, autonomous people manager. I have a very high bar in terms of how I operate and I expect other people to be at the same level and continue to challenge me.
A big part of my change in role has been hiring and motivating people to create better communication structures and empowering others to make decisions as we scale up. I can't be everywhere at once. Now it's about empowering other people.
Who or what has influenced or inspired you?
My grandmother is a big inspiration: she looked after my grandad when he had a stroke at an early age and devoted her whole life to him. I find that truly inspiring and have a picture of her on my desk giving me a hug on my wedding day to remind me.
My dad and my wife influence me, often keeping me grounded and level-headed. Dad taught me business ethics, financial acumen and how to network. My wife is my most trusted advisor: she's the real brains behind the operation, she knows what makes me tick and how to get the best out of me. There is not a big decision that goes by that she isn't aware of or doesn't give me her honest opinion on. It's amazing having such an intelligent partner who you trust more than anyone.
What do you feel has been your biggest achievement to date?
There have been a few, including starting a business from scratch, building my e-commerce business and selling it. That was a huge win at such a young age.
But scaling Mathison in 18 months and raising US$6.4m is my greatest achievement to date. Each investment round was an achievement in and of itself – the most recent was probably the most impactful but I learned a lot from the two previous rounds.
And of course, marrying my wife at 28.
What is your attitude to failure?
It's not that I love to fail, but I genuinely think it's the most important thing you can possibly do. Do it early, feel it and embrace it. The quicker you realise it's okay to fail, the faster you will be successful. Failure is learning and I have failed a lot.
Can you share your tips and advice for success?
Number one is to believe in yourself. The courage it takes to start a venture, fail, start again, fail and continue to prevail takes a lot of self-belief.
Don't listen to everyone – I call it 'selective hearing'. People will tell you that you are wrong or crazy. There are many people who will doubt you, until you prove them wrong. When I was 19 my dad asked me what I wanted to do in my career. I said I wanted to own a tech company by the age of 25. People were always laughing. At the age of 27, I called him after our first fundraise and said I'm two years late. The one person who never doubted me was my dad.
Believe everything happens for a reason and you will learn to overcome adversity with positivity.
What are your plans for the future?
I want to help as many entrepreneurs as I possibly can. I currently advise a number of founders of start-ups at all different stages of their cycles. I find incredible joy in sharing knowledge and experience with others and helping people.
Eventually I want to launch a venture capital fund in Ireland to add to the tech start-up ecosystem with a focus on entering the US market. I continue to build my network with this in mind.
Insight Track
What is your fondest memory from your time in UCD Smurfit or Quinn School?
Winning my end of year marketing master's presentation. That was amazing.
How important is your UCD alumni network to you?
Very. I always network with UCD alums.
What are your main interests outside work?
Blessed to live in the sunny climate of LA – I really like to play golf and cycle. I am also an avid car and boat enthusiast.
Tell us something most people don't know about you
I have a lazy eye.
What piece of technology can you not live without?
My iPad: I am always looking at used boats and cars. I also enjoy property.
What is your pet hate?
Dreamers who don't action.
Favourite book or writer?
The Hard Thing About Hard Things by Ben Horowitz
Favourite band or musician?
Red Hot Chili Peppers.
Where is home and why?
That is a tough one. I genuinely believe I will split my time between Ireland and California for the rest of my life. The two greatest places in the world.
What are your insider tips for visitors to Los Angeles?
Go hiking and drive the Pacific Coast Highway as the sun goes down.
September 2021