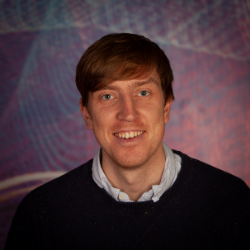 David Scott-Lennon
MSc MktgPr '14
A focus on constantly improving in his current role and always looking to the next step has helped David Scott-Lennon progress his career to the level of group client director at media agency PHD at the age of 29.
About David Scott-Lennon
Tell us a bit about your education and early career
Well. my college career started at UCD where I did economics and politics as my undergraduate degree. Then, I wasn't really sure what I wanted to do in terms of my next step so thought the best thing to do would be a master's. I looked around at various options from management consultancy to business management and one of the ones that stood out for me was the MSc in marketing practice in Smurfit.
That was an unbelievable learning experience in terms of working in a work environment and working on real client campaigns whilst also studying the various elements of marketing. Within this we touched on many marketing elements from social media management to research and marketing strategies.
Coming out from that I had a loan to repay and needed a job. I ended up in Mindshare, which is a media agency, trying cut my teeth in that industry and figure out what it entails. I got great experience in there for two years working as an account exec. Then, at the beginning of 2015 I was offered a role at OMD – another media agency and part of Omnicom Media Group – as account manager.
I took a career break at the beginning of 2020 before Covid hit to go travelling and signed a contract to come back in April. When I did, I was offered a position upstairs in PHD, which is also part of Omnicom. Then I was promoted to group client director so it's been a massive learning experience for me over the past year – not only taking on the new role but also having to do it in a pandemic where all communication with your team is over a videoconferencing call. It has been a challenge but one I have thoroughly enjoyed.
What is your current role?
As a media agency we work with clients to decide on their best use of investment from a media perspective using various tools available to us in Omnicom. In my role as group client director I lead the client relationship on our team across various clients and sectors. I am the main port of call for the client and manage my team's (and my own) workload to make sure we can deliver in a timely and professional manner with a detailed response to brief, delivering detailed media strategies to some of the biggest clients in Ireland such as VW and Red Bull.
How would you describe your leadership style?
A lot of my current role involves managing the team. In terms of leadership I'm less of a delegator and take on more of a democratic leadership style. I am more about making sure everyone is working to the best of their ability, while also taking some of the work on myself. I'm not one to just hand down the work – I work very closely with the team to ensure we all have a good work life balance.
I also like to make sure that everyone's growth and progression is of the upmost importance and try to help the team as much as I can in their progression. I think it's very important, for example, that an account manager is doing an account manager's job but is also doing a few tasks that would be considered the level above. That is mainly something I've brought in when I took on the team so I can make sure that everyone is still being challenged and they're looking forward in their career.
So that's my style of leadership: first, doing my job effectively by helping the team; and second, making sure the team is delivering really high-quality work to clients.
I like to think I am friendly leader and I have a mentoring style; I'm not one who'll be shouting and roaring at people.
What motivates you?
What motivates me is trying to get better in my role. Right now, that means delivering for the business and my clients but also getting better at leading the team and ensuring they are looked after. In the past it was getting better at doing my job as effectively as I could and that was more of a personal goal, whereas a lot of my goals now centre around the team I work with and my role within it.
One of the good things about the media industry is that it is ever changing, and nothing stands still and that also motivates me.
Who or what has influenced or inspired you?
In my personal life, it would have to be the cliched answer of my family. My parents both worked extremely hard in the hospitality sector when I was growing up and I also have three brothers who are doing well in their careers. Two of them work in hotels and the hospitality sector and one works as a management consultant. Seeing what they do and the work they put into their businesses has made me stand up and take note.
From a work perspective, I've been lucky to have had great bosses, starting out at Mindshare with Gemma Teeling, Ken Nolan and Jessica King and then in OMD I had Andrew Sinclair and Alan Daly. Now in my current role I have Gemma Teeling again as the MD of PHD and our CEO Jason Nebenzahl. These are all leaders in their field and people I looked up to and still do. They have always had an open door policy meaning I have been able to learn and grow in each of my roles to date. Learning from them has stood me in good stead and has progressed my career. I also have a lot of friends in the industry who have helped me and motivated me and continue to do so.
What's your biggest achievement?
I think from a personal perspective, I am proud of how I have progressed my career to date is and this is probably my biggest achievement. It's no easy feat to be a group client director at the age of 29. I've done a lot of work and worked closely with people at senior levels within the agencies to help me learn and grow to get there.
From a work perspective I was lucky enough to win media awards with campaigns we ran for clients, including Paddy Power. Winning awards is obviously a big achievement in my professional career. Driving clients forward and getting them to be more innovative and creative in terms of the media solutions they go for is something I want to continue to do and that will hopefully lead to more awards.
What's your attitude to failure?
You'll never learn unless you fail. I've made mistakes on numerous things but they've only allowed me to learn. And I've made sure I've never repeated any mistakes I made in the past.
What's your advice to people starting out?
A lot of people who come into their first or even their second job are worried about being perceived as asking too many questions. One of the things I was always told is that no question is a stupid question. So I always tell people starting in a new role to look up and ask questions. Learn about the company and all its different elements as quickly as you can. If you're new in, start talking to the various departments, find out what they do, understand the elements within them and always ask questions. You'll never learn the ins and outs of a business until you ask questions of the right people. And to do that you have to get to know them first.
Also, if you're looking to move up in your career, always look at the next step and what you need to do to get there. Always be driving yourself forward. If you're starting a job, think about what you need to do to be really proficient in the current role, so you'll be considered for the next role.
What are your plans for the future?
The plan going forward is to keep progressing in the career I have here at PHD and to drive the business forward in terms of growth. Part of that is trying to acquire new clients and trying to increase revenue with current clients.
For now, my mindset is very much in the here and now, given everything that's gone on over the last year and a half. It's made me reflect and realise that you almost can't plan that five years in advance because you don't know what's going to happen. You can look at shorter steps and shorter learnings and with that will come more clarity on what the future holds. That's how I look at it now.
Insight Track
How has your degree benefited your career and/or personal life?
Massively. Some of my biggest learnings came in my master's degree and that set me up well for the working world. More importantly, I also met some of my best friends during my master's.
What is your fondest memory from your time in UCD Smurfit School?
The events and the friends I made.
How important is your UCD alumni network to you?
Very important as wherever in the world you travel you are sure to meet someone who studied in UCD.
What are your main interests outside work?
My main interest outside work is watching and playing sports. I watch a hell of a lot of football and rugby and also play a good bit of golf.
What piece of technology can you not live without?
My phone. I pretty much use it for everything these days.
What is your favourite book?
I have two, Endurance: Shackleton's Incredible Voyage by Alfred Lansing or Tuesdays with Morrie by Mitch Albom.
What is your favourite dish to cook?
Chicken stir fry.
What teams do you support?
The "Red Devils" – Manchester United – and Leinster.
What is your favourite place in the world to visit and why?
Bali. The atmosphere of the place is very relaxing during the day but comes alive in the night-time.
Where is home and why?
Rathmichael in Dublin as that's where my family are.
Name three things on your bucket list
1) Skydive
2) Run a marathon
3) Win the lottery (fingers crossed)
What charities or causes are closest to your heart?
Children's and mental health charities.
May 2021