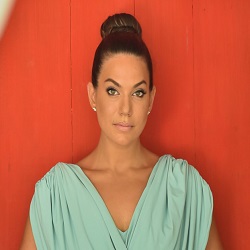 Dervla Louli
Dervla Louli – BBL '10
Two years ago, Hong Kong-based Dervla Louli combined her interest in wellness and travel with the skills and experience gained through her business and legal studies and time spent working in the publishing industry to set up Compare Retreats, a booking portal and online publication for leading luxury wellness retreats worldwide.
About Dervla Louli
Can you tell us a bit about your educational background and early career?
I grew up in Saudi Arabia and went to boarding school in Dublin. I was thinking about doing medicine overseas in Prague and had a place in medical school there but decided to focus on finance and business instead. So, I studied business and law at UCD, followed by a master of finance at Trinity. I also did multiple law, business and finance internships during summers between terms.
I started out my career at Crescent Capital in Belfast as a junior business development executive and moved to Hong Kong thinking I would work at a large bank like HSBC, which seemed like a good career route at the time. I ended up following my creative streak and doing something completely different in publishing instead, which is how I ended up in digital media.
What's the background to setting up Compare Retreats?
I wanted to create a trustworthy resource for the best wellness retreats in the world – somewhere that would connect wellness travellers to the world's top wellness retreats, resorts and hotels. The company includes a booking portal and online publication and our goals are to inform, motivate and inspire people to travel in a way that improves their physical and emotional wellbeing.
I never had a big picture plan per se but I did set publishing career goals which I made sure to complete before setting up my own business.
What does your day-to-day role involve?
I wear a lot of hats, ranging from business development to sales and writing to admin. There's always more work to be done when you run your own business but I have an incredible editorial, tech, marketing and sales team that makes everything possible.
What motivates you?
Solving problems and helping people understand the world of wellness retreats.
Are there particular people or things that have influenced or inspired you?
I'm inspired by tech founders who simplify big problems. Whoever conjured up the idea of a fingerprint being able to buy things on our iPhones is a genius in my opinion.
How would you describe your leadership style?
I hire brilliant people, set out large goals, encourage them to ask questions and always ask them where they want to be in five years' time.
What do you feel has been your biggest achievement to date?
Our biggest achievement has been able to help clients with serious health problems find wellness retreat programmes that can help them get better. There's a misconception that wellness retreats are quite soft but they can solve serious issues like addiction, obesity and fertility if you know the correct one to go to.
Any failures you'd like to share?
I don't really believe in failure. Life is long and building a business is a marathon not a sprint so if you fall down or have to walk instead of run it's okay.
What are your tips and advice for success?
Listen more than you talk, always ask questions, hire brilliant people and don't have a high cash burn when you start your business.
Any plans for the future you want to share?
We're in the process of making it as easy to book a retreat as it is to buy an app.
Insight Track
How has your degree benefited your career?
My business and law degree taught me a lot about best business practice, insurance, finance and corporate law.
What is your fondest memory from your time in UCD?
The great friends I made over the four years that I'm still in touch with today.
How important is your UCD alumni network to you?
I'm still in touch with many of the people from my class so it's very important.
What are your main interests outside work?
I made a point to make my main interests my work so wellness and travel are my top two. Outside of that I love fashion and have bit of a thing for hunting down vintage and consignment stores in cities.
Tell us something most people don't know about you?
I hate going to bed early even though I know I should.
What piece of technology can you not live without?
Bose noise cancelling headphones.
What is your pet hate?
People who talk without listening.
Who's your favourite writer and/or what's your favourite book?
The Monk Who Sold His Ferrari by Robin Sharma. If you're short on time just skip to the Talisman letters in the back.
And what is your favourite band or musician?
I have a short attention span so I like mashups – Norwegian Recycling 'How Six Songs Collide' is my favourite.
What is your favourite dish to cook?
I'm not into cooking but I love decorating cakes.
What teams do you support?
Anyone ice-skating or doing gymnastics in the Olympics.
What is your favourite place in the world to visit and why?
New York as there's always something new to discover
Where is home and why?
I have two homes. One in Hong Kong where I live with my husband and rescue dog Clive and one in Ireland where my parents and my rescue dog Roxy live.
What are your insider tips for visitors to Hong Kong?
Hike Dragon's Back, The Peak and The Twins. Eat at Chinese Library, Grassroots Pantry and Din Tai Fung. Get an oriental massage at Mandarin Oriental.
Name three things on your bucket list
The Northern Lights, Colombia and South Africa
What charities or causes are closest to your heart?
Nikki Tibbles' foundation Wild At Heart is very special and saves a lot of rescue dogs around the world.
June 2019