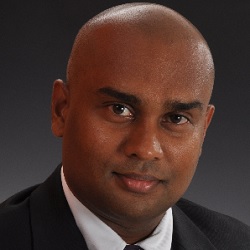 Dhushy Thillaivasan
BSc MIS (Sri Lanka) '98
Always motivated by a challenge, Dhushy Thillaivasan has notched up a number of educational achievements, including a BSc, MBA and MA, represented Sri Lanka in archery, and founded several companies. His current venture is in fintech firm Silverleap Technology, where he is the chief operations officer and acting chief executive.
About Dhushy Thillaivasan
Tell us a bit about your studies and early career
I started off at the National Institute of Business Management (NIBM) in Colombo in 1991, where I did my diploma in computer systems design. I went on to do the higher diploma in computer based information systems in 1993 and passed out a year later. Then, in 1996 I joined the first UCD BSc in management information systems intake at NIBM. Once I'd finished that, I started an MBA at the Post Graduate Institute of Management, University of Sri Jayewardenepura, which I completed in 2001. Then I did a master's in international relations at University of Colombo between 2003 and 2005.
I started my first company, zMessenger, in 2001 just after my master's degree. It's one of the largest digital marketing agencies in Sri Lanka today. I am still a board member and a shareholder but I'm no longer operationally involved in the company. That's now being run by my co-founders.
I started a few other companies over the years, including Silverleap Technology, a fintech company set up in 2013. We are focused on building next generation payment systems in emerging economies, especially in Asia and Africa.
What is your current role?
Presently I am the co-founder and chief operating officer of Silverleap. I am also current acting CEO of the company. So basically, I head the company and also look after its operations. I am currently focused on sales and developing new markets for the company.
How would you describe your leadership style?
I'm quite friendly and believe in collaborative leadership. I work closely with the team and try to get others involved in the decisions. I value feedback and input from my employees and my partners.
What motivates you?
Challenges always motivate me to perform better.
What influences or inspires you?
No one person in particular inspires or influences me. I think I inspire myself sometimes. But then at every stage of life, if somebody comes along and helps you out they are an influence – when you're young it's your dad or your friends and then maybe it's various people you work with.
What have been your biggest achievements to date?
My biggest personal achievement was being selected for the Sri Lanka national archery team. Always from my childhood, I wanted to represent my country in a sport. In 2015 I was selected for the archery team and that was probably the proudest moment of my life.
In terms of business, I guess the best moment was with Silverleap when the company reached the milestone of generating over US$1m in revenue in 2017.
What failures have you learnt from?
I first started a company when I finished my master's degree. I had been a professional employee working for a large organisation. When I went out on my own I behaved as I did as an employee and really made a lot of mistakes. I took life very easy and thought things would come to me. I really didn't know or understand how to go after business. I have killed a few companies during this period and have faced many financial hardships.
What are your tips and advice for success?
I would advise anyone not just do one thing. You have to have multiple activities in life. If you work on a business, you should have some other activity that inspires you and makes you happy, like a sport or hobby. That will sharpen and enhance what you do professionally in many ways.
Also, be yourself in the workplace and outside. You need to be the same person in your workplace and in your personal life. This will give you authenticity and people will like and trust you for who you are.
What are your plans for the future?
I would like to retire in a few years. When I say retire, that just means that I don't want to go to the office every day. I really want to complete my doctorate at some stage if possible. And I'd like to get into academia later on in my life – that's a real passion of mine. And I want to grow my business to give our employees a better life and make them proud that a Sri Lankan company can compete internationally with success.
What are your main interests outside work?
I am an athlete. I love sports – I shoot, cycle, swim and run. I like boats and the sea and scuba diving. I really love any activity that is challenging. And I also like to teach.
Insight Track
How has your UCD degree benefited your career or personal life?
My degree exposed me to the European/western way of teaching and knowledge which I still cherish and practice almost daily.
How important is your UCD alumni network to you?
It is important and helps me to connect with others like me and lets me help others who are looking for guidance.
What pieces of technology can you not live without?
My iPhone, iPad, MacBook and my Apple Watch.
Who's your favourite writer and/or what's your favourite book?
I do not read fiction but rather like non-fiction and autobiographies. I have quite a number of books I like and two of my favourite books would be By Way of Deception by Victor Ostrovsky and From Third World to First by Lee Kuwan Yeu.
And who is your favourite musician?
I admire AR Rehman.
What team do you support?
I am a big supporter of the Sri Lankan cricket team.
What is your favourite place in the world to visit and why?
I like Amsterdam in the Netherlands and Bergen in Norway because of the waterways in Amsterdam and the icy mountains in Bergen.
What are your insider tips for anyone travelling to Sri Lanka?
Try to visit the Northern Province and Eastern Province where you will find unspoiled beaches.
January 2018