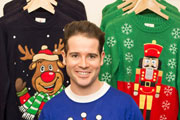 Donal McSharry
MScMP 2011
Not being able to find the right clothes to wear to a festive party six years ago probably seemed like more of a nuisance than an opportunity at the time, but for Donal McSharry (MScMP 11) and his business partner Fabio Molle the experience planted the seeds of an idea that has developed into Funky Christmas Jumpers, which last year exported its wares to 46 countries around the world.
About Donal McSharry
"It was out of frustration really that the idea came about," explains McSharry. "We were invited to a Christmas jumper party and we didn't have jumpers to wear. When we went along we saw that people who had jumpers were all having great fun.
"So we decided to get a few made up for the following year and they all sold out as soon as we launched them. After that we went bigger and bigger every year. We shipped to 46 countries in 2012 and we hope to grow that again this year."
Between 80 and 90pc of the company's sales currently come from online channels. According to McSharry, around 50 to 60pc of revenues come from markets outside Ireland and this is where he sees the main growth going forward. The company currently has three online channels - funkychristmassweaters.com for the US market, funkychristmasjumpers.co.uk for the UK, and funkychristmasjumpers.com for the rest of the world.
For the past two years, Funky Christmas Jumpers has also been catering for strong domestic demand in the run-up to Christmas with a pop-up shop on South William St in Dublin, which is open from September to December. The company also began selling through Arnotts and Avoca this year.
"We tend not to discuss the financials behind it, but we have experienced double-digit sales growth year on year since launch," says McSharry. "We've been ambitious and the demand has been there so every year we've increased our quantities.
"The ultimate goal would be to have a store in London and then a couple of years down the line New York and some of the other big cities."
McSharry did a four-year degree in business and management in DIT Aungier St before landing a place on the MSc in marketing practice in the Smurfit Business School, something he describes as "an amazing course". "While you're on the programme you wear suits into the office every day. I worked with the likes of Unilever, HB ice cream, Tony & Guy and Giftsdirect.com. That really focused me into the field of marketing and where I wanted to develop my career. The course gives you mentors in the college and exposes you to real life working situations and gives you the techniques to work with them."
Molle, meanwhile, did software engineering at DCU. "We do everything in-house ourselves and he really takes control of the whole website and building it."
Celebrity boost
McSharry's marketing background is being put to good use in growing the business, particularly in the area of celebrity endorsements. Ryan Tubridy has worn Funky Christmas Jumpers on The Late Late Toy Show for the last two years. The company also kits out people like Brian O'Driscoll, Tommy Bowe, Georgia Salpa and Glenda Gilson. Other celebrity wearers last year included Harry Styles and Niall Horan of One Direction and Scott Disick, partner of Kourtney Kardashian. Horan, who has 30 million Twitter followers, tweeted out his thanks to McSharry and Molle for delivering a jumper to him at his parents' house.
"That was retweeted 90,000 times and favourited over 100,000 times. That's given us massive growth in the market," says McSharry. "Last week we sent an email to Russell Brand's team and they loved one of our jumpers and said he definitely might wear it. So we sent one over to Los Angeles for him. Yesterday, I was in touch with the One Direction guys again and they want jumpers sent over."
Another element of the company's marketing plan involves teaming up with some major brands. "In our pop-up store, for example, Heineken has come on board as a sponsor and we now have a Heineken fridge. So we can throw cool fun parties in our store. It's perfect product placement for our target market of 20 to 35 year olds."
The company has also teamed up with Samsung to enhance the retail experience. "We like to think we bring a new social element to a normal boring retail environment, so Samsung have come on board and we now have Galaxy tablets in the store and people can take photos and sign up to our mailing list using the tablets."
And Frank Keane Mini has provided a New Mini Clubvan that has been wrapped with the company's branding and is acting as its 'Official Delivery Reindeer' for the Christmas season.
"We are known as the original Christmas jumper company because we were the first to launch. But we've also really differentiated ourselves from competitors entering the market and also the likes of Penneys and Dunnes and other big high street stores that have got into it as well."
One way the company has done this has been through its social media presence. "Our social media is quite strong. We've got over 33,000 followers on Facebook and on Twitter @XmasJumpers we've grown to about 9,000. And every day, these numbers go up. Obviously, with our dealings with all these brands, we're only allowed to post on these social sites from September to December. It's hard to grow numbers when we don't post. But we've done a good job seeing as it's so seasonal.
The company's approach to social media has seen it win two awards in the last year. "We won a Samsung Digital Media Award for Best SME using Digital. We were very fortunate to get that and we were quite surprised. We also won a Bord Gais Social Media Award for Best Online PR Campaign." The company was also shortlisted for an Eircom Spider award this year, but ended up losing out to Electric Ireland.
Logistics
The jumpers are designed in Ireland and made up in the Far East. "The supply chain is another interesting aspect to the business. When we're not selling, we're getting ready for the following season and getting new samples made and dealing with manufacturers. So it is an all-year around business with a twist in that we can only really sell for certain months in the year."
The business will increasingly look at diversifying, says McSharry. "This year we have socks and hats in the range as well as jumpers. But I suppose our ultimate goal would be to maybe grow the brand into something wider around the 'Funky' tag – we're not really sure yet. We're looking at some way of branching out and are working on a few ideas that we might be launching in the New Year."
One of the main challenges in the business so far has been the financial side of things, says McSharry. "But we're learning on the ground as we go along. You make mistakes and you learn from them. But there's been nothing really that's set us back."
According to McSharry, he was one the few people from his MSc in marketing practice year who didn't apply for a graduate programme. "Because I had Funky Christmas Jumpers and it was really starting to grow that year, I decided to hold back on applying for the graduate programmes that most of the class were going for. I graduated in July 2011, went travelling for a few months and then I had the jumpers that Christmas. And the business really took off in 2011. I made a conscious decision that I was going to stick by this and grow it as much as possible."
Going forward, McSharry says he plans to continue with Funky Christmas Jumpers, but also has an eye out for other opportunities to benefit his career. "I will be looking at career opportunities in the future. I see myself doing other things and running other things."
December 2013