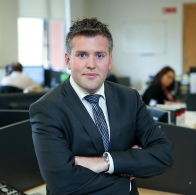 Dónal O'Sullivan
BSc '08 & MAcc 09
Focused on maximising his time and talents, Dónal O'Sullivan completed his apprenticeship at KPMG in 2012 and is now mergers and acquisitions director at Eli Global, where he is responsible for all non-US M&A activity in a dynamic and rapidly expanding group that now comprises over 40 independent business units.
About Dónal O'Sullivan
Tell us a bit about your educational background
I started off in Coláiste Eoin, where I learnt everything through Irish, and then went to UCD to study economics and finance. After that, I went to UCD Smurfit School, primarily because I graduated in 2008 during the financial crisis, so there were very few roles available within what I wanted to do. My sister had been working in KPMG and suggested that I follow her route. Luckily KPMG sponsored me to do the masters of accounting programme and I had one of the best years of my life in there!
What were your first few jobs?
Part of the deal with KPMG is that you sign to work with them for three years, which was a really good apprenticeship.
My time there opened my eyes to real world commerce and real business. I started getting really involved and interested in mergers and acquisitions. Whenever I opened a newspaper, it was the first thing I read about. I realised very quickly it was exactly what I wanted to get into. After my apprenticeship I went to London in 2012 and tried to break into the scene there.
I only actually ended up in London for two weeks because soon after I arrived I heard there was an M&A role going in Raglan Capital, a very niche, boutique corporate finance provider in Dublin. Luckily enough, I got the job and worked in Raglan Capital under Cathal Friel's watchful eye, learning a significant amount from him.
I was predominantly working on M&A mandates, usually selling great Irish businesses to international buyers. The types of businesses we dealt with and advised from a corporate finance perspective were very varied, and included a lot of technology businesses. That really opened my eyes towards the world of technology and hence where I am today.
And what is your current role?
I've been with Eli Global for three years now and it's been a fantastic opportunity and a great business to work for. They're very dynamic in the way they think about things. They came to me and said: Here's a blank piece of paper – go create some havoc.
I had been with Raglan Capital for just over a year. We had been getting more involved in the oil and gas business and I felt more interested in advising technology businesses on mergers and acquisitions or different corporate finance type mandates. Having been offered the opportunity to really put a stamp on something and make it my own by the guys in Eli Global, I couldn't turn it down.
Over the past three years, I've completed 10 acquisitions of highly synergistic businesses within our existing group, which has resulted in a very successful business that now employs close to 300 in Ireland and the UK. So, it's a fantastic story having been the first person outside of the US representing our business. I'm very proud of that.
Clanwilliam Group was established in September 2014 by myself and Howard Beggs, the CEO of Helix Health, and also Greg Lindberg, chairman of Eli Global, to effect the transactions we completed on the same day, which were Helix Health and Socrates Healthcare.
Eli Global is the majority shareholder of the Clanwilliam Group.
What does your role involve now?
I have many hats as I think all leaders in organisations need to have. My main focus is working with my international M&A team (which currently comprises 14 M&A professionals based in Ireland, the UK, across Europe and Australia) to execute highly strategic acquisitions on behalf of different CEOs within the Eli Global group. We identify good solid businesses that will be around for a long time (our business has a 30 year long-term growth plan), inform them as to the benefits of joining our group of entrepreneurs, and negotiate terms to ensure a successful outcome for both Eli Global and the sellers on a worldwide basis.
The second part of my role is growing the Clanwilliam Group, both organically – dealing with each of the management teams in driving strategies that will assist us from a marketing, product innovation and customer service perspective – and also through acquisition. We've just completed a number of acquisitions that are highly synergistic within the Clanwilliam Group alone, and we are currently in the midst of a number of others as well. So it's quite an exciting time and we look forward to the next stage of our expansion, in Ireland, the UK and further afield.
Tell us a bit about your leadership style
I think it's evolving all the time. I'm continuously learning and making mistakes and I think that's the only way to realise what kind of leader you are and to grow internally. At this point in time, I would say it's more of a trust approach, whereas previously with different teams in the organisation I have been more hands-on on a day-to-day basis. But having been involved with them now for over two years, I'm stepping back more and more and trusting them and empowering others to make their own mistakes and to learn from those mistakes.
It's very important in coaching and mentoring different employees and members of staff to keep them engaged and interested in what they're doing. The second people lose interest or aren't really keen on what they're doing is the first time you really see a big difference in their output. I really do try to put people in positions that are outside of their comfort zone and to give them the responsibility of making decisions that have a big impact on the outcome of our work. I think that's the best way to learn.
Do you have a business or life philosophy?
I very much focus on the good parts of life. I think it's very important to have a good work life balance. I think people who leave on time and who are very efficient with their time are usually far better at their jobs than guys who are constantly in the office. Driving efficiency in business and in life is something I would certainly stand by. I try to get the most out of each day – to get up with the sun and go down hopefully not too long after the sun sets. During the middle of the day, where possible, I take time to go for a run or do some exercises because I think it's important to be able to switch off as well and just really to enjoy life. We only get one so it's important to make the most of it.
Who or what are your influences?
I would have to say the key influence in my life has always been my mother. She's one of the most intelligent, hardworking people I have ever met. She's an inspiration to me, day in and day out. I'd extend that to my father as well. The upbringing they provided my sister and me with was really second to none. They gave us all the opportunities, even if they had to work two or three jobs each to provide us with those. I'm a very, very lucky person and I do try to help as many people as possible because of that, in business and also in personal life.
What are your tips and advice for success?
I think people underestimate the simple things in life, not just in business. Being a nice person to deal with always goes a very long way. There are numerous things people can do to make themselves stand out that do not relate to their specific competency in the role they're carrying out: simple things like smiling, being happy, having a good attitude for what it is you're doing, being on time, talking appropriately with others at all times. They're really simple things that can go a long way but that people do really lose sight of.
The biggest point for me looking at my parents' experience is that hard work is really the cornerstone of any successful career. From my perspective, you can be as intelligent as you want but without applying yourself I just don't see how you can grow to your full potential.
What has your biggest success to date been?
I think where I am at the moment and what I've achieved with Eli Global over the last three years is probably the biggest success to date. To think that only a few years ago I finished my traineeship with KPMG and now I'm walking into an office with 300 employees – that level of responsibility takes me aback sometimes.
Any failures you want to share?
I don't see anything as being a failure really. I watched one of the Collison brothers on the Late Late Show about five years ago and he'd just come back from San Francisco. He said, people in the United States are so proud of failures. In Silicon Valley guys can fail with five or six start-ups and then finally strike gold on their seventh. I think his point was in Ireland we see failure as something we should be ashamed of. We really should change our mentality when it comes to talking about failure. I've learnt from things that haven't succeeded, I've dusted myself off and I've grown and learnt from them. And hopefully I won't do any of them again.
Do you have plans for the future within Eli Global or outside of it?
The sky's the limit with Eli Global at the moment. We are growing at a significantly fast rate. I could not even dream of leaving. The opportunity there to eventually be running a business with thousands of employees is something that really excites me. I can't see there being any plans to change things, at this point in time anyway.
Insight Track
THE INSIGHT TRACK
What are your interests outside work?
I love every sport, and not even just sport – any type of competition. I'm quite a competitive person in everything I try my hand at, while having as much fun as I can. You have to really enjoy what you're doing. I play a lot of golf. I am very much into my fitness: I run, swim and cycle quite a lot. Over the years, I've played many different sports – GAA, hurling, football, soccer and rugby.
I'm also very much into music. I am in a rock band that I play drums and sing in, which is a great outlet for me. And up until quite recently I sang in a choir as well. I very much enjoy all types of music.
How has your degree benefited your career and/or personal life?
Both my undergraduate degree in economics and finance and my postgraduate degree in the masters of accounting have provided me with both a group of great lifelong friends and the knowledge and skills to progress my career successfully to date.
What piece of technology can you not live without?
I'm afraid my smart phone is something I struggle to do without.
What is your favourite band or musician?
I am a huge Beatles fan!
What's the last gig/play/film/exhibition you went to that you loved?
My girlfriend planned a surprise trip to the Cavern in Liverpool for my birthday recently which was phenomenal.
What is your favourite place in the world to visit and why?
I love New Zealand – I have been there twice now and the landscape is just so breathtaking. Hopefully I'll be back for the Lions tour in June!
Name three things on your bucket list
Travel to as many countries as possible across the world
Travel to space – hopefully Virgin Galactic etc. will be more affordable in years to come!
Win the father and son golf competition in the Castle!
What charities or causes are closest to your heart?
Both the Samaritans and the Alzheimer Society of Ireland are great charities that provide much needed support to those dealing with depression/mental illnesses and dementia respectively. These are two areas that I feel very passionate about.
February 2017