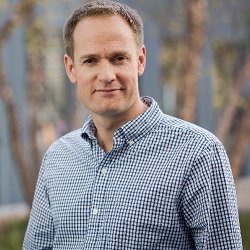 Gareth Lambe
BComm '95
Six years into working at Facebook, where he is now director of international sales, planning and operations, as well as head of the Irish office, Gareth Lambe believes his journey with the social media company is just beginning.
About Gareth Lambe
Tell us a bit about your education and career to date
After school in Terenure I went on to UCD to do an international BComm with Spanish. I was already fluent as my mother is Spanish so that was a big help. I did my Erasmus year at the University of Seville and graduated in 1995.
Although I'd planned to take a year off and go to Australia I applied for a graduate programme with Enterprise Ireland, then known as the Irish Trade Board. When I got through the testing and interview process I was offered a role in New York and it would have been foolish not to take it!
So, I spent just over a year in Enterprise Ireland's New York office and it was an amazing first job – international experience, loads of training, living in New York and travelling all around the US.
When that finished, I did my year in Australia. These trips aren't exactly career moves but I actually did have several jobs there that I learnt a lot from. I worked in customer service in Australia's main mobile company and in a bank and sold teddy bears over the phone for charity. I genuinely attribute a lot of learnings to those jobs.
I came back to Ireland in 1998 and joined Irish Distillers Pernod Ricard as a brand manager and looked after various brands, including West Coast Cooler and Jameson.
In 2000, I left to join Pigsback.com, an internet start-up, and was one of the first four employees there. I joined as marketing manager but in a company like that you always end up selling because it's all about revenue. I had an amazing nine years there across a number of roles, including sales and marketing director and managing director in Canada and the UK where we had various partnerships.
I left at the end of 2008 to join PayPal here in Ireland and that was my first move to a multinational, global matrix company. I joined as director of merchant operations, the business side of PayPal, and was there less than three years when the Facebook opportunity came.
It was pre-IPO so it was a bit more risky and I've probably never procrastinated longer around taking a role. Ultimately I moved because I was very interested in the advertising side of Facebook – I was more passionate about that than payment processing.
I joined Facebook in 2011 as director of advertising operations for EMEA. A couple of years after that, I moved into our sales, planning and operations for EMEA and at the same time did a year's maternity cover on the head of Facebook Ireland role. Then, two years ago, I became director of our international sales, planning and operations, which includes Asia, and took on the full head of office role.
What does your current role involve?
The international role, which takes up about 60% of my time, involves the planning, strategy and operations for our sales organisations in Europe and Asia. I have teams around the world who help me support our regional sales leaders in this work.
There are four main elements to the head of Facebook Ireland role. First is site leadership in terms of the communications and culture of our operation here.
The second part is approver on our facilities, events and real estate.
The third part involves being the face of the company in Ireland and interacting with media, government, the technology sector, and so on.
And the final part is governance, so I sit on the boards of all our various entities in Ireland.
How would you describe your leadership style?
I spend a lot of time on hiring really good people so that I'm guiding and coaching them rather than directing them. I think earlier in your career you direct people a lot more, but at this stage I need people who are very autonomous and make decisions themselves. I'm really their coach and the person who removes obstacles for them. That's how I like to be managed and it's how I manage.
I'm also very focused on setting the strategy in a very understandable way and then allowing people to develop the plans underneath that to deliver on it.
What motivates you?
I think it's to have an impact. The great thing about Facebook is that we're still relatively small in employee size compared to our competitor companies. That allows you to be really close to decisions and to see the impact of your work. And that's important to me rather than just feeling I'm a cog in a machine. It's what I love about both of my roles at Facebook.
Who or what has influenced or inspired you?
At Facebook we have very impressive, influential figures like Sheryl Sandberg and Mark Zuckerburg and many others. I draw a lot of inspiration there.
But I think if you're picking out the most inspirational person in your career or your life, it's got to be someone you've been much closer to and spent more time with.
For me, Michael Dwyer of Pigsback.com was probably the single most impactful figure for two reasons. Firstly, he didn't just hire me – he took an active interest in mentoring me as soon as I came in at 26. He would bring me to meetings I'd no right to be at – investor meetings I didn't know anything about, for example – give me that exposure and talk to me afterwards and coach me. He was extremely generous with his time and knowledge. In my mid-20s to get that kind of mentoring was really important.
Secondly, I think my style is similar to his. I've tried to make it that way. It's about being equally engaged and respectful no matter what level of team or people you're talking to. Michael very much fits the phrase, "as comfortable in the board room as in the locker room". He could be at a high level venture capital meeting one minute and with very junior content people for the site later and be equally engaged at both meetings. I try to always be like that.
So, I was influenced a lot by Michael's mentorship early on and I also learnt a lot from his style.
What is your biggest achievement?
The thing I'm proudest of is the contribution I've made to scaling Facebook's operation here in Ireland. When I joined we were 300 people. We're now 1,700 people and have multiple buildings, including the data centre that's being built. I'm very proud as an Irishman of the jobs we've created here, the skills we're bringing and the investment. And hopefully there's still a way to go on that.
Have there been notable failures or mistakes along the way?
Of course there have. I spend most of my time making decisions. I obviously don't get all of them right, but I'm fortunate to work in a company where the culture is one of learning and you're not scared of making mistakes. One of our values is: move fast and be bold. That very much encourages you to learn from your mistakes and to move on and continue to be bold.
What are your tips and advice for success?
It really depends on your career stage. I think early in your career you just have to deliver the work. Whether it's analysis, sales or whatever, you need to earn trust and reputation by doing really good work and the opportunities will then come to you. These days, people almost want to skip that bit and think they should have the trust and responsibility before they earn it.
Once you're in senior roles, it's really important to be able to not only understand complex problems but also to simplify them and distil them in a way that's easy to communicate and easy for people to execute against. I think the more senior you are, the more your role is about condensing complex problems into understandable narratives and actions. One of the mistakes you can make is to give too much detail and go into all the analysis. People just want you to tell them what the problem is and what needs to be done.
Any plans for the future you want to share?
Facebook is still in a massive growth phase, in terms of users and their engagement, as well as revenues and businesses. We're not just about the Facebook app now – we have Instagram and a lot of products with huge runway ahead of them, like WhatsApp and Messenger and the whole virtual reality space. I anticipate that there will continue to be loads more growth in every sense for Facebook in Ireland. So, even though I'm here nearly six years, I do feel the journey's still very much just beginning.
What are your main interests outside work?
I'm a sports junkie, both playing and watching. But I do have a young family, so between this job and my children all that stuff has taken a bit of a back seat. But my youngest is now seven so I'm seeing a bit of light and beginning to get a little bit more time to get back into things like football and tennis. But for the most part I've only had time over the last few years for my job and my family and friends.
Insight Track
How has your degree benefited your career?
An International Commerce degree is broad enough to give you a good head start in business, but the international slant (and Erasmus year abroad) was particularly helpful for working in a global company.
What are your fondest memories from your time in UCD?
Probably hanging around in the Trap, UCD bar and sports centre talking nonsense with my friends.
What are your pet hates?
Negativity and whingeing
What's the last gig you went to that you loved?
U2 in Croke Park – they never let you down live.
What is your favourite dish to cook?
Chicken tarragon.
What teams do you support?
Man Utd, Leinster and the Dubs.
What is your favourite place in the world to visit and why?
The Basque country – people, culture and especially food!
What charities or causes are closest to your heart?
The Early Learning Initiative is one I have gotten close to as it is local to our Facebook office in the Docklands. Basically, it's about helping under-privileged kids gain confidence, literacy and numeracy from an early age so they have more opportunities in life and career.
August 2017