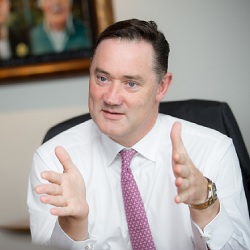 Howard Beggs
MBA '99
For Howard Beggs, doing an MBA just after starting a business in 1995 was a key step in enabling his company to reach its growth potential. The Clanwilliam Group's current five-year plan involves increasing revenues from €20m to nearly €100m by 2020.
About Howard Beggs
Tell us about your education and early career
I was educated by the Christian Brothers and took up a job in the Smurfit Group straight after the Leaving Cert. It was around the time of the advent of the IBM PC in the late 1980s and I got a role in the emerging computer division. That was my introduction to technology and selling and implementing software solutions.
In 1995, I founded a small business focused on developing a software package for private medical consultants where none had existed before. There was an emerging sophistication around making claims with insurance companies at the time and the idea of automating that was the genesis of the company.
What were your reasons for doing an MBA?
After starting the business, I quickly realised there was a large gap in terms of my financial ability and knowledge of how to run a business. And that was when I started looking at my options. So, in parallel with the early years of the business, I started an MBA at the Smurfit School in 1996.
How did the company develop?
The first three years or so of the business was very much the hard slog: after building the product it was all about going around marketing it and selling it on a practice-by-practice basis.
I graduated from the MBA programme in 1999 and if you were to look at the revenue and growth of the business over the last 20 years you'd see an inflection point relevant to the UCD graduation.
By 1999, we had six staff and were doing revenues of €500,000. Using a lot of the learning from the MBA I focused on creating the first extensive business plan document and then taking that to the market.
Within the entrepreneurship programme, Frank Roche had introduced a lot of venture capital community players and that was probably one of the most important elements of the MBA for me. In 2000, we completed our first formal fundraising of about €1m through Davy Stockbrokers. For the first time, the company was now a fully capitalised business and could execute on a business plan.
Suddenly the sales started to double. And that enabled us to look at an acquisition strategy, which again was something I learnt about in the MBA. So we went back to the market in 2003 and raised a further €2m from Bank of Ireland Venture Capital. We used that for some early adventures into the UK and for our first acquisition of our major competitor at the time. By then, we had moved from the early model of just medical consultants into general practice, which had opened up an entire new market. By 2005, the business was generating €3.4m in revenue, employing 30 people and had two professional investors.
In 2006, we merged with what was then the largest provider of software applications to pharmacies in Ireland – that was a big milestone and a very nice link-up. We branded all of that as Helix Health in 2007. The business was now doing about €8m combined and employing around 95 people.
At the point of the merger, the existing investors had exited but in 2008, Davy's came back to make a further €1m investment. The next year, we acquired our second business, which was also in the practice management space.
By 2010, we had broken the €10m mark and were up to 100 staff. We also won the Irish Software Association (ISA) Company of the Year award. And, at the end of the year, we developed a business plan for the following five years that focused on replicating our success and strong market position in practice management and pharmacy software in Ireland into the UK. At that stage, we had only tinkered on the edge of that market and had just a handful of customers in UK hospitals.
Investec invested €5m and we also had a debt partner in Blue Bay and with that we made two very important acquisitions in 2012 and 2013. First, we acquired a small web-based pharmacy provider, which got us a foothold in the retail pharmacy market, and then we acquired the market leader in practice management for medical consultants across the UK. By 2014, our business was 60pc out of Ireland and 40pc out of the UK.
Today, we have approaching 1,000 stores in the UK and we're the number three provider in pharmacies. And, we're the market leader for medical consultants in practice management.
In 2014, the US investment company Eli Global came in and together we created Clanwilliam Group, which is effectively the holding company for all of the businesses, including two recent acquisitions. With the exception of myself, all the existing shareholders exited the business at that stage.
Today, the Clanwilliam Group is doing €20m in revenues and employs 207 people on three continents. Using Eli's offshore resources, we now have finance and development functions based out of a centre of excellence in India and we have 20 people based in the Philippines.
What are your future plans for the business?
The business plan is quite aggressive now that I have a new financial investment partner. The plan is to continue to acquire businesses even further field.
I sincerely believe my greatest achievements are still in the future, not the past. I think everything that's been done so far is a platform to something greater. Looking at the next five years to 2020, the ambitions are bigger than ever and include growing from €20m to a near €100m business. The steps that need to be taken for that are already being taken and it's probably more exciting than ever. And a big part of that is having a very strong management team.
Tell us about your leadership style
It's something that has evolved over the years as the organisation has changed and expanded. In the early days, it was a very focused, driven leadership style – very hands on and leading from the front. I would have been very detail oriented in the early part of the business because I felt I needed to be. Today, with so many staff and a very strong management team, the provision of leadership is focused on empowering that management team and stepping back from the detail.
Who or what are your career influences?
There isn't specifically one person who I would say I particularly admired and followed. In the early days, and probably because it was in my DNA, I would have looked at the style of Michael Smurfit and the business he built up. Since then, I have looked at what different people have done with various technology issues. But there is no particular role model.
What are your tips and advice for success?
Over the last decade I have been involved in programmes in NovaUCD and have mentored small businesses through the ISA and where I have seen early stage entrepreneurs succeed, it's not necessarily about the business plan or the business idea. To me, it seems that the most valuable asset is the focus and determination of that entrepreneur. And I think that's probably something that early stage investors and the VC community are most interested in too. Yes, the business plan needs to be good and it needs to solve a problem, but essentially in the early stages, you're backing the entrepreneur and you're very much looking for that determination.
So, my biggest tip would be that if you do not believe 100pc in your business plan, if you are not 100pc determined to succeed at this and 100pc focused on it, I think you'll be less than successful.
What are your main interests outside of work?
I try to keep fit. I think I'm at my happiest engaging in mild hiking in the Dublin Mountains. If I can get a 10k hike in every second week, whatever the weather, it proves to me that the parts are still working. I'm a pretty passionate rugby supporter of both Leinster and the Irish teams. And then it's very much about family: my wife and four children, who range in ages from 14 to 20.
January 2016