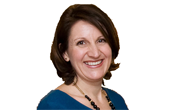 Joanne Hession
BComm '91, MBS '92
A strategy of regularly stepping away from her business to look at the big picture has helped drive success at Joanne Hession's (BComm 91, MBS 92) two companies – QED Training and QED International. Over the next two years, she's expecting her training firm for start-ups to double its business, while her university accreditation consultancy has a pipeline of customers until 2015.
About Joanne Hession
After completing her master's in SmurfitBusinessSchool in 1992, Hession did a brief stint in Ernst & Young before being attracted back to UCD to complete research with Dr Eleanor O'Higgins and then spending two years as MBS programme manager in the SmurfitSchool.
"I wasn't quite sure what I was going to do next career-wise so I decided to go off with Concern and spent just over a year in Tanzania on the Rwandan border, working with the refugees in the emergency field. I was looking after the education programme. We ran temporary schools providing primary education in five camps with over 100,000 refugees."
The challenge of leaving everything behind and seeing if she could survive was a massive one that she couldn't resist, she says. "And after that, you really think you can do anything. When you come back from an emergency field where you're tasked with such massive challenges, asking for things and moving things back here wasn't that difficult. I was focused and determined.
"On my return from Africa, aged 27, for some time I worked for a training business in Dublin city centre. Eventually the entrepreneurial gene which I knew was always in the background made its presence felt so eventually after some period of consideration I decided to set up on my own."
At the end of 1998, she set up her own training company, which focused on providing practical tools to people who want to start up their own businesses. "I'd looked around and a lot of the training that was out there for people setting up their own business was very theoretical," she explains. "I wanted to make sure that people who were going onto training programmes to help them set up their businesses were leaving with practical tools that they could use rather than being told business theories without really knowing how they applied to themselves."
She started off targeting Government bodies that provide funding to start-up businesses. "We successfully tendered and secured a number of contracts with the County and City Enterprise Boards, running training programmes for them to help people setting up their own business.
"We are experts at the start-up process and then work with the owner/manager and management teams once start-ups move into the SME phase to ensure they stay in business. We also have many strong strategic relationships such as managing Vodafone's Smart StartUp Network. This network is aimed at connecting start-ups to a network of knowledge tools and support and facilitating the progress of their business."
Her second business, which she set up within a year of setting up QED Training, came about as a result of "just absolute good fortune stumbling on a niche need in the market". "The Quinn and Smurfit schools were applying for international accreditation and Philip Bourke, who was the dean, approached me to ask if I would help to project manage it for them. I agreed and over the next two to three years we got the triple crown of accreditation with UCD. UCD was only the ninth school in the world to get all three top international accreditations and we coined the term 'triple crown', which is now used globally."
These days, QED International is business school accreditation advisor to international business schools across Europe and Asia, with clients currently in 11 countries outside of Ireland. "Once I completed UCD's accreditation project, I was invited to help other business schools across Europe with their accreditation applications as I was one of the few people in the world with in-depth knowledge of the full spectrum of international accreditations – that was over 10 years ago and we have had excellent results," explains Hession. Her brother, who's a qualified solicitor and was a tax consultant with PricewaterhouseCoopers, joined the business in 2003 and is a lead consultant with QED International and on the management team.
Hession has brought in a general manager to run the training company and currently splits her time between the two businesses. "In the training company, I work at more of a strategic than an operational level. On the accreditation side, while most of my time is spent driving the business forward, I spend some of my time on peer review visits, reviewing business schools and assessing whether they're ready for accreditation and helping them prepare for a peer review.
"We're busy all the time," she says. "We have 100pc success rate in assisting schools with accreditation applications, which given the length of time we've been at it is a success we're extremely proud of." The business works with around 15 clients at any one time and has work in the pipeline until 2015, she says.
Between the two companies, Hession now employs 10 people and has a panel of around 15 trainers.
Growth in the training business going forward will be all about going online, she says. "Our plan is to double the size of the business in the next 24 months. We're on a very strong growth trajectory in the training business, which is strengthened by having brought Noel Davidson on board as general manager, coupled with a strong online training strategy."
Meanwhile, Hession recently co-wrote a book with training consultant Joan Baker, which was launched at the end of January and made it to No 1 in the bestsellers' list in Hodges Figgis. "It's called Don't get a job, build a business and covers the big things everybody needs to know about going into business for themselves.
"Joan and I have spent a collective 50 years working in and on businesses, managing others, observing what works and what doesn't. We are both driven to achieve success and we both have a passion for helping others succeed. We decided to write this book in order to share many of the useful things we have observed, lessons we have learned and positive business techniques we have experienced and taught with success."
The book is split into three sections, which Hession describes as the three Os: managing oneself, others and the organisation.
"The first lesson is to get yourself sorted. You've got to be fit enough to run a business. That's as basic as getting your sleep, drinking your water, eating properly and exercising. But focus is also extremely important and if you don't manage the distractions, like email, you won't get to the big things. You'll end up working in the business rather than on it.
"The second thing is all about managing others and leveraging the people around you. The most successful businesses get the best out of their people and relationships such as with customers. Are you meeting their unmet needs? With the people who work with you, it's about asking yourself daily questions like 'would I work for me?'.
Finally, it's about the organisation. "The successful business owner is focused on building an enterprise that can run without the owner – a business with other staff, a place with structure, systems and processes, a concern with clients and customers who don't relate only to the owner. In short, the business owner is building something which is independent and ultimately saleable. It's important to work on the business rather than in it."
"We are living in a time of difficult economic conditions, which may continue for quite a while. It may not seem, therefore, like the most opportune time to consider setting up a business. However, I strongly believe that in these conditions owning your own business may be a much better use of your talents and energies than scrambling to obtain employment. Be aware, however, that there is much more to owning a business than simply becoming self-employed! Business creation is not just about one job for one person, it's about building a wealth-creating asset that delivers value and employment for the owner and for others."
It's an approach Hession resolutely follows herself. "On a Friday morning, I'll take myself off to wherever I think I'm going to think best. I'll try to get two to three hours out of the office a week. Otherwise you fall into just doing tasks. You've got to make sure you're working on the right things.
"I always take time out of my business to look back and see if I'm doing this right. I was two years in business when I took four weeks out of it, which was a big deal. My husband was working abroad at the time and I went to visit him, aiming to plan strategically on how to maximise every opportunity in the business. Taking time out like that always benefits you in the long term."
Taking a more strategic view led to her completely remodelling the training business in 2006. "It was very overhead heavy. We were making money but not enough for the work that was going into it. I let contracts go that weren't core to our business offering and just concentrated on core activities. I brought it back down to a core team. It made it a very lean operating model and it meant when the downturn hit, we were very lean and flexible and focused.
"I started growing the business again two years ago and it's now on a significant growth trajectory.
Hession says she also benefits hugely from what she describes as "a board I couldn't afford!", a group of business owners who came together in 2007 through an Enterprise Ireland Going for Growth programme. The group of eight meets regularly for intensive two-day residential sessions. "They have been fantastic at challenging. We present to each other and we push each other along. We last met in February and we all had to present on what our plans were for 2013 and how we're going to execute. We're meeting again at the end of April and we have to say what we've done. When you've that hanging over you, it's a pretty big influence to perform!"
March 2013