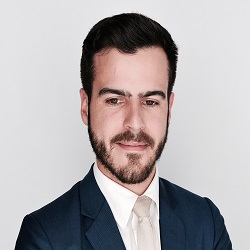 Joao Diogo Freitas
Joao Diogo Freitas – MSc '13
After growing up on the Portuguese island of Madeira, João Freitas has been spreading his wings. He studied in Lisbon, Milan, Dublin and Beijing and following stints working in Ireland and Bahrain, is now travel retailer Dufry Group's business development manager for Asia Pacific, based in Hong Kong.
About Joao Diogo Freitas
Tell us about your education and early career
I started my third-level education in Lisbon with a bachelor's in economics at Nova, the Portuguese CEMS university. During that time I had an Erasmus year in Milan. It was CEMS that connected me to UCD – I went on to complete a master's in International Management at Smurfit and Tsinghua University in Beijing, which meant half a year in Ireland and half a year in Beijing.
And by chance, I started my career with an Irish company. After completing my studies, I was backpacking in South East Asia when I got a call out of the blue from Dublin Airport Authority (DAA) inviting me to participate in their graduate programme. After a few months of interviews, I was accepted into the programme so I went back to Dublin – which hadn't been part of my plan – and stayed there for two years.
In DAA, I was in the non-aeronautical revenue track working with its travel retail subsidiary, Aer Rianta International. This was a completely new world for me – I didn't even know duty free was an Irish invention.
I began with a short stint in the process improvement department in Dublin and then went on to business development, which meant a move to Bahrain. That job involved securing retail contracts on a global scale out of the Middle East. I spent two years there and then had the opportunity to move to Hong Kong to work for a Swiss company, Dufry Group, which is the largest travel retailer in the world – we're currently in 64 countries.
Tell us about your current role
I'm a business development manager specifically responsible for Asia Pacific, all the way from Korea to Australia. As part of my job I do financial modelling for new retail opportunities – this is primarily commercial offers to landlords, which are mostly airports.
The job involves a huge amount of travel around the region, which I really enjoy even though they can be just one-day trips. I was just totting up with the accounts department and we worked out I did 82 flights last year alone.
How would you describe your leadership style?
It's a little bit hard to answer that question this early on in my career. However, I do think everyone has something to say and it should always be heard.
When we're talking about leadership, we really talking about coaching. I'm a really strong believer that a positive leadership style is actually coaching leadership more than anything. You give what you have and what you know to this person and more often than not you'll get something back and you'll learn something new. That's how I always think about it.
It's the kind of leadership other people have given me and I hope I've given it back as well.
What motivates you?
The nature of my business is very cross border. No two countries, partners, legal systems or landlords are the same. I find that a really interesting backdrop to coming to the office every day. Even though the core job is the same you're dealing with a different nature of the business on a daily basis. That's quite exciting and motivating.
Who or what has influenced or inspired you?
I grew up on Madeira, which is a very small Portuguese island in the Atlantic. The opportunity to see the world never really materialised before I started studying. The single biggest inspiration I've had has been the contact with so many nationalities and cultures through my studies that I otherwise would not have had. Just as an example, my UCD class had over 40 nationalities out of just over 60 people. That gave me the sense that anything is really possible and you're not really confined to where you're born or your specific circumstances. So that was quite refreshing.
Separately, I also hope to have been somewhat influenced by Irish people's uncanny ability to adapt without losing their identity and to demand without imposing, which is quite inspiring. It's almost down to an art form that I hope I mastered as well.
What's your biggest achievement to date?
It's hard to pinpoint one but I get an incredible sense of achievement on every project, especially the ones that cross the billion dollar mark for the company. They start with a piece of paper and a few months they turn into a full-blown retail unit employing hundreds of people. It's very gratifying to be the first person to see that piece of paper and to play such a critical role in making them a reality.
What about failures?
There have been a few things I might have done differently but I wouldn't even name them as that would disserve how fortunate I have been so far. Things have turned out perfectly as they are.
What are your tips or advice for success or for people starting out?
Something I wish someone had told me is about staying the course with a strong sense of hope and direction. We say back home that if it's not ok it's simply because you haven't seen the end of it. My generation is always accused of wanting instant gratification. I think it's very important to have a long term view in your career in order to make the best decisions at any given moment.
What are your plans for the future?
I want to continue to contribute to growing Dufry as best as I can. I hope to be able to travel through more and more airports in the future and point to shops and know that I was involved in that.
Insight Track
How important is your UCD alumni network to you?
Very important. Not only on a professional level when you need it but I made great friends during my time in Dublin. I am going to the second wedding of someone from my Smurfit class in August this year in Germany.
What are your interests outside work?
I'm in the great position of being an ex-pat in my late 20s in Hong Kong. It's a great place to live and I also have the opportunity on a twice-monthly basis to use it as my travel hub to incredible destinations around Asia, like Vietnam, Indonesia and Thailand. That's really, really gratifying.
And what is your favourite band or musician?
I'm a big Guns 'N' Roses fan. Since I was young we would listen to them at home. Luckily, I have had the chance to see them live as part of the latest Not in This Lifetime… Tour in Dubai; incredible to still be able to see Slash, Duff, and Axl together after all these years.
What is your favourite place in the world to visit and why?
Very hard to pinpoint a place but if the question was turned to where I would live if I couldn't eventually go back to Portugal that would be undoubtedly Brazil – the constant happiness of the Brazilians is contagious. Couple that with perfect weather, great cities and incredible beaches and scenery, and the perfect country is formed.
Any insider recommendations on what to do or see in Hong Kong?
With two-thirds of its area shielded from urban development, there's a side to Hong Kong away from the iconic skyline in Victoria Harbour that anyone visiting should experience. In addition to incredible beaches, there are countless trails where you can escape the hustle and bustle of the big city and walk in the midst of nature; and the best thing about it is that you can find these a mere 30 minutes from the city.
Where is home and why?
Home will always be Madeira. No matter how long I've been away, nowhere in the world do I get the feeling that everything is the right place and the sense that I've never actually left. The combination of your family, childhood friends, familiarity, and that incredible weather make this happen.
Name three things on your bucket list
Take a private pilot license, do a semester-long trip to South America during the summer, sky dive.
March 2019