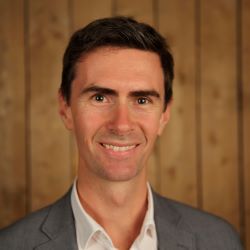 Joe Cummiskey
Joe Cummiskey – MBA '08
Motivated by new challenges – particularly when they involve navigating uncharted territory – Joe Cummiskey spent over 13 years at Google and Facebook, where he focused primarily on emerging markets, before joining SurveyMonkey earlier this year as international sales director.
About Joe Cummiskey
Tell us about your education and early career
I was born in Ireland but my family moved to California when I was two years old and we spent the next 10 years there. When we came back I went to St Michael's College for secondary school and then on to Trinity College to do business studies and French.
One of the highlights of that time was my Erasmus year at ESCEM in Tours in the Loire Valley – I had so much fun there and loved learning the language and living away from home. I really enjoyed Trinity and being in the centre of town, but just wanted to go back to France at the end of my final year. My dad was encouraging me to get a job in an accountancy firm in Dublin but I felt I'd spend the first couple of years of my career building up experience anyway so why not do that in Paris or Toulouse or Lille.
I was a bit lucky with my first job – a friend of a friend was leaving a job in the Walt Disney office in the centre of Paris and suggested I apply. I got the job and spent the next four years there, working in a part of the company that developed, marketed, and sold video games based on Disney movies. I'm not a gamer but it was a very exciting environment to be in – gaming was a fast growing industry at the time and there was a lot of interest around the platforms and how they were developing and changing, and plenty of business challenges too.
When I came back to Dublin in 2000 I wasn't sure what I wanted to do so I started working with my dad on a project he was involved in for the International Olympic Committee and the European Union around creating educational resources on anti-doping in sport. During that time, I also taught French and business studies back in St Michael's.
Although I loved what I was doing during that time I knew it wasn't for the long term so I started looking for other opportunities after a couple of years. And I think I got a bit lucky again. There was a role at Google that was significantly below the level I'd had at Disney, but it was such a big company and I really liked its mission and values so I went for it.
After starting that job in 2005 I began looking at how I could best develop my skills in order to be successful at Google. And that led me to the executive MBA at Smurfit, which was a big time commitment but very engaging and a great opportunity to meet and work with people across many different industries and with such a breadth of experience. I did miss those Tuesday and Thursday evenings when it was finished.
The programme certainly helped me in Google in terms of working across different groups of people, subjects and challenges. I ended up staying with the company for nine years and I feel the MBA was a platform for me to tap into the skills I needed and also a great source of contacts for advice while I was dealing with various challenges and problems.
In 2014, I wasn't really thinking of leaving Google but a friend who worked in Facebook reached out to me with an opportunity around building the company's emerging markets business. At that stage I'd been working in the Middle East and North Africa markets for Google for a few years.
Nobody was leaving Google at that time and it was a difficult decision to move on, but this opportunity was too good to pass up: online advertising was becoming much more targeted and you could see the advantage Facebook had at the time.
Also, my remit included moving into the new markets of sub-Saharan Africa and Turkey. I've always been attracted to new frontiers and things that haven't been done before. The Middle East and North Africa was uncharted territory for Google when we went in there and, likewise, sub-Saharan Africa was new to Facebook.
After four very comfortable years at Facebook, I learned about a leadership role at SurveyMonkey. The opportunity ticked all the boxes for me: right industry, strong culture, great mission, and lots of new territory to expand into. However I wasn't certain, and this is where again I dipped into my MBA contacts and sought counsel from a group of particularly wise fellow students. They provided me with their advice, and I joined SurveyMonkey at the beginning of 2019 as international sales director.
SurveyMonkey is looking to expand its business within the enterprise segment and also internationally, which I saw as a huge opportunity to be in a leadership position in something that had not been done before. The perfect fit for me.
What does your current role involve?
The new SurveyMonkey enterprise product allows businesses to collect feedback from the constituents that matter to them. Our mission is to power the curious: our software enables businesses to collect feedback from their customers, their employees, and the market to make better business decisions. It's a business that's taking off internationally right now and SurveyMonkey is well positioned. My job is to build the team and grow that business here in EMEA.
I don't have a lot of software-as-a-service skills but I do have a lot of experience building and leading business in markets that have yet to be penetrated.
How would you describe your leadership style?
I see my leadership style as comprising three major elements. First up, I believe if you want to be a leader you have to actually have people who will follow you. So, I'm always clear in setting out a vision or mission – something I'm trying to do that's valuable and people may want to follow.
Secondly, approachability is a vital aspect of leadership. One of the ways of achieving this is by having an open-door policy. I tell my team that they can always get five minutes with me no matter how busy I am.
The third thing is around empowerment. The reason you're building a team of people is to confront a challenge together and to try to turn that into a success. If you're taking too much on yourself or being a micro manager you're never going to see the full benefit of your team. It's crucial to empower your team by finding out what they value and what motivates them and linking that to their career development.
What motivates you?
Looking at it from a professional point of view, I definitely like to take on new challenges. SurveyMonkey is focused on growing its business internationally so I'm very motivated by this opportunity to grow the business here in EMEA. I'd like to be able to look back on our work in a few years and be proud of what we have built as a team.
Who or what has inspired or influenced you?
I'm not sure that one person or one thing has inspired me or influenced me. But definitely over the course of my years at Google and even Disney seeing how certain people operated and handled pressure situations has informed where I am today in terms of how I feel about leadership, the decisions I make, and the way I treat people.
I'm a firm believer in the concept of being a lifetime learner. I'm 45 years old now and I don't think I know everything – in fact, I'm certain I don't – so I want to continue to learn from other people. Within my first six weeks of taking the job at SurveyMonkey I reached out to five people I'd worked with in Google and Facebook and asked them what they would do if they were in my situation. They all took the time to give me their advice and I really value and was inspired and motivated by that.
What would you see as your standout achievement to date?
In Facebook, I was very proud of the work we did as a team in sub-Saharan Africa. They were really challenging markets so building that business was a big achievement.
What about failures?
Back when I was working for Google we were going to see a relatively large client in central Europe and spent a week or so beforehand talking about it and putting together our pitch. We needed to come up with a number and decided on $1 million – at the time, the company was doing around $500,000 with us. On the day, we went through the pitch and put up the final slide with the $1 million and knew instantly that we had completely missed the mark and this number was ridiculously low for them – their annual coffee budget was probably $1 million. We looked so junior, so poorly informed and ill-prepared and I can still feel it now.
What are your tips and advice for success?
When I look back on my career and what I've done to date, it's clear to me that one of my best decisions was to go for it early and to not take the safe option. So I would say, if you think you'd like to build some experience in the United States or France or Spain, go and do it as fast as you can. Make all your mistakes early in your career. I would say try to avoid being 20 years in a job, yearning to travel or do something different, and then only deciding to go for it much later in life. My advice would be, if possible, go for it early.
Later I found that it's important to try to get a good balance of all of the things that are important to you between your personal life, professional life, family, maybe sports or activities and keeping yourself healthy. Finding the job or career that allows you to balance everything leads to a rich and varied life. And when you find that balance, try to keep it for as long as you can.
What are your plans for the future?
As a family, we're very settled in Ireland. My wife runs Kevin Kelly Interiors on Morehampton Road and my three daughters are very happy in school. From a professional point of view, I'd hope to get involved in the Irish tech industry at some stage. I don't think I'm technical enough to be inventing any billion dollar businesses myself but I'd like to have the opportunity to work with a tech business that comes from Ireland and to help it grow.
Insight Track
How has your degree benefited your career?
It has given me skills and contacts I have found valuable over the years.
What is your fondest memory from your time in UCD Smurfit School?
We had a fantastic class trip to Shanghai, a fabulous city.
How important is your UCD alumni network to you?
Very, I have used them on various occasions throughout the year to seek advice or simply go for a cup of coffee, very comforting to know that it is there.
What are your main interests outside work?
Family: my wife and three daughters tend to come number one all the time. Outside of that I love playing tennis and golf, although more tennis at the moment as golf tends to take up quite a bit of time. Lastly I'm getting into gardening – am I getting old?
Tell us something most people don't know about you
I've never been to a big stadium concert or a festival, not that I don't like music it's just that I have never actually gone to one.
What piece of technology can you not live without?
I'll say my tennis racquets: they are Wilson RF97 and I love getting the opportunity to get out for a hit with them.
What is your pet hate?
Carelessness, I think.
What's your favourite book?
Captain Corelli's Mandolin – such a fabulous story.
And what is your favourite piece of music?
The song 'My Happiness' by Powderfinger reminds me of a fantastic time in my life.
What's the last exhibition you went to that you loved?
I went to Wimbledon last year and absolutely loved it – you could call it an exhibition of tennis
What is your favourite dish to cook?
Currently Melanzane Parmiagana by The Happy Pear.
What sportsperson or team do you support?
I'm a huge Roger Federer fan. Outside of that it's definitely Leinster Rugby.
What is your favourite place in the world to visit and why?
We've had some great family holidays in Dubai recently. I associate it with taking time off and relaxing.
Where is home and why?
Dublin, because of my friends and family.
Name three things on your bucket list
A week away with my wife on a desert island – think yoga and surfing
Get fluent in Irish
Go zip lining and cave diving with my wife.
What charities or causes are closest to your heart?
Sport for young people. I used to be a tennis coach and still love working with young people to help other discover new skills.
June 2019