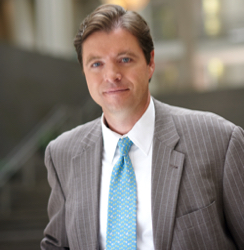 John Drew
MBS '97
After completing a postgrad at the Smurfit School and spending three more years in Dublin, John Drew returned to Boston and ultimately to his family business, the Drew Company, where he is now president. Strong ties forged in Dublin continue and the Drew Company now operates a world trade centre and online trade platform, Webport Global, in the city and has its sights on property development opportunities.
About John Drew
Tell us about your education and early career
I grew up in Massachusetts and went to Boston College where I majored in liberal arts and planned to become a lawyer. But most of my internships were in finance and I knew I had to get more of a business background and that's really what got me over to UCD.
I had met some Smurfit School board members who strongly recommended it so I visited Dublin and loved the school and the programme. I was also really impressed by the faculty's commitment to making the Smurfit School a top 10 international business school.
And I thought it would be a lot of fun to do my postgrad in Dublin. I have a lot of relatives in Ireland and have spent quite a bit of time there. Plus, the length of the MBS was perfect – it's a much shorter time commitment than we have for similar programmes in the States.
I had a great experience at UCD and ended up living in Dublin for three more years after school. I also met my wife through UCD – she's Belgian and was doing her postgraduate there.
I got a job as an account manager with the American bank, Brown Brothers Harriman. They had just opened an office in Dublin and I was the 17th person they hired. It's a big bank in the States, but it was virtually a start-up in Dublin and even though I was fairly junior, I had very high level exposure.
It was a great time to be in Dublin but after four years I wanted to get back to the United States. My sisters were starting to have kids and I felt I was missing out on a lot. When I returned I stayed with Brown Brothers for four more years and during that time did a management training programme that involved spending time in just about every part of the bank. It was an unbelievable experience but after another year or so I knew I wanted to make a career change.
Around that time there was an opportunity in our family business, the Drew Company, to be managing director at a property we oversee in Washington DC, the Ronald Reagan Building and International Trade Center.
I joined 14 years ago and didn't think I would stay with the family business long term. My father is the chairman and he always encouraged each of us to make our own way and forge our own path, and I did that. But once I came back and started working for our business, I never looked back. I oversaw the operation in DC and today I'm president of the Drew Company and involved in every aspect of all of our businesses.
It's a very unique, diverse company and we're involved in real estate development, property management, hospitality and events, and international trade.
What does your role involve?
I wear a lot of different hats here. I'm president of our parent company and also president and CEO of TCMA, our Washington DC-based company. In Boston, Drew Company is known for real estate development and property management. It was one of the pioneers in the Seaport district: my father developed the Seaport Hotel and the World Trade Center. Now, we've moved into the residential space in this area and we're branching out into the suburbs and other cities, including Atlanta and DC. We're also looking at residential and hotel development over in Dublin now.
The World Trade Center property in DC is one of a kind for the US government. The federal government owns it and we've managed it for almost 20 years on their behalf. It's a fascinating project – it's truly multi-use, there's a real estate and property management component, there's an international trade piece, a full service events and hospitality outfit where we host nearly 1,500 events a year and so much more.
We also have an off-site event management company and Webport Global, an online platform for trade that's grown out of our relationship with the World Trade Center Association. And we now operate three world trade centres.
For me, no one day is the same. It's really exciting and that's part of why I love my job.
What motivates you?
My family is my biggest motivation. I have four children and everything we do is to ensure they have the opportunity to be successful themselves. And it's a family business so we're also driven by preserving our reputation and doing good projects we can be proud of.
What is your leadership style?
I try to set an example. I try to be the hardest working person, or at least one of the hardest working people, on any project. We're a very entrepreneurial company so I want to promote that in everything I do.
We're also big on empowering our people – we have 500 employees across Boston, DC and Dublin. We make sure we're presenting our team with new opportunities to grow and work within different lines of business, and that we're listening to them and developing their leadership skills. Because the better our team is, the better we are as a company.
Who or what has influenced or inspired you?
I work for my father and he's always been an inspiration for me. He is a leader and a role model in our community and industry and that inspires me. He is someone I've always looked up to and emulated and it's a privilege to work with him every day. I'm also inspired by other leaders who show similar qualities, like Richard Branson, for example, who is entrepreneurial, clearly a hard worker and gives back.
What are your tips or advice for success?
Continuously strive to learn new things. It's so important at any age and any level that you're finding opportunities to broaden your perspectives and expand your horizons. It's essential that you don't get stuck in a rut and you find a way to make your work compelling or to have some sort of impact around you. You may not be in the perfect job at the moment but knowing what you're looking for in the next role is so important. You have to try to find something you love; if you do you're more likely to be successful. I know that's not always an immediate option for people, but it's what you should really be striving for.
What's your biggest achievement so far?
Well, there's obviously my family. But as a company our reputation is something I'm very proud of. In every project we do, we take pride in the quality of our service and products and that's helped our reputation to grow over the years. It's also reflected in how we're seen as an employer – the average tenure with us is well over 10 years. We're proud of the fact that people enjoy and value working for us.
Any failures you want to share?
We've had many failures that we've learned from over the years, but I think that comes along with trying new things and being entrepreneurial. We often explore new fields or take suggestions from our employees, and any time we try something new – whether it succeeds or not – we take time to evaluate what worked and what didn't and apply that to the next project. And we've absolutely seen evidence of how that has been beneficial for us.
What are your plans for the future?
We're really aggressively trying to grow our real estate development business right now in our current markets and in new markets. We're doing a lot of transit oriented development at the moment. And we're trying to utilise our world trade centre connections to develop new relationships. The growth of Webport Global over the last year has been really amazing. I think in the next couple of years that's really going to be a huge business for us.
What are your interests outside work?
During the week I work hard and travel so often that the weekends are really reserved for my family. We try to convert that time into fun family activities. So, for example, we're really excited for the ski season coming up. Everyone in the family skis and it's something we're all doing together. At this phase in our lives, that's our big focus.
Insight Track
INSIGHT TRACK
How has your degree benefited your career?
My experience at UCD shaped me as the leader I am today. The international focus of the programme has been relevant to almost every aspect of our business. Obviously for the work we do at the World Trade Center in Dublin, the UCD network is extremely valuable there. Additionally, the Irish connections in Boston and Washington DC through UCD have opened up many doors and opportunities for us.
What is your fondest memory from your time in UCD Smurfit School?
It was really amazing to study international business with a true international student body bringing perspectives from all over the world. Most importantly, I met my wife, Helene (who is Belgian) at UCD!
Tell us one thing that most people don't know about you
I love art and movies. I took a bunch of courses when I was in Boston College. I hope someday to get back into drawing and painting. Right now I love that we have an events business that sometimes combines business with the arts.
What is your pet hate?
As important as technology is in our society, I feel like it is the source of so many ills as well. We have become so reliant on our phones and the need for constant contact. I think it's overwhelming.
And what is your favourite band or musician?
I love alternative music, and listen to that a lot. My favourite bands are probably Pearl Jam and U2.
What teams do you support?
If you come from Boston, you are going to support each and every Boston team! I probably watch the Celtics and Patriots the most. I do have some adopted teams like the Nationals that I root for too!
What is your favourite place in the world to visit and why?
Our family has spent over ten years heading to the British Virgin Islands each March. It really is heaven on earth! The hurricanes this past year were just so devastating to them. I hope that they can rebuild and get back on their feet quickly.
What are your insider tips for anyone visiting Boston for a weekend?
The tourist staples here are really fun to visit, like the Freedom Trail or the Museum of Fine Arts. Also, you MUST try to get out on the water somehow – a great spot to check out is the Harbor Islands in the summer.
What charities or causes are closest to your heart?
We are involved with many charities and it's hard to pick one or two. But I want to mention the Trust for the National Mall (I'm a board member), a group that is helping to restore and maintain the national park in Washington DC – the National Mall, or 'America's Front Yard'. Another one is Best Buddies, an amazing organisation dedicated to creating opportunities for people with intellectual and developmental disabilities (IDD). And just recently, I also got involved with the Abbey Theatre in Dublin.
December 2017