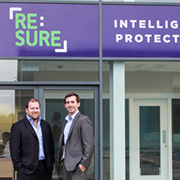 John MacMahon, MBA '12 & Emmet Hogan, DBS '00, MBS '01
Re:Sure
A sure thing

Friends and rugby team mates since 2004, John MacMahon (MBA 12) and Emmet Hogan (DBS 00, MBS 01) have also been working together for the last 15 months as executive directors of security solutions provider Re:Sure and are in the process of launching an innovative personal protection app that they believe has enormous potential for international scalability.
About John MacMahon, Emmet Hogan & Re:Sure
Both MacMahon and Hogan have had varied careers to date. MacMahon started out with a mechanical engineering degree, graduating from UCD in 2003. He spent a year and a half in a construction consultancy and then moved on to Dublin Bus, where he worked his way up to engineering manager before taking a two-and-a-half year sabbatical in early 2007. "I went off to Argentina, learned Spanish, played a season of rugby and met my wife," he says.
Halfway through his stint in Buenos Aires he returned to Ireland where "the job market was dead". Back in Argentina, he realised he did not want to stay there long term. "I wanted to come back to Ireland, but didn't really want to work as an engineer any more.
"I'd always had the idea of doing an MBA in the back of my mind. If you come from an engineering background you're very process driven in the way you think. But my business exposure was minimal."
Once he'd made the decision to do a full-time MBA, he put everything into studying for the Gmat scholarship, which he got. "I couldn't have done the MBA otherwise – I just didn't have the finances at that stage." After finishing at Smurfit, he went to work in Ernst & Young in September 2012.
Hogan, meanwhile, had studied history and politics in UCD, graduating in 1998. "Then I went travelling for a while and then I was working for a while," he says. "I was always interested in commerce and would have been doing little side projects for my own work. I'd been working in Citibank for a while when I was travelling. When I came back I thought that if I was going to get into a more commercial role I needed to have more."
He did the DBS in Smurfit followed by a master's in marketing management. "Then I took another little zip to the right and worked for a US senator on an internship for just under a year."

Back in Ireland he started with the OHM Group in 2002 on a three-month project but ended up staying there for more than 10 years.
Meanwhile, he and MacMahon were friends and team mates at Bective Rangers FC. Both also played rugby very successfully for the Smurfit School, with Hogan winning three MBA World Cup medals and MacMahon captaining the winning side in 2012.
The Re:Sure opportunity
The Re:Sure business was set up in 2008 as StopWatch, with MacMahon's family among four founding investors. While he wasn't involved at the outset, MacMahon says he always considered the business – which is based on live CCTV detection and remote monitoring of sites – to be a really good idea.
The company managed to build up an impressive client list but then struggled for several years. "Infrastructurally, it was brilliant," says MacMahon. "The service being provided was very, very good. Unfortunately, the management was pretty poor and a lot of fundamental things weren't being done right."
A few months after starting work in Ernst & Young, he began to realise how much trouble the business was in. "I had been so immersed in the MBA that I really hadn't paid any attention to the fact that the company was struggling as much as it was," he says.
"Based on the skill sets I'd gained from the MBA and being in Ernst & Young, I decided to pull together a pack to bring investment to the company. Part of the business plan was to bring in somebody to head it up. Then I started seeing the business case for myself."
He discussed the options with a number of friends, including Hogan. "We talked about what the opportunities were and he hooked me very well without telling me he was going to do it," says Hogan, who started looking into the business and became increasingly interested.
"At the same time the company was looking for investors so I took it to our board," Hogan continues. "For us a big, big selling point was the fact that the likes of RTÉ and Kingspan were customers. When we did more due diligence we found the service was excellent but the management side of the company as it was being run then was poor."
Over Christmas 2012 and after much consideration, MacMahon decided to join the business. Around the same time, OHM Group confirmed that it was interested in investing. "Even if they hadn't come on board, for me it was a sign of faith that there was something in this," he says.
Hogan joined in June 2013 and they started focusing on the technology. "For us it was about looking at the next step to see how we're going to grow and the technological changes coming down the line," he says. This exercise resulted in two areas of focus going forward.
The first is a video analytics system that sits on top of CCTV devices and negates the need for beams. "It picks up what's happening in the camera," explains Hogan. "It sees movement and analyses if it's a person and, if so, if that person is allowed in the area at a particular time. If they are, that's okay; if not, the system sends us an alert.
"It's a simple install and it's turning CCTVs from a passive non-detecting to an active preventative system. And it can be installed on any existing system."
A growing number of Re:Sure's customers are residential, says Hogan. "Six months or a year ago, we would have said our business was 95pc commercial, and five percent residential. It's probably 85:15 now. What people are looking for is peace of mind. It's the next level of security. We're getting them when they're on your property, before they get into your home. And that's been a really positive sell."
Perhaps most innovative, however, is the second area of focus, which has resulted in the launch of a new monitoring and response app for people on the move. In development for the last 18 months, the Android, Windows and iPhone compatible app – Re:Sure Go – is a personal panic alarm that is connected back to the Re:Sure monitoring centre in Cookstown, Co Tyrone.
If they feel threatened in any situation, users can set the alarm off by shaking their smartphone, which then transmits their GPS location by latitude and street address to the 24/7 Re:Sure control centre. Once the alarm is triggered, the phone's video camera and audio are activated and a 10-second video and audio feed is sent to the control centre. While users can stop the alarm by entering a simple code, they also have a 'duress PIN' that escalates the alert further.
"We would then contact the Gardaí or PSNI on confirmed criteria," says MacMahon. "When you sign up, you enter contact people and information about yourself so we have everything to let us make the accurate decision as quickly as we can."
A second element of the service – the meeting function – allows users to submit a range of information including location and time parameters. It also includes a 'man down' function that will set off an alert if there's no activity for a certain amount of time. This, according to MacMahon and Hogan, is particularly useful for people who are working on their own.
"It's very functional for lone workers, both for protecting the individual if they're going into an unknown situation and protecting people out on their own who know exactly what they're doing," says Hogan.
During the launch phase, the Re:Sure Go service will be available for a special price of €6.50 a month, which will stand for the length of the contract. The standard price for customers signing up after the launch period will be €11.95.
Scaling up
The company is now firmly in growth mode. "We're bringing on someone to look at the sales and marketing end of Re:Sure Go on a 100pc basis," MacMahon says. "We need someone to head it up. We've brought it this far and we realise that on a day-to-day basis we can't bring it further."
"We're also hiring sales executives for the CCTV end as well. The big push on that side is the conversions of existing sites from passive to active."
MacMahon and Hogan believe the app in particular has huge potential for scaling up and allowing the company to enter new markets. "Our only concern is the capacity in-house to make sure that we are response driven," says Hogan.
The initial focus for Re:Sure Go will be the home market of the island of Ireland. "We know our home market so it's easier to work with that at launch phase," Hogan says. "Then we're going to expand out to the UK and later on we'll be looking at other international markets." The app has already been tested – and has worked – in Australia, Colombia, the US and Costa Rica.
The app has many applications, say Hogan and MacMahon – from parents wanting peace of mind when their teenagers are out at night to companies concerned about employees in potentially risky situations when they're on the road. That in itself will be one of the challenges, they believe. "The market's so broad," says MacMahon. "For us, it's about how we are going to hone in on the right part of the market to target."
September 2014