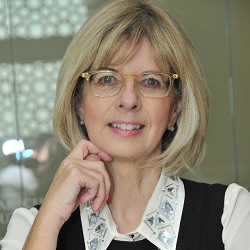 Linda McLoughlin
MBS '95
A master of career reinvention since having to put her teaching plans on hold, Linda McLoughlin started out in curriculum and tourism development at what is now Failte Ireland before moving into executive education and leadership training at the IPA. She set up a consulting business – LeadershipWorks – in 2006 and moved to the UAE in 2012, where she works internationally as a coach, keynote speaker and leadership expert. In 2017, she was named ICF Ireland's Coach of the Year.
About Linda McLoughlin
Tell us about your education and career background
I started off with a BA in French and history and a HDip at UCD and originally planned to become a secondary school teacher. However, there was a public sector hiring freeze when I graduated so I took a 'temporary' job with what is now Failte Ireland and stayed there for 17 years.
I went in with no expectations and, through multiple different roles and promotions, had the most amazing, satisfying career there. It was a huge growth period for the Irish tourism sector and it was a very dynamic organisation. There was a start-up feel to it and, as a result, I was given huge responsibility for different projects at quite an early stage in my career.
During that time, Failte Ireland sponsored me to do a master's at UCD. So, for a couple of years I was working full-time with three small children and doing a part-time MBS. That was an eye opener for me – coming from a liberal education background it was very empowering to start doing a business degree and to realise I could manage it.
Shortly afterwards I moved to the Institute of Public Administration where I stayed for nine years. That again was a wonderful reinvention of myself, where I transitioned into leadership development and consulting and really had to learn the ropes from the start.
I love a challenge and once I get on top of a role and feel I have given my all to the job I feel the need to move in a new direction.
So in 2006, my next big step was to go into business for myself and I set up my own company, LeadershipWorks. I really wanted to spread my wings and be in control of my own destiny and it has proved a wonderful decision.
What is your current role?
I am an expert in executive education and work internationally as a coach, keynote speaker and trainer. In 2012, I took the decision to move to Dubai so I'm now based in the Middle East for much of the year.
My husband was working at an American university in the United Arab Emirates (UAE) and at that point my children were grown up and had finished college. So I thought it would be a great adventure to experience and work in a new culture and to take up in a position in academia. Moving to a completely new region with different customs and practices and having to develop a new network, forces you to let go of any assumptions and move out of your comfort zone. It was a tremendous challenge but very exciting.
In the UAE, I now run my own coaching and consulting business and have worked with big government clients, like Dubai Airport and the Road Transport Authority, delivering customised leadership development and coaching. And I was recently approached to work in Saudi Arabia, which will be a new step for me. I still have a customer base in Ireland, working with organisations like the Royal College of Surgeons on its human factors programme. And I travel regularly to Brussels, working on talent management with the EU Commission and the Parliament.
How would you describe your leadership style?
Other people tend to describe me as inspiring, innovative and empathetic. I always try to bring other people with me. I believe you have to win hearts as well as minds to create a sense of common purpose and excitement around what you're trying to achieve. I find in the Middle East that leadership has to really connect with the heart. That's a very big part of the culture. People want to know you and like you before they do business with you. They're also passionate about what they want to achieve. And I believe that suits me, because that is my kind of leadership style no matter where I am. So in that respect, it has been quite a natural transition.
What motivates you?
It's definitely about making a difference. Whether I'm coaching an individual or consulting in an organisation, I'm really motivated by the fact that I can leave people in a better place than where they were at the start. I get such a kick when I receive a card or an email, maybe years after working with a company or an individual, with news of a breakthrough. That makes my heart sing and I keep all those messages.
The other thing that motivates me is the idea that I am following my life's purpose and doing the work I was meant to do. It's never just about the pay cheque at the end – although that's nice! For me, it's all about meaning and making a difference.
Who or what influences or inspires you?
It has to be family. I grew up with a family that had a tremendous work ethic. I got that from my parents and my grandparents and it lives on. In my immediate family, with my husband and my three grown-up children, our mantra is always 'Do your best and don't give up' and that serves us well. And I think we feed off each other with that. We're all very focused and dedicated.
Strong women also inspire me. I'm a great advocate of diversity and equality in the workplace, and particularly around women reaching the C-suite. Because of my coaching, I have the privilege of working with strong female executives and they never cease to inspire me because it is still that bit tougher to get there for women.
What do you feel has been your biggest achievement to date?
Recently, a highlight was being awarded Top Coach of the Year by the International Coach Federation (ICF). It was a great honour to be voted by my peers for my contribution to coaching in Ireland and internationally.
As a parent, my lifetime achievement is my three children. What was very tough for us was when we lost my first husband in 2000 to cancer. My children are wonderful and a real source of pride because it wasn't easy for them. They had to show tremendous resilience and we managed to pull through together.
Then, I was so fortunate to meet my second husband at an academic conference. We never know what life has in store for us.
I'm someone who likes to be a pioneer so what also stays in my mind is when I am the first to do something. For example, I was the first to introduce a women in leadership module in a business school in the UAE and I was the first to establish a tourism school in the Baltic States in 1990 just after the Berlin Wall came down.
Is there anything you would have done differently?
If I was to redo my career I would have gone into self employment sooner. It did take courage – I left a permanent, pensionable job when I was a widow and had three children to support. I took the risk and it proved right, but perhaps I could have done it sooner. It's a small regret that I didn't do it a couple of years earlier when I first started thinking about it, but I have no regrets about doing it. It opened up the world to me and added so many new dimensions to my career.
What are your tips and advice for success?
There are two main things I would say. First, be very strategic and second, be very flexible. It may seem like a contradiction in terms, but as a career coach over many years, this is what I've observed in successful people.
You've got to have clear goals. Every year, set yourself two or three big ticket items that you want to achieve that will grow your career and your CV. And every quarter, break those down into mini-steps and give those steps a bit of quality time as we can be derailed by the routine tasks, the to-do lists and the demands of others. I really believe in being strategic about your career and I do practice what I preach in that regard.
But while we need goals and a plan, you have to be flexible because the world is changing very fast and opportunities come up. Don't dismiss an opportunity without really being open to it. That has proven so right in my own life: for instance, the decision to go into self-employment and the decision to base myself in the Middle East. I couldn't have planned for many of my big career moves but the opportunities just presented themselves.
What are your plans for the future?
My immediate goal for 2018 is to achieve my master coach level accreditation with the International Coach Federation. It's quite a young profession and there are very few master coaches in the world. I have accumulated over 2,500 coaching hours, which is a prerequisite. And I'm doing other developmental work on the path there.
Another plan is around training other coaches, which I'm very passionate about because I believe coaching is a powerful, positive tool in our world. I've been training coaches in Dubai for the last four years and I'm now planning to launch a new programme in team coaching this year and I'm also looking at translating all my materials because there's a huge need for accredited training through Arabic in the Gulf and in North Africa.
What do you do in your spare time?
I travel whenever I can and I'm a bit of a culture vulture. I love theatre, cinema and art. I'm spoiled for choice with the new Dubai Opera House and go to regular live performances. I also love reading and am in a couple of book clubs. And I've just taken up a multimedia art class - art without rules!
I'm also interested in yoga and mindfulness and am a Reiki master.
Insight Track
What is your fondest memory from your time in UCD Smurfit School?
The calibre of my classmates and faculty – so many inspiring leaders in one room.
How important is your UCD alumni network to you?
Very important especially when you live abroad – we have a great chapter here in Dubai.
What pieces of technology can you not live without?
My iPhone and WhatsApp.
What are your pet hates?
Poor service and bad manners.
Who is your favourite writer?
Colm Toibin – amazing writer and UCD alum. Remember him from the corridors of Belfield.
And who is your favourite musician
The late great Leonard Cohen.
What's the last performance you went to that you loved?
The Carole King musical Beautiful – so many hit songs.
What is your favourite dish to cook?
A Sunday roast with all the trimmings.
What team do you support?
Ireland playing anything!
What is your favourite place in the world to visit and why?
Skerries Harbour, especially outside Joe May's on a sunny day – no place like home!
What's the best thing about living in the UAE?
Cultural diversity – have worked with people from over 80 countries here.
Name three things on your bucket list
Travel. Travel. Travel. Can't do enough!
What charity is closest to your heart?
RNLI – saving lives at sea.
March 2017