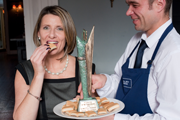 Loretta Dignam
BComm '83, MBS '84
Her contribution over the last couple of years to revitalising some of Ireland's best known biscuit brands – including Jacob's Fig Rolls, Kimberly, Mikado and Coconut Creams – was a key factor in Loretta Dignam's recent selection as Marketer of the Year 2011.
About Loretta Dignam
The panel of judges, made up of her marketing peers and chaired by UCD Michael Smurfit Graduate Business School's Professor of Marketing, Dr Damien McLoughlin, noted that in her role as marketing director, Dignam had led Jacob's biscuits into profit by allowing new product development and marketing communications contribute to the growth of the brands. They also took account of the fact that, together with her work on the main Jacob's biscuits brands, she had driven the development project for the recent launch of the Why Not? range of cereal bar snacks.
It's timely recognition for Dignam, who began her marketing career in 1984 straight after graduating from UCD with first class honours in both her BComm and MBS, in which she had focused on international marketing.
But commerce had not been her first choice. "I actually wanted to do law and missed it by a point under the old system and I cried my eyes out," she explains. She decided to do commerce for a year with a view to converting to law but, won over by the whole area of consumer behaviour, opted to stay.
Her first job was on the Mars graduate recruitment programme. While the company had just opened an office in Ireland, she started her training as a sales rep in London, selling dog food and cat food. She was keen to get into the marketing side of the business and, after a year and a half, was made a junior brand manager at the pet food head office in Melton Mowbray.
After a year or so in that position, during which she worked on the launch of premium cat food Sheba, she moved back to the Irish business unit as a brand manager in pet food. She also became involved in the food business here, which was very small at the time, and worked on the launch of Dolmio in Ireland and expanding the Uncle Ben's range.
"The food business grew dramatically. That would have been my baby. I didn't do it single-handedly but I would have been a big driver of the business. During the time I was there the Masterfoods Ireland food business had the highest per capita consumption of food of anywhere in the world."
Dignam's next move was to Malmo, where she spent nearly four years as marketing director, Masterfoods, Sweden. She describes her time at the food giant as an incredible experience. "Mars was fantastic, it had brilliant brands and they understand investing in brands and giving lots of responsibility and accountability and a sense that you can do stuff yourself and make things happen.
"I didn't realise until much later when I left that they had a whole process ingrained in the business. It's only when you leave that you realise that these processes don't exist anywhere else."
Towards the end of 1997, she opted to move back to Ireland and managed to secure a job with Guinness, which was in the process of becoming Diageo Ireland. The brands she was given – Harp, Kilkenny, Smithwicks and Hudson Blue – were, she notes, the worst in the portfolio at the time.
"But someone advised me that the only way was up for those brands. During my tenure – and with the team I had – we managed to turn the Smithwicks brand around from a 17-year decline to growth, which was very hard done!"
She subsequently took charge of Budweiser and Carlsberg. "During my time, one of the campaigns we launched was 'Wassup?' and Budweiser became the No 1 beer in Ireland. That was another good coup."
She was later made Diageo Ireland's head of consumer communications, overseeing sponsorship, PR, TV advertising and media buying, and becoming involved in the whole area of social responsibility, including the development of the 'Don't see a great night wasted' campaign.
Her next move, in 2004, was to Kerry Foods, where she was marketing director on the Freshways sandwich brand. "That was really exciting because it was in the boom time and the business was growing massively," says Dignam.
"The culture in Mars was very much can-do in a supportive environment. Guinness was much bigger, much more bureaucratic and more paternalistic. The marketing was very deep. Intellectually it was very, very stimulating in that environment so it was a fantastic experience in a different way.
"When I went to Kerry, it was very commercial and much newer to the branding area. We worked in business units there so we got exposure to the factory. We managed the whole P&L. That was like exposure to a business, whereas in Diageo you were very clearly in the marketing area."
When the recession hit, sales plummeted and, towards the end of 2008, she was made redundant. However, within a few months she was lecturing in marketing communications on the MSc programme in UCD and had started an initial six-month maternity cover contract at Jacob Fruitfield. At the end of the contract, she was asked to stay on as marketing and technical director.
"It's been really interesting and a great challenge," explains Dignam. "The organisation here is very commercial. We have to treat the brands like we own them. And it's all about profitability and return on investment on all the activity."
What is refreshing, she says, is the very short chain of command. "There's no head office that you have to report into. Because we own the brands, we get to do all elements of the marketing mix. From a marketing role perspective, it's a very meaty opportunity.
"So many businesses that are part of big multinationals – and it's no criticism – would be more about implementation while the strategy is all done in the States or wherever. Here, it's totally autonomous and you have to go in and fight your case to get investment for different things. It's quite exciting."
More changes are on the horizon in the New Year when the Jacob Fruitfield staff relocate from Tallaght to Ballymount following the company's purchase by Valeo Foods in August. "The structure isn't yet decided but we will be moving physically in January," she says. "By the end of March next year, it should become more obvious as to how we run the business."
Dignam says she was thrilled to be named Marketer of the Year, which she entered after seeing that there was a good story to tell around revitalising the brands. "The brands had been in decline in all of the measures – market share, sales, brand health metrics – and we had set about dusting them down and making them relevant."
She says the task for her and her team had been to give consumers a reason to want to enjoy and experience Jacob's biscuits once more. "The success of the work can be seen in the sales we've achieved and the new markets we've grown."
Winning was an endorsement of this work and a great recognition because it was from within the industry, she believes.
Looking into the future, Dignam says she has played around with a number of different ideas – everything from starting her own business to doing a PhD. She could still see herself being a barrister. "It's all about putting your case forward. How do I convince or persuade people to do x, y or z?
"But I do love the cut and thrust of business and the fact that you can be working on something and then you go into a store and you see somebody buying your product or somebody eating it. It's very stimulating to set yourself targets, implement against it and then measure the results. I get a great buzz out of it."
December 2011