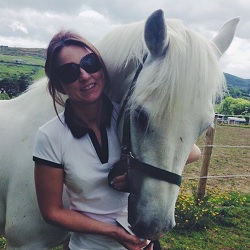 Lucinda Kelly
HDipEntrepS '03
Bringing together an entrepreneurial spirit, family background in retail and property, and corporate experience in mobile, Lucinda Kelly (HDipEntrepS 03) recently set up Popertee, an Airbnb-style service that matches vacant commercial spaces with businesses looking for a quick and low cost pop-up retail presence.
About Lucinda Kelly
Tell us about your education and early career
I did my degree in UCD in information studies and French and went on to do entrepreneurial studies in Smurfit Business School. After that, I got onto a graduate programme with Invest Northern Ireland, where I did a year's placement with a building consultancy company. I then worked in marketing roles in the Irish Youth Hostel Association and Student Travelcard before joining Eircom in 2008 as programme manager. I broke to do The Apprentice in 2009. Eircom were brilliant about that – they allowed me go off and do another job interview and then took me back and promoted me onto the Emobile team!
In 2011, I joined Paddy Power as mobile games manager, responsible for getting the mobile casino business up and running. For my last year with the company before leaving in July 2015 to set up Popertee, I was head of strategy for marketing communications.
Was setting up your own business always part of your plan?
I have always been an entrepreneur at heart. When I was 12 I always had a stall, selling stuff at the back of the house. I have always been a wheeler dealer. I love trading and I love the buzz of buying and selling ponies. When I was 16, my dad gave me a loan to buy my first pony, but he made me write a business plan on how I was going to pay him back.
When I was 24 I designed waterproof dog coats and got them specced and made out in China and brought a couple of hundred to Ireland. I sold them through retail channels and online. I also set up equestrian websites for buying and selling horses.
My parents were always pushing me to go and get education and to learn from the corporate world. For me, it was amazing to be in the corporate world but I was always an intrapreneur. My strengths were that entrepreneurial spirit and looking at new initiatives and how we could drive new customers and innovation internally. But ultimately I knew I wanted to get out and do my own thing.
Tell us about Popertee
On the back of the Airbnb success, I was looking at what could be replicated in that shared economy model. Popertee is an online marketplace that connects businesses or marketing agencies with vacant retail properties and spaces. The opportunity for the business is huge. Our platform will allow any size business to quickly 'pop up' in three easy steps saving time and money. We will cover legal and insurance through the marketplace.
Ultimately, it will be a self sufficient platform where all payments and correspondence and messaging is done between the property owner and the business and we'll just be the matchmaker. At the moment, we're running a concierge service: we've signed up eight shopping centres and around 20 other properties and now we're talking to lots of marketing agencies and starting to match their clients with these properties.
We're currently working on the website and an app, which will be up and running over the next few months, and then we can really focus on the matchmaking part of the service.
Our key market is the UK where we plan to launch in the coming months. There are over 500,000 vacant retail spaces currently in the UK and with bricks and mortar trade declining, we believe we've come up with a very real, compelling solution that will appeal to a variety of business types. In 2016 the pop-up sector reach will be unprecedented. A number of new industries will see that they can use pop-ups to reach consumers - from tech, to energy, to government.
We've recently been accepted on Phase 2 of the Enterprise Ireland New Frontiers programme, which has been really good at helping us validate the market. It also offers a stipend towards the business and gives us access to great mentors and training sessions.
We were also recently shortlisted to pitch for the NDRC Launchpad Accelerator programme (rated the second best accelerator in the world) and are waiting to hear back on that. And we've just found out we have been shortlisted for the €250,000 AIB Start-Up Academy competition. So for such a new business, we think we've had a great start!
What are your plans for the company?
One is to build a world class team. At the moment, the company is myself and Brian Power, who was formerly with FeedHenry and has recently come on board as CTO, and our super intern Conor Ralph. We plan to hire a sales person as we're getting enquires from both properties and businesses so really need a superstar on board to drive this. And on top of this, our priority is to build a top-notch tech team. We're building the products in NodeJS, a new technology that Brian is confident will change the landscape of development. Richard Rodger, co-founder of NearForm and advocate of this language, also sits on our advisory board.
It will be important also to build partnerships. I'm having a lot of conversations with other businesses that could very well align with Popertee and what we're doing.
Over the next few months we'll start seeking financing in order to grow the business. Ultimately, it is an exit strategy. We will look to exit over three to five years. First though, we need to successfully break the UK market followed by more European countries. Our goal is to disrupt the global retail pop-up market – and we will.
What is your leadership style?
I am always very positive. I am clear in the vision I have and like to mobilise people towards that. I'm full of energy. What's important is showing people how to do something and allowing them make mistakes along the way. I'm definitely not a micro-manager but do like to keep on top of all areas of the business.
I think it's important to give people opportunities and responsibilities. I'm also a big fan of giving people praise when they do something good. That's certainly what I like getting!
What's your philosophy in business and in life?
I have always been inspired by the Walt Disney quote – 'If you can dream it, you can do it'. It sounds clichéd but it's true. You can't overestimate hard work. I think if you ask anybody, they'll say I work hard and don't give up and I'm not afraid to fail.
What are your tips and advice for success?
I think it's really important to have a mentor, no matter what level you're at. I've a brilliant advisory board for Popertee that I bounce ideas off. And I've always had a good mentor through my career.
I think you have to be fearless – I've contacted people through LinkedIn who I admire but don't know and asked them to be a mentor.
And I don't think you have to limit yourself to one mentor. You can have different mentors for different things.
Another thing is to take risks. If you don't take risks, you're not going to get anywhere. I always say, you could be run over by a bus tomorrow and you haven't tried what you want to do.
It's obviously important to keep fit physically, but a lot of us don't do mental training. I do quite a bit of hypnotherapy and self hypnosis at night for a combination of confidence, for sport and to relax. I think in business you really need to relax your mind.
Who or what are your influences?
A big influence is my dad. He had a high-end men's clothes business on Grafton Street [FX Kelly], which brought brands like Hugo Boss into Ireland in the 1980s, and he was also involved in property. I think that's where the hybrid of retail and property for Popertee came from.
Dad has always been quite tough on us: my three brothers and I were always made work and do our own thing. Seeing how hard he works has come through to me. And I think a huge amount of my drive is to prove to him that I can be as good as him.
I also had some really great managers in Paddy Power. One or two were brilliant mentors for me and made me really believe that I was great at what I did. One of them now sits on our advisory board and I still keep in touch with the others (now based in Australia)
What are your interests outside of work?
The main interest is my Connemara ponies. I hunt and show jump and do things like the Dublin Horse Show and some of the big national shows. My downtime is riding the ponies in the evening and competing at weekends. I'm going to struggle with time this season but plan to only compete one (maybe two!) ponies at the most. The rest have either been sold or are on the market.
February 2016