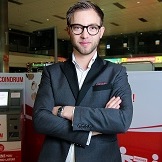 Lukas Decker
MSc International Management '12
Lukas Decker set up Coindrum in 2012 after developing an innovative system for airports that allows passengers to convert their unwanted coins into airport shopping vouchers. As well as getting Ryanair co-founder Declan Ryan on board as its main investor, the company recently completed a successful trial in Dublin Airport and was named a regional winner of the 1776 Challenge Cup.
About Andrew Murphy
Tell us about life before setting up Coindrum
I'm German but have lived abroad for over 10 years. I went to boarding school in London and did my bachelor degree at Royal Holloway, University of London. After that, I took a year out and travelled the world, mostly in Asia. I then came back to do the CEMS master's in international management, the first half in UCD Smurfit School and the second in the Rotterdam School of Management.

While I was a student I founded Coindrum and started to dedicate more and more of my time to the business. The second I graduated I was working full time for the company.

Was setting up a business always your plan?
It was on my agenda but I wasn't actively looking for a business idea to pursue. I've always had a 'business idea of the day', where I write something down every day. Whenever something is annoying me I try to figure out how it would be in an ideal world and then I think about how you would design the solution.

That's how I came up with the idea for Coindrum. I used to commute a lot between London and Hamburg and always had the problem of having the wrong currency in my pocket. I was paying a motorway toll in Italy one day and when I chucked my coins into the machine to make the barrier go up I thought this is how I want to be able to get rid of my coins in an airport. And that's how the business was born.

How did you develop the idea?
My background is in business all the way so I didn't sit in my garage and build the machine myself. I identified a company that is the market leader in coin processing technology, raised venture capital and then approached them describing what I needed and we figured out how to build it together. It's the best of both worlds – I have access to functioning, very mature technology, developed with long-standing know-how in the field, but also I have exclusivity for the airport in competitive terms. There's also 'supplyability' – I could order 500 machines tomorrow and it wouldn't be a problem. Part of my ethos for the company is that everything is built for scalability. The supplier arrangement is one function of that.

How is the company progressing?
It's still relatively early days. I hired my first employee recently. I did that relatively late in the process because I had access to an amazing team. My directors [Ryanair co-founder Declan Ryan; Declan Fearon, owner of Tipperary Crystal; and Prof Frank Roche, chairman of the Dublin Business Innovation Centre and deputy principal of the UCD College for Business and Law] are great and I work in my main investor's office with his team as well so I had all these extra pairs of hands.

We recently raised our second round of venture capital and I'm playing with the idea of doing a third.

We've just completed a three-month trial in Dublin Airport and the metrics we tested were through the roof. We're now working on major expansion plans, to repeat the success story of Dublin in every major international hub airport worldwide. We've started to do trade shows and managing the demand side of the business.

There hasn't been a real breakthrough innovation in this type of retail space in a long time. We are the talk of the town and rightly so. There are only a handful of travel retail companies operating at every airport worldwide. We're targeting those companies to do trial projects and to then scale into their remaining airports after we've proved to them that it makes money. Everybody who uses our service to get rid of €5, for example, commits to start spending money in the airport and might end up buying a bottle of whiskey. So there's huge uplift revenue and footfall penetration potential for travel retailers and the airport authorities trying lots of different ways to get people to shop in an airport.

If passengers use our system in Dublin Airport, we give them10pc on top of what they put into the machine. It creates so much value that we can afford to do that and drive usage.

We ask potential airport partners to simply start accepting our vouchers and give us a square meter of space. We provide the technology completely free and all the service that goes with that. We then charge the travel retailer a commission every time we send them a customer they otherwise wouldn't have had. So there's no set up cost for the airport or the retailer. They only ever pay us if we send them a customer. For us it's long term automated revenue. For them it's no risk.

Initially, part of the grind was I had to sell to people on expectation. Now the truth is in the numbers. And because of the people who are involved in my company, such as my first investor Declan Ryan, the co-founder of Ryanair, I have access to the right people.

Tell us about your philosophy in business
I heavily emphasise the importance of people and relationships and that's really paid off for me to date. People are at the heart of everything and that's how you progress.

Who or what has been your biggest influence?
I'd rather learn from somebody who's done 700 deals rather than read 700 books. I try to listen to people who are where I want to be. And I listen to different people on different things.

What is your advice for success?
It's still early days for me. Things are going fantastically, but it's not like I have cashed in millions already. You've got to do something about it – that's the main thing. If you want to be wealthy or successful it's not good enough to buy a lottery ticket. What are you actually doing about it? You've got to do something extraordinary to get to an extraordinary achievement. It's about having the courage to be proactive and not follow the well-trodden path.

I still write down my business ideas every day. I currently work full time for Coindrum but am a serial entrepreneur at heart, so I am sure there will be more projects to come.

What are your main interests outside work?
I work a lot. If it wasn't for my girlfriend slowing me down every now and again I would never stop. But I love what I do. I also enjoy cooking and when I find time to work out and go for a run I do that as well. So I do other things, but work is a very dominant force in my life.

Do you have any plans for the future you want to share?
The irony is that the more I turn my back on the corporate world and I do my own thing, the more the corporate world wants me. I'm so focused on Coindrum I haven't thought about it. But I take comfort in the fact that if I woke up tomorrow and Coindrum was no more for whatever reason, I would probably have options because of the people I meet and network with.
April 2015