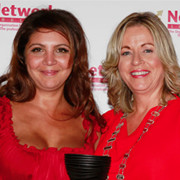 Mouna Kenzaoui
MBA '10
Not long after the first anniversary of setting up Dublin-based specialist recruitment company Martinsen Mayer, Mouna Kenzaoui (MBA '10) was recently named Network Ireland's New Business - Businesswoman of the Year (left in picture). Here, she talks about her career to date and the impact of her MBA on her progression, and shares some tips for success.
About Mouna Kenzaoui
Can you describe your education, career background and progression?
I am originally from Belgium and came to Ireland In 2002 to complete my Erasmus and improve my language skills. I started my professional career in Grafton Recruitment as a multilingual recruitment consultant and progressed swiftly through the business. I was promoted to my first management role at the age of 25.
I held senior management positions in a number of leading recruitment companies, including Grafton Employment Group, Manpower, and Premier Group (now Morgan McKinley).
In 2010, I was responsible for setting up JobFit, a programme sponsored by the Labour Market Activation Fund from the Department of Education & Skills. This initiative engaged with long-term unemployed young adults to provide work placements and further education opportunities in eight centres across Ireland. I am extremely passionate about engagement programmes for the unemployed and continue to be involved on a pro bono basis.
I hold an MBA from Smurfit Business School and gained a degree in business and languages ULB, Brussels. I am also a very active member of the Smurfit MBA Alumni Association.
Tell us a bit about your decision to do an MBA, and the experience and benefits
I decided to do the MBA because I felt that as a young female professional, I needed an edge. Strategically I was not strong enough. The MBA transformed my CV and subsequently my career. It was very tough, but it gave me the boost I needed, it enhanced my credibility and I got the confidence to express my views and opinion without second guessing myself. I would not be where I am without doing my MBA in Smurfit. It has also provided me with an invaluable network of contacts who are all doing very well across a wide range of industries.
Could you tell us about the background to setting up your company and how you came up with the idea?
During my year doing the MBA, the Entrepreneurship Club stirred the desire of setting up my own business and building something from scratch. During the MBA I had a year to think about all the problems and pitfalls associated with the recruitment industry, but most importantly build a plan to address these. I wasn't ready immediately to set it up after the MBA and it took me two years to take the plunge.
How do you believe your company differentiates itself in the marketplace?
Being a start-up we understand the importance of culture fit and getting 'that' hire correct and for our clients we take the same approach. We, as a team, are very aware of the impact of getting it wrong. The personable approach, our ability and willingness to get close enough to understand the client culture and the expertise of the team would be were we excel.
What have been the main challenges you've faced since setting up the company?
Building a team from scratch, whilst trying to win new business and pay the bills are all very challenging. However, the excitement of winning one's first contract, seeing the team develop and the culture take shape makes it all worthwhile.
What are your plans for growth going forward?
We have a great reputation for delivering on the recruitment needs of our clients for highly skilled and in demand candidates, and by focusing on quality delivery we expect to triple our team in 2015.
Can you tell us a bit about winning the Network Ireland Business Woman of the Year award?
Unexpected is the first word that comes to mind. It's amazing to be recognised after such a hard year. I went through a gruelling interview process so I was delighted to subsequently win it.
How would you define your leadership style?
Engaging and very democratic, but firm and extremely goal orientated.
What is your philosophy in business?
Work hard and have fun. One doesn't work without the other.
In your opinion has being a woman in business made it more of a challenge to get to where you are and, if so, how?
I don't know… it's difficult to answer this. I don't think so. I think that actually the business world has been very kind and welcoming to me and I'm often stunned by how business people in general are keen to help and support each other. I have never been afraid to ask for help and that is a lesson we should all learn from. One thing I would say is that women can be very hard on themselves and we are not the best at giving ourselves a pat in the back and recognise our own achievements.
Who or what are your greatest influences?
It really depends and varies but right now somebody who is inspiring me is my close friend's father Tom O'Loughin, who is a very successful businessman and currently surviving cancer and is fighting so hard. He is extremely active on social media and is sharing his daily battles, ups and downs with all of us. When I have a bad day and I read his update, I am inspired by his bravery and courage.
What are your main tips and advice for success – particularly for women in business?
Resilience would be the first one. You have to be able to bounce back because you will be knocked and knocked again.
Don't be hard on yourself. It's worth trying and failing than never having tried at all!
Exude confidence at all times, fake it until you make it!
Build a strong team around you and give them the support they need to support you.
Don't be afraid to take risks. Sometimes they don't pay off but when they do, they're worth it.
Learn to manage stress or develop a coping mechanism. For me it's walking my dogs!
Be disciplined. Put the phone away when you get home. It will give you some space to recover from what's ahead of you the next day.
What are your main interests outside of work?
I am lucky to live in the countryside so I enjoy walks with my three dogs and that for me is my escape. I also enjoy rugby and I've recently taken up horse-riding.
November 2014