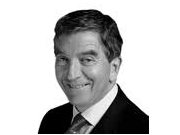 Niall FitzGerald
BComm '69
A primarily glittering 35-year career at Unilever, including eight spent as CEO and chairman of the global consumer giant, was never part of the plan for Limerick man Niall FitzGerald, KBE, who maintains that joining the company in the first place was purely accidental.
About Niall FitzGerald
In the late Sixties, FitzGerald was on his way to play golf in Portmarnock but stopped off at Unilever while his friend and fellow BComm graduate attended a job interview. As he was waiting in the reception area, the personnel manager asked FitzGerald if he'd do them a favour and sit in on the panel interview as they were a person down.
"I said, yeah, I'll do that on the condition I'm allowed participate," explains FitzGerald. "I didn't want to just sit there like a dummy. So I was obviously the most relaxed person on the panel because I wasn't after the job. At the end of the day, they asked me if I'd like to join."
He refused the job but had obviously left a big impression because several weeks later, the chairman of Unilever in Ireland, Peter Keehan, invited him to lunch and set about persuading him to join the company. "Peter painted a picture of a Unilever as this global business, which of course it was. And I thought, that sounds pretty cool, to be involved with a business where you can actually spend your career travelling around the world."
FitzGerald spent the next four years with Unilever in Ireland before moving to London to the financial side of the business. "Then I started doing a job that involved me travelling all around the world a great deal. I was in a team that was looking after a group of countries which ranged from Argentina to Zaire, so we really did the A to Z. That gave me a real taste for what Unilever was really about, its international reach and diversity."
He spent several years in the late 1970s based in New York and then in 1980 he moved, initially very reluctantly, to run the business in South Africa. FitzGerald, who says he was intensely anti-apartheid, was persuaded to go by the company's chairman at the time, David Orr, who was also an Irishman. "He said, 'We think the company can be an important force for change, particularly if it's led by somebody who believes very passionately about the need for change'.
"Unilever was very serious that it would run its business by its principles, and if those were against the laws of the country, it was up the authorities of the country to take action and, if they did, we would leave. And that's the brief I had. Unilever has a very clearly defined code of business principles, how it operates, how it treats people – obviously equally, whatever colour, gender, race, creed, whatever – and the way we operate in business, the amount of time we put into people's training and development, and that we could not be restricted in doing that by colour or any colour laws in the land.
The company was also very focused on being able to run the business successfully, says FitzGerald. "There's no point in being a pioneer in this if we don't run a successful business. We'd have to be increasing our revenues, increasing our market shares, increasing our position in the marketplace all the time and be demonstrably successful while we're doing it our way.
"We helped – I wouldn't say we were entirely responsible because obviously there were other people involved – but we were certainly leading in terms of changing practices and having equal workplaces, giving equal training and development to people of all colours. Then other people gradually began to follow. So the lesson for me from all of that is if you really feel passionate about something, there's no point in standing outside and throwing stones. You've got to get inside and change it.
"We stayed, we worked hard, and had a very high reputation with the incoming government, a lot of whom I got to know when they were in the ANC."
FitzGerald returned to the UK to take the position of group treasurer in 1985, when he also joined the company's board. Within 18 months, Unilever's finance director, Cob Stenham, brought him in as his number two. "I didn't want to go back into a finance role, because I'd got this taste for being a general manager. I said I'd do it only for him and for a limited period." However, when Stenham left 18 months later, FitzGerald succeeded him as finance director, a role he held until 1989.
He then ran Unilever's food business in the Netherlands. "Two years later I was asked to come back and run the detergents part of Unilever's business in London, which I did for five years, during which time I had some great success and one huge, absolute catastrophic failure," he says, referring to the launch of Persil Power.
"I had a reputation, whether deserved or not, of being a risk taker,"says FitzGerald. " was prepared to take risks in pursuit of proper business objectives. We had been losing position over a number of years to our main rival, Procter and Gamble, and our research people had come up with what to this day is still the most effective molecule for washing clothes that has ever been.
"We decided to put this molecule in a composition and launch a product across the world simultaneously, which had never been done before. There was huge cost and great excitement."
While the first weeks were very successful, it began to emerge that the new detergent destroyed clothes at certain temperatures.
FitzGerald concedes that he refused to accept that there was an issue. "You get into that mode of thinking – I'm going to solve this. We battled away for six months and it was a very intense time."
FitzGerald says he fought the battle on the front line, when he should have been standing on the foothills, observing and deciding when tactically it was time to change. "It took me a long time to understand that. Eventually I did, but it was painful. We lost a lot of money – the biggest loss Unilever ever had on a product launch.
"I'd never had a public failure of any kind in a business sense – I've had lots of other failures. But this was huge and it was very public."
Until then, it was widely believed within the company that FitzGerald would be the next CEO. "So this had clearly blown that away!" he says. He went to his boss to tender his resignation. "He said, 'We've just invested about £300m or £400m in your education and you've learned the most important business lesson of your life. We want that to be available to Unilever'."
"He said, 'Up to now you've had many, many qualities, but you were always intolerant of failure. Now you might learn a bit more about it. And be prepared to let people in their own environment fail from time to time in order to learn'. That was a hugely important moment for me. Twelve months later I was CEO."
FitzGerald says his failure gave him greater understanding of two things in particular. "One is that you do fail from time to time and you'd better be prepared. In fact, an organisation with no failure is an organisation that's not testing itself, not pushing itself. The second thing, which was burnt into me, is never forget that your business is actually not your business, it's your customers' business and they're the people who decide if you succeed or not."
He says the latter has also informed his views on CSR. "Those consumers who own our brands are also citizens and those citizens live in communities and unless we are an engaged, positive and constructive member of those communities, we will lose those citizens, then their loyalty as customers. So our brands will suffer. That's why being a responsible engaged corporate is not just not just a nice thing to do, it's not just because the chairman gets awards because you do it, it's because it's absolutely central to your business."
FitzGerald took over as chairman and CEO in 1996, roles he held for eight years. During the first half of this period, he led significant restructuring, including reducing the total workforce by around 40,000 people and closing 150 factories around the world.
The second period involved focusing on emerging markets. "Today, more than half of Unilever is emerging markets and it's the great strength of the business, I like to think. That was a shared vision in the business, but I spent a lot of time pushing it."
Understandably, Unilever has also been the source of a number of influences on his life and career, including Keehan, Stenhan and Orr. Early on, the latter advised him that he would need real failures in his life in order to grow. "He wasn't in the business at the time of Persil Power, but he was around," says FitzGerald. "I said, 'Remember those words you told me? It's taken me 20 years and look what I've done!'"
He cites his mother as one of the main influences of his life. "Most of the things I fall back on when I'm seeking to judge if I'm doing the right thing come from her," he says. "She gave me my values. My father did as well, but he wasn't there as much as she was."
"In academic terms, I had Garret FitzGerald as my tutor. And I was very inspired by him and kept in touch with him over all the years."
Another influence has been Mandela, he says. "From observing him and being in his company quite a bit, he taught me the extraordinary power of humility. It's very difficult for us all to put that into practice and he did it naturally. It's a hugely powerful tool. Having been in South Africa, I did not expect it to move into where it is now without really deep rivers of blood. He made it possible. He's probably the only person I would say that I have completely unconditional admiration for."
When FitzGerald left Unilever in 2004, he says he had four key objectives. "I wanted to do one other significant thing in business. I wanted to do things in Africa. I wanted to do something in the cultural arena, which I've always been involved with but never hands on. And I wanted more time for my family – I'd remarried and I had a new baby and I wanted more time with my three older children. Those were my four quadrants. I knew what I wanted and I knew what I didn't want.
"Happily, I was asked to chair Reuters, which ticked my box of one big business thing." He spent six years and half years until May 2011 with Reuters and, during this time, negotiated the company's merger with Thomson.
On the Africa side of things, he was invited to chair the Nelson Mandela Legacy Trust, by Mandela himself, which he did from 2006 until 2008. He has also co-chaired the Investment Climate Facility for Africa, a G8 initiative to help African countries to help themselves.
"Then completely out of the blue, I was approached and asked to be chairman of the British Museum. After spending some months looking at the museum and talking to the director, making sure we had a shared vision, I agreed to do that.
"The fourth piece, I try to do as much as I can in. Whether I've been successful, that's for others to judge!"
Now, he chairs Hakluyt, a premium end strategic intelligence consulting business, as well as a number of other private businesses. "I've said no to a number of public company boards on the grounds that I've done that and I'm not prepared to give up things I'm currently doing and having a lot of enjoyment from," he says. "Now if something came along that was so intriguing and so irresistible maybe I would think about it."
The British Museum, which he has chaired since 2006, takes a lot of his time. "It's fun, I could do it 24/7," he says. "The director is outstanding. He is by far the best museum director in the world. And he's a joy to work with."
FitzGerald was on the board of the Bank of Ireland for nine years until 1999, but since then has not had any significant involvement in Ireland. "The problem has always been that whenever I was asked to do something it would have required me to be in Dublin for two or three days a week. I can't do that. I have a 10-year-old." He says that if he could find some way that he could help Ireland currently within the restraints of not being away from home, he would willingly do it. "That's the one slightly unfulfilled bit," he concludes.
March 2012