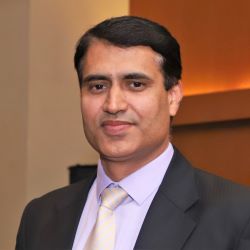 Nitin Sharma
MBA '02
Nitin Sharma has enjoyed plenty of educational and career success, including working for and with some of the biggest companies in the world and winning a scholarship to do an MBA at UCD. For him, the biggest measure of success has been staying true to the core values he grew up with in a rural village in India.
About Nitin Sharma
Tell us about your educational and career background
I'm a mechanical engineer by qualification. When I graduated from Punjab Engineering College in 1994 I joined Maruti Suzuki, the largest automotive company in India. I worked there for seven years before moving to Ireland and UCD to pursue a full-time MBA programme.
Because I had already been working for a few years and was going to be taking study leave from Maruti I didn't want to do a long MBA programme. I had decided on Europe because there were more options for one-year programmes and the fees seemed manageable for me. I ended up getting a scholarship from UCD so my decision was easy.
After my MBA I returned to India and went back to Maruti for a couple of years before joining Infosys in 2004. I was part of the domain consulting group for the company's manufacturing and automotive units. Over the four years I was with Infosys I worked closely with clients on various projects so there was a lot of international travel. I lived in Stuttgart when I was working on a Daimler project and I also spent time in their Singapore office. I also worked on an Airbus project in Toulouse.
Then I joined Oracle where I was focused solely on the Indian market. I started off as a principal consultant and then became director of sales consulting. Covering everything from services to products in a challenging emerging market like India, it was a great learning experience. Helping customers transform their business by deploying technology has been my main focus ever since.
In 2018 I joined SAP as part of the intelligent spend management team. We help our customers manage their procurement spend and improve bottom line saving and governance. It's been a fabulous journey thus far with huge opportunity for learning as well as making an impact on customer organisations by moving them to cloud solutions (this is technological direction for the future accelerated due to pandemic).
How would you describe your leadership style?
Because I started out in manufacturing and in a company that was a joint venture with Suzuki I think my leadership style is influenced by many of the Japanese techniques. One of these is the idea of managing by walking around – making decisions based on actual situations. That approach was engrained in me. It's really about looking at brass tacks and not just staying on the surface. But you have to bring yourself out of it quickly so you don't miss the big picture.
I also like encouraging and collaborating within my team rather than just directing people.
What motivates you?
The fundamental thing that motivates me is customer success. No matter if my customer is internal or external, if I can help them to be successful and they are happy, that for me is the biggest motivation in my current role.
Who or what has influenced or inspired you?
I have had two very big influences and I'm grateful that those people have been in my life. I learnt quite a bit from my grandfather when I was growing up in a village in India. The way he used to conduct his life was a big influence on me.
On the professional side, one of the most important people was my very first divisional head at Maruti. He shaped me very well, I think. He gave me a lot of learning opportunities and responsibility at a very early stage in my career. He has been a big influence in terms of how I learnt the business and how I see business.
Then there are couple of friends who are very successful in their own fields who have been guiding me all along and I have had some influence from them as well.
What has been your biggest achievement?
I came from a rural village in India, did my studies through English and ended up doing an MBA in UCD and having professional success as well. To me that has been a phenomenal journey and a big achievement. There's still a lot more to go and bigger dreams but I'm on that journey.
What are your tips and advice for success?
First of all, it's important to keep the core values that you grow up with. The moment you compromise any of your principles you will never be satisfied or happy internally, even though it may appear that you have success.
The most important thing is to be happy. Success cannot be measured just in terms of money or the position you have. The measure of success is if you are living according to your values and not compromising them. Don't compromise on any of them at all.
Second is the purpose of what you do. Are you able to contribute to the organisation, to the customers and to society at large? If so, then you are on the right track. There has to be a larger purpose in what you do, and the success will follow you. That would be my mantra for success.
Any plans for the future you want to talk about?
Ultimately I would like to get involved in some philanthropic activity. I think I may get into some sort of social enterprise in the future. It's not only good business but the good you can do for society. I have some initial thoughts around that and will be formulating it more going forward.
Insight Track
How has your degree benefited your career and/or personal life?
My stint at UCD gave me a global perspective and experience. This has certainly helped me in navigating the professional world, which is now without boundaries and works virtually.
What is your fondest memory from your time in UCD Smurfit School?
People refer to the MBA as Marriage Breaking Association due to strenuous schedules. But contrary to that I came back to India for my wedding during the first term preparatory holidays. My wife joined me in Dublin after the exam. We had a phenomenal stay in Ireland for the remaining terms. There was big fun with some of the class parties, especially the customary visit to the pub after Thursday's corporate finance class.
How important is your UCD alumni network to you?
I think it's very important. Unfortunately, I have not been able to actively engage with the alumni as much as I would have liked to. But with so many social media platforms this should be easy for the next generation.
What are your main interests outside work?
Travelling and playing sports, particularly badminton. In this pandemic I developed a fascination for home workouts.
Tell us something most people don't know about you
My friends hold a very dear place in my heart even though I may not talk to them much. I love catching up with them. Even though I didn't drink I would go to the pub with my classmates.
What pieces of technology can you not live without?
I wish I could get away from that. Enough with screens. But on the positive side they have enabled us to stay connected. So my phone, laptop and wifi are an absolute must.
What's your favourite book?
Ayn Rand's The Fountainhead.
And what is your favourite band or musician?
I listen to mostly Indian music. There is a reality show called 'Indian Idol' and I follow that.
What team do you support?
The India cricket team – they've just won the test series against Australia.
What is your favourite place in the world to visit and why?
I love for mountains, so I love Himalayas – anywhere will do (Himachal Pradesh, Uttrakhand, Nepal, Bhutan…). In the plains I love Rishikesh, a holy town by the Ganges.
What are your insider tips for visitors to India?
Call me and I can help. I think the most important thing when planning a visit to India is to decide what experience you would like to have – is it history, art, culture, nature, desert, mountains or jungles? Then you can choose the place. We have all the worlds in this one country.
Name three things on your bucket list
To have a mountain house ( I live in Bangalore at the moment).
The Chadar Trek - The Chadar Trek or the Zanskar Gorge is a winter trail over the frozen Zanskar river, which lies in the Indian union territory of Ladakh.
To travel and explore many places on earth.
What charities or causes are closest to your heart?
Sustainability and protecting the environment is a cause dear to me. And I have had the privilege of sponsoring a child for his education.
January 2021