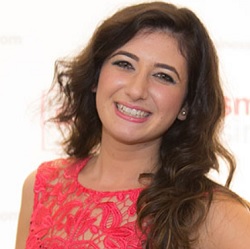 Pamela Uddin
MSc International Business '13
Less than a year after graduating from UCD Smurfit Business School, Pamela Uddin (MSc International Business 13) became the youngest Irish person to appear as a contestant on The Apprentice in the UK. Since leaving the show in week six of the process, she has moved to London, got a job with Unilever and started working on her business plan.

About Pamela Uddin
Can you tell us about your education?
I went to school in Waterford City and got a scholarship with Bank of Ireland to do my undergrad in Marketing with Advertising and Online media with Waterford Institute of Technology. I then applied for an Aspire Scholarship. I always wanted to go to UCD, particularly Smurfit, but never had the financial means. I applied and was accepted and it was absolutely incredible. I did an MSc in International Business. I could have opted for Marketing Practice but decided I wanted to do something that would give me a bit more scope around the career I wanted to get into in the end.

What has your career progression been since then?
It's been unbelievable. When I finished my master's I went to L'Oreal in Dublin as a Product Manager. Officially I was there for a year but they gave me a leave of absence to be on The Apprentice so I was really there for around eight months. When I finished The Apprentice I decided to stay in London, initially with family chilling out, and then I started looking to see what the scene is like for jobs. Within two weeks I'd picked up a role in Unilever and I'm now working on 'St Ives' and 'Simple' in brand building. It's an amazing company. It's opened a lot of doors for me. They've also agreed to work with me there with regards to my business plan.

Tell us about going on The Apprentice
I was getting a bit bored in Dublin and was looking for something new and exciting. I'd always wanted to do The Apprentice, had always watched it and was a big fan. Last Christmas, I just responded to an ad that popped up on Facebook. It was a spur of the moment thing. From there on it just spiralled and led to me being on The Apprentice.
The interview process went on for over two months and it's very intense and detailed. It's definitely the most intensive interview process I've ever done and ever will do. And it's given me some great knowledge and experience and taught me how to deal with different situations, which I had never really been subjected to before.
Over 40,000 people across the UK and Ireland applied and 20 made it onto the show. Filming started in the spring. It was a long process and we had no contact with the outside world. I suppose that keeps you focused. It's a big prize and everyone wants it and you just have to work really hard.

I went in there with no expectations. I just really enjoyed it and learned so much, personally and professionally. I think I learned more about myself personally than professionally. I very much learned about dealing with different characters, dealing with people, how to get what you want, and not always being aggressive.
I always knew there was something about me that is different to everybody else and I suppose that confirmed it for me. In business, it's given me an awful lot more confidence. I secured the role at Unilever before they knew that I was on The Apprentice. When I went into the interview I was just so confident.

How has life changed since being on the show?
It's been a bit of a whirlwind, and very, very exciting. You walk to the Tube station and a lot of people ask for your picture. It's been a bit odd and hard to get used to. Everyone knows who you are and they have a perception of what you could be like and they think that's what you are like.
So life has changed in that way. And I suppose I've made the move now from Dublin to London and that's change as well. And I've started to work on my business plan.
It's all been very hectic, but very exciting.

Tell us about your business idea for The Apprentice
My business plan was a dyslexic consultancy – I am dyslexic myself. The idea is to develop a consultancy to go into blue chip companies to talk to employers about employing people with dyslexia and how to manage them so you get the best out of them and can create the best environment for them to be in. In conjunction with that, there'll be workshops for people within work with dyslexia.

I've had so much interest in it since leaving The Apprentice. An add-on that wasn't in the plan but I'm going to take forward has come out of people contacting me and now primary schools want me to come in and do workshops for children with dyslexia. Also in the last couple of weeks, I gave a motivational talk in University College of London to people with stammers, because I have a stammer myself. That's another thing I'm going to pursue. And I'm doing my first workshop for people with dyslexia in Unilever in the New Year.

What are your immediate and more long-term plans?
I'll be dual jobbing for a while. Ultimately though, I am an entrepreneur and I do want to own my business at some stage. I'm 23, so I'm probably too young now. Give me another few years and I'd say I'll definitely be running my own business.
The immediate plan is to stick where I am within the company I'm with but to still build on my business plan until my business is strong enough that I can take it off by itself. I'm anticipating that's in the next two to five years, depending on circumstances.

What do you believe makes a good leader?
I think it's about being personable. It's about being able to communicate effectively and allowing people to be themselves and to work the way they need to work. Whether it's in a huge organisation or in a small business, that to me, is fundamental.

What is your philosophy in business?
It's very much like my philosophy in life: always be yourself and always follow your gut. I don't have a business term that I always go back to because I think business is ingrained in who you are as a person and if you follow who you are as a person that will follow through in life.

Who is your greatest influence?
That would be my mother. She very much taught me to work hard for what I want to get and she gave me confidence and inspiration. I'm not from a very affluent background but she worked extremely hard to get me where I had to be. She instilled/imparted an awful lot of skills to enable me to get where I have to go. She's been an inspiration and she still is. My Mum recently went back to college to do a degree three years ago. So I suppose I've given that inspiration back to her to go and do something for herself.

What are your main interests outside of work?
I run a lot and I go to the gym. I love that, it destresses me. Other than that, it's going to sound really sad but my life is consumed with work, work, work and maybe one or two glasses of wine at the weekend!
December 2014