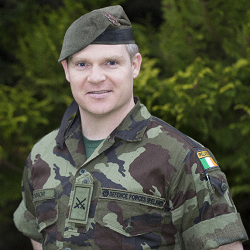 Pat O'Connor
Exec Dip '16
Looking for an active lifestyle and to do something that matters led Commandant Pat O'Connor to the Defence Forces, where his career to date has seen him lead an armoured reconnaissance troop in post-Civil War Liberia and serve as operations officer on a UN mission in Syria, as well as spending four years as spokesperson for the Defence Forces. He is now deputy director of the Defence Forces PR branch and on the road to an MSc in business (leadership and management practice) through the pathways
About Pat O'Connor
Tell us a bit about your educational background and career progression
I joined the Defence Forces straight after school in 1998 and spent two years doing leadership and tactical training in the Cadet School in Military College.
I had played a lot of sports and worked as a volunteer at an adventure centre in Connemara when I was in school. I was also part of what was then called the FCA and is now the Reserve Defence Forces. So I was always interested in an active lifestyle. I didn't know anyone in the army but it just attracted me as an interesting lifestyle and an opportunity to do something that matters.
After my cadet training I did a BSc in communications at DIT from 2000 to 2004. When I wasn't in college I was learning my trade as a cavalry officer, exercising in reconnaissance tactics, armoured vehicle driving and gunnery skills, as well as contributing to my unit, the 4 Cavalry Squadron.
My tactical and leadership skills were put to the test when I led an armoured reconnaissance troop in the Defence Forces mission to Liberia in 2005. This was an incredible experience that was an adventure but at the same time extremely professionally challenging. We would conduct reconnaissance patrols of up to two weeks through West African jungle, sleeping under the stars while I was responsible for a unit of 28 people. This was during a period of high tension immediately after Liberia's vicious civil war. We were deployed there to enable the first elections since the war. I was deployed to Liberia again in 2006 in a more senior role responsible for the logistical support and eventual withdrawal of the Irish mission from the country. This was moving from tactical to operational level activities.
In 2008 I was appointed as the Defence Force spokesperson. I had always had an interest in media and and my primary degree was focused on it.
In my new role I was required to enhance my knowledge of the subject and underwent a master's in political and public communication in DCU. My thesis was on the use of social media by the Obama campaign and led to the establishment of the multiple award winning Defence Forces social media presence. I served here until 2012, when I was deployed to the United Nations Truce Supervision Organisation in the Middle East.
For the next two years I served in the Middle East, for the first eight months as operations officer for a UN mission based in Syria during the civil war. As the operating environment was pretty hostile at that time, it was a huge challenge but also developed me a lot professionally. I learned the importance of resilience and that ultimately it is easy to show leadership when the situation is benign; leadership under pressure is far more difficult but also when it is most required.
This time also reinforced my pride in the Irish Defence Forces and the people who serve in it. Repeatedly Irish personnel were the ones that many other nationalities looked to for leadership. I also lived in Jerusalem for 16 months in the mission HQ which allowed me to get an understanding of the strategic landscape in the region as well, and get to know one of the greatest cities in the world.
What is your current role and what does it involve?
My appointment is deputy director of the Defence Forces PR branch. My responsibility is to help the public understand the role of the Defence Forces, to instil a sense of pride in our work, and to advise the senior leadership on all media and communications matters.
It is an exciting role where I have an input into organisational strategy development as well as specific responsibility for the supporting communications strategy development. On the execution side I manage the Defence Forces media relations, social media platforms, recruitment campaigns and creative agencies.
The Defence Forces are always keen to develop their personnel – we have a saying: We train for what we predict and we educate for things we can't predict – so I've started down the MSc pathway programme at UCD Smurfit School.
So far, I've completed the diploma in strategy, innovation and change and have recently started a second diploma, this time on organisation renewal and transformation. They're nine- month programmes and, under the pathways programme, you are conferred with an MSc in business (leadership and management practice) if you complete three of them.
What motivates you?
Google sums it up best when it says: Do cool things that matter. I believe the work of the Defence Forces certainly matters and it is an exciting career for those of us fortunate enough to serve the nation and wear the tri-colour on our uniform every day.
Progress also motivates me, no matter how small – it's good to feel like you are moving forward.
What is your leadership style?
We have a saying: You can't manage someone through a minefield, but you can lead them through it. I would hope that my leadership style is one where I try to resonate with people's ambitions by pointing out the potential of our work and then empowering them to execute to the best of their ability. We all work harder and better if there is a purpose to our work.
Who or what has influenced or inspired you?
My parents have always instilled a sense of optimism and fairness in me, my wife is the very same. I think that everything I do is shaped by the sense that hard work generally pays off and that it's important to treat people fairly along the way.
What do you feel has been your biggest achievement to date? Any failures you'd like to share?
The Defence Forces social media channels have been very successful in helping explain in a proactive way about what the Defence Forces do. Our multiple honours at Social Media Awards, including the Grand Prix in 2016, as well as a Silver Lion at Cannes last year are external validation for that work too.
I feel a sense of failure every time someone asks, "Why do we need an army?", or, "What do the Defence Forces do?". I hope the work I am doing now will help to address those questions for the Irish public.
What are your tips and advice for success?
Self awareness and resilience are probably the two traits I value the most. Be aware of your weakness and strengths and how they can impact on your work. When things are tough and your head is in the ruck, remember that is when leadership is required. So get your head up, have a look and remember your objective – if you're transacting you're not leading.
Any plans for the future that you'd like to share?
I am very interested in the potential of virtual reality/augmented reality (VR/AR) and have developed immersive experiences for the Defence Forces along with an Irish company. It was initially intended to help people have a greater understanding of what we do. Now I can also see its potential for training, simulation and data visualisation. It is such an exciting technology.
What are your main interests outside work?
I played rugby at junior level throughout my 20s and still love nothing more than watching a good match. I think it is the ultimate team sport.
My guilty pleasure is fine food, good coffee and a good glass of red wine.
Insight Track
THE INSIGHT TRACK
How has doing the pathways master's programme benefited your career?
It has allowed me to get a greater understanding of the business world and its application to public service. The network of interesting people facing similar challenges has also been enlightening.
What is your fondest memory from your time in UCD Smurfit/Quinn School?
Sitting in an airy classroom surrounded by motivated individuals being facilitated by the top academics in the field.
How important is your UCD alumni network to you?
Many of us face similar challenges and can learn from one another. The types of people who are passing through Smurfit are generally motivated and interested in learning. Those types of people are always valuable to discuss a problem, or opportunity, with.
What piece of technology can you not live without?
My iPhone, the single greatest hedge against boredom or ignorance ever invented.
What is your pet hate?
Excessive negativity or unfairness.
What is your favourite dish to cook?
Spicy vegetarian food or a good ribeye steak. Living in the Middle East for two years has left me with a fondness for spices in cooking.
What is your favourite place in the world to visit and why?
Glasslaun Beach, near Killary harbour, in Ireland. Jerusalem outside of Ireland.
What charities or causes are closest to your heart?
Organ donation and the Strange Boat Foundation. Its garden in Salthill, Galway is a beautiful place for reflection and the cathartic value of organ donation both to the bereaved family and the families of those who receive the organs.
March 2017