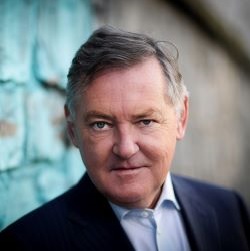 Pierce Casey
BComm '76
After qualifying as a chartered accountant, Pierce Casey got his first private equity job in the early 1980s. For much of the time since, he has combined his work in private equity with a separate entrepreneurial career that has included setting up several very successful companies.
About Pierce Casey
Tell us a bit about your education and career
I was educated at Clongowes Wood College and went to UCD in 1973 to do a BComm. From there, I went on to Pricewaterhouse to train as a chartered accountant. After qualifying I spent 18 months in Bermuda in what is now KPMG.
I returned in 1982 to take up one of the first jobs in the private equity space in Ireland with DCC. I spent the next six-and-a-half years with the company, working in Dublin and London, laterally as a director.
In 1988, I decided to go out on my own and, with some financial backing, set up Equity & Corporate Finance plc, a boutique corporate advisory and investment company. I was quite fortunate in making some low cost early investments, including in Walker Hamill, a recruitment firm that was sold to Marlborough in 1998 for €27m.
I also got into IT distribution in Europe and floated Fayrewood on the London Stock Exchange to pursue that interest. Developed from scratch, Fayrewood completed its first acquisition in 1997 and by 2004 – through further acquisitions and organic growth – achieved sales of a billion dollars across Europe. ComputerLinks was another very interesting business we floated on the Frankfurt stock exchange.
From the late 1990s, I have been able to combine the expansion of my own entrepreneurial activities with roles in private equity, including being managing director of Apax Partners and subsequently a director of Alchemy Venture Partners. During this time I co-founded UK-based recruitment services group Imprint, which floated on the London Stock Exchange and was successfully sold in 2007, just before the global downturn. I was also involved in several other ventures during this period.
What are you involved with now?
I'm currently actively involved in looking after a range of my own interests through my family management company, Adelaide Capital.
I also sit on the boards of a number of companies, including a very successful hedge fund, Ennismore European Smaller Companies Fund. Further afield, I am a director of Kibo Capital Partners, a private equity business with offices in Mauritius and Nairobi with a mandate to invest in sub-Saharan Africa.
Who or what has inspired or influenced you?
In UCD, I found John Teeling's lectures riveting because he was an entrepreneur as well as being an academic. He encouraged us, if we were disinclined to study, to at least go to the library to read business magazines and books and that's left a lasting impact on me.
My father was an entrepreneur but he died when I was a year old. I have always been very grateful to my loving mother who instilled confidence and independence in me.
I have never had a mentor and as a result have tended to be a little bit gung-ho in my life and just followed my nose in everything I did.
What do you see as your biggest achievement?
I have never thought about a single biggest achievement; I see life like a stairs – I've taken one step at a time.
Are there failures that stand out?
Oh dear, lots of them! However, as I was never indebted I could always afford financially to take the loss if things didn't work out.
I see my failures more as behavioural weaknesses – forming views too quickly or maybe being too close to things. Having had fortunate and perhaps lucky early success I may also have assumed everything I touched would turn to gold.
What is your leadership style?
I think because I was so young when I started my entrepreneurial ventures, my leadership style in the early days was probably a weakness. I thought everything was my show at the time and my style was probably verging on the autocratic.
But I think that goes with the territory if you start a business when you're young and the whole shebang relies on you.
Having had the benefit of chairing six public companies before I was 50, I had to adapt my leadership style to take account of the fact that I was not just dealing with myself any more but had board colleagues and hundreds, if not thousands, of outside shareholders to consider. Thus, I probably developed a more collegiate style without losing a sense of decisiveness.
Insight Track
How has your degree benefited your career?
It triggered my interest in becoming an entrepreneur.
What is your fondest memory from your time in UCD?
The luxury of the space and freedom to do pretty much whatever you wanted to do, when you wanted to do it.
What are your interests outside work?
I play golf all year and like sk-ing. Since my Clongowes school days I have continued to enjoy chess. As a family, we have always enjoyed as many holidays as possible.
What pieces of technology can you not live without?
It's my iPhone, but I do switch it off at 9pm every night.
Do you have a favourite book or writer?
Scott Fitzgerald's The Great Gatsby. I read it every five years or so with interest. I think this is because I was too immature to understand it whilst doing the Leaving. The book does not have a single wasted word.
I like to read selectively. I'm a big fan of Rolf Dobelli, who's a behavioural economist and has written two brilliant books – The Art of Thinking Clearly and The Art of the Good Life (this is not a book about hedonism!). If I had the choice I would make these curriculum reading for all business degrees.
What is your favourite place in the world to visit and why?
I have a couple. One of them is walking to the first tee at Mid Ocean Club in Bermuda, vainly trying to emulate my level par round in 1981.
What cause is close to your heart?
Education. I was the inaugural chairman for the Clongowes Wood Foundation between 2004 and 2009 and we raised €20m during that time.
I was also the CEO in residence in Waterford Institute of Technology from 2009 to 2013.
November 2019